By Rina Diane Caballar 5 Sep 2022
Medical technology holds the promise of delivering better care and improving patient outcomes through innovative devices, products, service and capabilities. And New Zealand's medical technology sector is booming, thanks in part to clever engineers and clever engineering.
Medical technology is Aotearoa's biggest secondary industry, generating $1.9 billion in revenue, with med tech firms comprising 11 percent of the nation's top 200 tech businesses.
Distinguished Professor at the University of Canterbury's Department of Mechanical Engineering, Geoff Chase DistFEngNZ, says New Zealand has unique advantages and "a lot of strength throughout this country in med tech-oriented research".
"We're able to directly partner with clinicians in hospitals for faster collaborations, with good ethics guidelines and procedures to enable clinical testing." He's part of the neonatal glucose studies team recently awarded the 2021 Prime Minister's Science Prize for devising new methods to diagnose and treat blood sugar imbalance in newborn babies. He has also worked on a glycaemic control model used in intensive care units in Christchurch hospitals and around the world, as well as a vibration-based imaging system for breast cancer screening, inspired by earthquake engineering principles.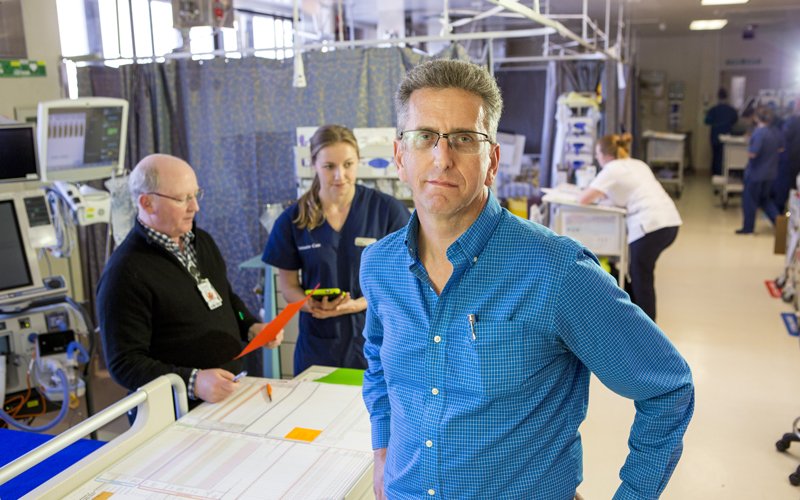 Innovative medical devices
From research to industry, the sector is flourishing with the help of engineers. Established in 1968, Fisher & Paykel Healthcare designs and manufactures therapies and products for respiratory care, surgery and sleep apnoea. The company was named Company of the Year and Managing Director and CEO Lewis Gradon won Chief Executive of the Year in the Deloitte Top 200 awards in 2020. Lewis, who joined the company in the 1980s as a product engineer, says: "We are known for having innovative medical devices and we have about 800 people involved in R&D, which is what we would most closely relate to engineering."
Volpara Health is another front-runner in the sector, making a name for itself since launching its artificial intelligence (AI)-powered breast screening software in 2009. Founder and Chief Science & Innovation Officer Ralph Highnam's PhD in engineering science helped him steer Volpara in the right direction.
"Volpara's software revolves around AI that works rather than AI that's hype, and having a background in maths, computing and X-ray physics is key to understanding how breast images are formed and critical to robust and reliable image processing," Ralph says.
"My training as an engineer has given me the ability to think logically and deal with complex situations."
In the research realm, the Auckland Bioengineering Institute (ABI) at the University of Auckland applies its expertise in engineering sciences and technical innovation to improve medical diagnosis and treatment of injury and disease. ABI's work spans from medical devices and individual organ models to advances in surgical engineering and medical imaging. It has sparked more than 20 startups since its inception in 2001, including Formus Labs, which created an automated 3D planner for joint replacement surgeries; JUNOFEM, which devised a pelvic floor training system to help women manage urinary incontinence; and Alimetry, which created a non-invasive wearable sensor device to investigate gastric disorders.
Dr Hayley Reynolds is leading a cancer imaging research group at ABI. Hayley and her team use medical imaging to develop tools and technologies that help clinicians treat melanoma, breast cancer, prostate cancer and lymphoedema (swelling in the body from a dysfunctional lymphatic system, which can be a side effect of cancer treatment). Her work in prostate cancer involves developing imaging biomarkers from multiparametric MRI, a type of MRI scan that produces a more detailed picture of the prostate gland.
"We look at the change in tumour biology as a result of the radiotherapy that's been given and assess how well a patient has responded to it," Hayley says. "We have done a lot of work to compare MRI images of the prostate with histopathology data to get a much better idea of what we're seeing. This has allowed us to develop AI methods that can predict tumour location as well as the biology of tumours from MRI, and from that design radiotherapy treatment plans that are better than the current standard of care."
Hayley's PhD in bioengineering and degree in engineering science helps inform and advance her research. "Being a bioengineer, I've got the technical training to understand clinical requirements but also apply my engineering knowledge to come up with solutions to problems."
Meanwhile, Māori health organisations are also making waves in the med tech industry. Māori-owned and operated Emergency Q built an app to help hospital emergency departments and urgent care clinics manage capacity. Cultural creative agency KIWA Digital has partnered with the Ministry of Health to develop apps for better Māori wellbeing, such as Māmā Aroha to provide information on breastfeeding, and Tuku Iho to share intergenerational knowledge in maternal and child wellbeing.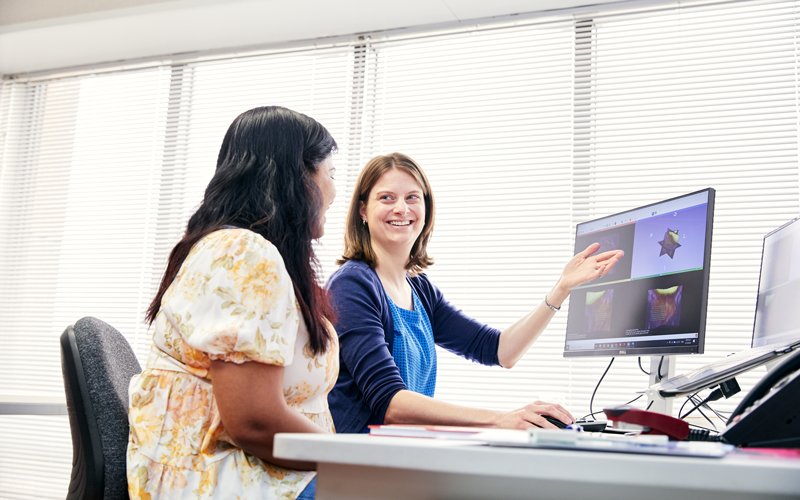 Investing in the sector
Despite its successes, the medical technology industry faces hurdles to its continued growth. Funding is a challenge, especially for startups.
"What investment there is in New Zealand tends to be relatively risk-averse compared to overseas. We need to invest more in our bright ideas, and in enough of them so we can keep those companies in New Zealand and let them grow to global size from here," Geoff Chase says.
"We need to invest more in R&D and the infrastructure around that, like universities, publicly funded research, privately funded research and the mechanisms by which companies invest in research."
The Government has heeded this call, increasing its investment in the field through Te Tītoki Mataora, the MedTech Research Translator, which aims to turn research into real-life solutions that meet healthcare needs. Similarly, the Health Research Council has funding opportunities, including for Māori and Pacific health research, while Callaghan Innovation's HealthTech Activator offers programmes and services targeted to early-stage healthtech businesses.
Bridging the knowledge gap
In addition to funding, the lack of engineers is another challenge.
"There were enough high-quality engineers before the pandemic, but since then, it's been hard to bring people in and there's a shortage now," says Volpara's Ralph Highnam. As a result, people from other fields who can apply their skills and knowledge to medical technology are appealing.
While a large proportion of Fisher & Paykel Healthcare's workforce is local, they also bring in overseas talent.
"We're able to attract people from outside New Zealand when the skills are not available here," Lewis Gradon says.
While the medical technology sector employs a variety of engineers crucial to its development, they need to overcome the learning curve of combining engineering with medical sciences.
"Engineers are good at finding the root problem and solving it, but to do that in medical technology, you have to understand the clinical medicine and physiology behind it so you can solve the right problem," says Geoff.
Volpara addresses this learning curve with training.
"Our employees continuously learn about the breast and breast cancer, biology, physiology, pathology and X-ray physics," Ralph says.
"We also have clear and established processes because in our medical world, if you make a change, you can't just roll it out – it has to be independently tested. We require engineers who are used to processes, can deal with documentation and understand that what they're doing is so mission-critical that if they get it wrong, they could potentially hurt someone."
For Fisher & Paykel Healthcare, bridging the knowledge gap involves on-the-job training as well as combined teams of clinicians and engineers.
"We tend to organise our R&D teams around the application, so our neonatal team, for example, includes neonatal experts and software and electronics engineers," says Lewis.
"An engineering qualification gives a base technical skill set, but innovation comes from understanding the application."
Creating a global impact
While medical technology has made significant contributions to better healthcare in New Zealand, the field also has the potential to create a global impact.
"Medical technology is an eminently exportable knowledge because health has always been a universal concern," Geoff says.
According to the 2022 NZ-US Trade Relationship Report from the New Zealand-US Council, medical instruments garnered the fifth spot in New Zealand's top 30 exports to the United States in 2020. At NZ$260 million in 2020, sleep apnoea machines now account for a larger share of New Zealand's exports to the States than timber or casein.
Meanwhile, Volpara's software is in use in more than 2,000 facilities worldwide, with one in three breast cancer screenings in the US now taking place with the help of their software.
Beyond exports and expansion, Geoff believes the biggest untapped opportunity for engineers lies in the ability to improve healthcare while lowering costs.
"I tend to view medical technology through the lens of how to provide better care at lower cost," he says.
"Any place you see a large leverage point of cost – be it cancer, cardiovascular disease, chronic disease, diabetes, intensive care or pulmonary disease – where better care can significantly alter the outcome for the patient as well as reduce the cost, is an untapped opportunity."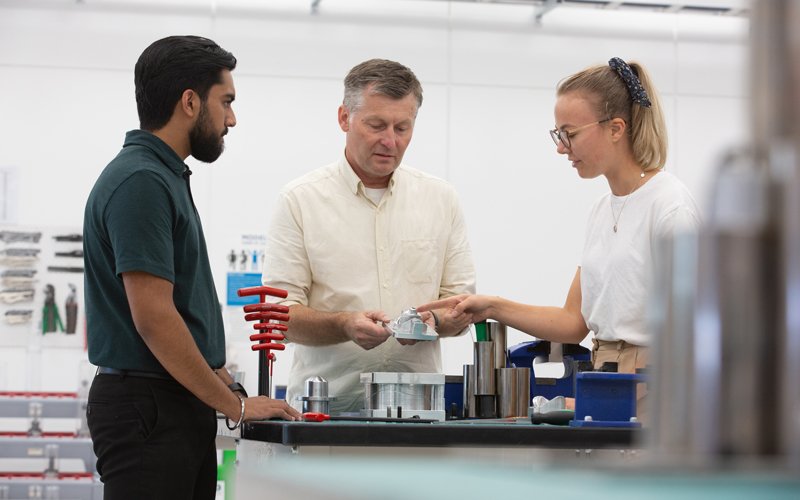 ---
Robots take byte of healthcare sector
The University of Auckland's Professor Elizabeth Broadbent specialises in human-robot interaction, and she and her colleagues conduct many studies in rest homes or retirement villages.
"This is a good place to deploy robots because there's such a shortage of healthcare workers in this area."
One study she led involved people with mild cognitive impairment, where robots played games with them to help improve their memory and reminded them to take their medication and do their daily activities.
"Most people are fairly positive about having the robots," says Elizabeth.
"They enjoy having a robot in the house because they often live alone. Our studies have shown that robots can help improve mood, reduce loneliness in older people and increase adherence."
Elizabeth believes there's promise in using robots for anxiety and depression. A successful example is PARO, a companion seal robot made in Japan that has been tested in New Zealand and is currently used in the Selwyn Foundation's retirement villages.
"Some of the more successful studies have been with pet-type robots like PARO. People can cuddle it on their lap and it helps calm them down and reduces agitation, just like an actual pet can."
Aside from physical robots, Elizabeth is also working with virtual ones — the digital humans of ABI spin-out and AI tech company Soul Machines.
"We have been doing some studies to see whether we can use digital humans to increase relaxation, improve loneliness and reduce stress, and the initial results are promising," she says.
"We are also investigating empathy between people and digital humans."
Elizabeth obtained an Honours degree in electrical and electronic engineering at the University of Canterbury before pursuing a Master's degree and PhD in health psychology.
"Starting out in engineering, you learn how to programme and build things," she says.
"It helps you realise what's possible — the capabilities and limitations — and where the problems are so you can design studies appropriately."