Known locally as the Borough Race, this system was constructed to supply Oamaru with reticulated potable drinking water and water for firefighting, as well as 300 "spare horsepower".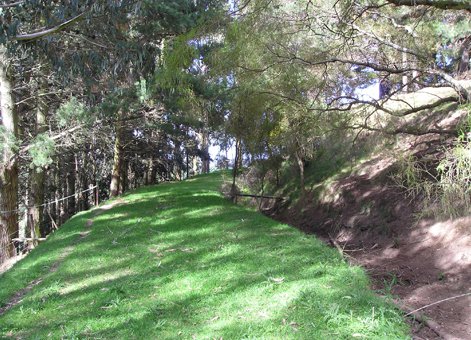 It was designed by Donald McLeod (b.1835) and constructed over the three years prior to its opening in 1880. Before it was completed the main water supply for Oamaru was a stream running through the town.
Water for the new system was sourced from the Waitaki River and conveyed by open race to Oamaru over a distance of nearly 50 kilometres (km). Included in the system was an intake structure, a stilling pond, 19 aqueducts and six tunnels, all of which meant the scheme was extremely expensive for the local Council at £136,000.
The water was delivered to the town from an open reservoir at approximately 100 metres above sea level through a network of 600 millimetre (mm) and 450mm cast iron pipes constructed by Christchurch firm, Andersons. They purchased the pipes, valves and other hardware, from Alley and Maclellan – a relatively new but well respected foundry/engineering works in Glasgow.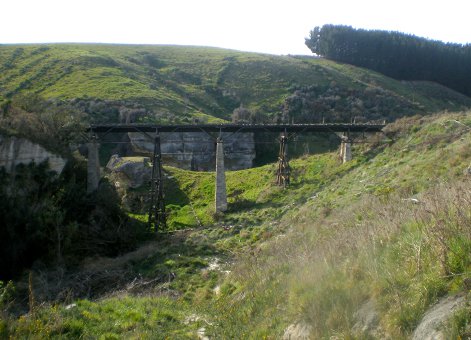 The "spare horsepower" was put to good use, powering water motors, water engines and turbines and allowing Oamaru to be substantially hydraulically powered for decades. In 1916 the Borough Council installed a Pelton wheel-driven alternating current (AC) generating plant with a 1km wooden penstock feed off the 600mm mains. As such, Oamaru became possibly the fourth town in New Zealand to have reticulated AC and possibly the first town in the world to have reticulated AC power derived from its drinking water supply.
The race functioned for 103 years and many of its components are still extant, or can be traced.
You can listen to Bruce Comfort talking about the Oamaru Borough Council public water supply race on Radio New Zealand's Sounds Historical programme, 4 August 2013 (Part 2). The discussion begins 25:40 minutes into the programme. For ease of use, slide the scroll bar forward to this point before pressing play.
---
Find out more
Access
The race is clearly visible for much of its length from State Highway 83. All of the features are on private land and land owner permission is therefore required to access them.
Further reading
R Aspden, 'A surprise find – the Oamaru Water Race', IPENZ Engineering Heritage Newsletter, April 2010, p.4.
B Comfort, 'The Borough Race', 3rd Australasian Engineering Heritage Conference, Preconference Tour Information (unpublished report, 2009).
Cyclopedia Company Limited, The Cyclopedia of New Zealand [Otago & Southland Provincial Districts], Christchurch, 1905, pp.501–2.
Location
The race runs along a range of small hills on the true right hand bank of the Waitaki River to Papakaio, North Otago. At Papakaio it turns "inland" and, then running parallel to the ocean edge, it terminates at an open reservoir which still functions as Oamaru's town supply reservoir.