Crossing the Manuherikia River west of Ophir, the Daniel O'Connell Bridge is a single lane road bridge providing access to that Central Otago town. Constructed between 1879 and 1880, this attractive structure is a characteristic example of Central Otago suspension bridge with schist masonry towers.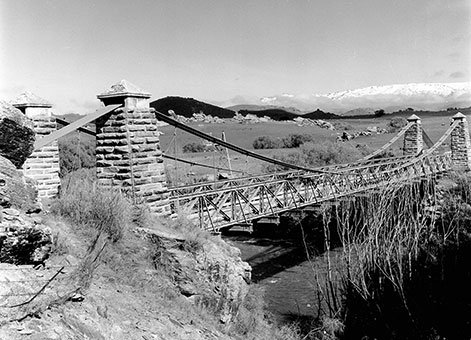 As was the case elsewhere in the region, gold was the reason many people originally came to Ophir, a town initially called Blacks. Even when the gold industry began declining in the 1870s there was a relatively sizeable population in the Ophir district, and it was a key commercial and communication centre. As such, local people campaigned hard for a bridge to be built over the potentially hazardous Manuherikia River from the time the Vincent County Council was established.
The result was that in 1878 the Vincent County Engineer, Leslie Duncan Macgeorge (1854–1939), designed the 65.5 metre bridge, which was constructed by J. S. Derby and R. Edgar of Timaru. The cost of the bridge was approximately £7,000. At the opening of this structure in May 1880, the bridge was named after Irish hero, Daniel O'Connell (1775–1847). This was an appropriate and seemingly popular choice, because the bridge was located in an area heavily populated by Irish Catholic immigrants.
Like many of its contemporaries, by the early twentieth century the bridge's timber transoms and stiffening truss had degraded. They were replaced with steel equivalents in 1905 by Watson Rhodes and Company. There has been little further alteration to the structure since, aside from several replacements of the timber deck. The Daniel O'Connell Bridge is a well-maintained structure which is still in use.
The Daniel O'Connell Bridge is a handsome and popular local landmark. It has some engineering importance as it is an example of the vernacular form of late nineteenth century Central Otago bridge that notable engineer Macgeorge excelled in designing.
Read the heritage assessment | 874.4 KB
More information
Location
Off State Highway 85, just before Omakau (about 25 kilometres north-east of Alexandra) on Ophir Bridge Road, Central Otago.
Access

This bridge is part of Ophir Bridge Road, west of Ophir township, and as such is generally open to traffic at all times. Ophir Bridge Road intersects with State Highway 85/Leask Street southwest of Omakau. There are small roadside verges for parking on either side of the structure.