It's 100 years since the first official New Zealand team of four athletes competed at the Olympic Games in Antwerp, Belgium. Since then, the team size has grown, as has the number of people helping our athletes achieve elite-level performances. That support crew includes top-notch engineers.
When New Zealand athletes compete at the 2020 Summer Olympics and Paralympics in Tokyo later this year, their performances will be tracked particularly closely by half-a-dozen engineers back home. Based at High Performance Sport New Zealand's (HPSNZ) Auckland campus, this team is known in-house as Goldmine. It's a reference to the colour of medals its members hope to help our elite sportspeople achieve – as well as a nod to the precious quality of their intellectual property.
HPSNZ Head of Innovation Professor Stafford Murray says the unit is driven by the recognition that margins between winning and losing in elite international sport are wafer thin.
"Without small points of difference and aggregations of marginal gains, we simply couldn't compete," he says.
"Goldmine's work is about ensuring that our athletes have everything possible to put them in the best position to deliver their full potential. Whether it's through equipment, nutrition, clothing or training feedback via software or hardware devices, we want to be able to look back post-competition and say we turned over every stone for that athlete."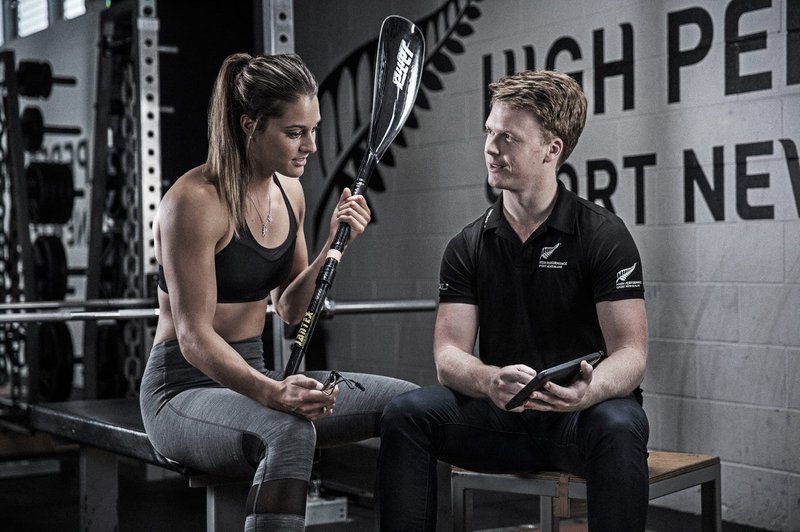 Unusually, Stafford knows the relationship between athletic talent and the application of engineering smarts to sporting performance from both sides. A professional squash player in his native England, he was a junior world number one before a back injury forced him out. He shifted to academics, completing a sports science degree and a master's in coaching science, followed by a PhD in data science. After the English Institute of Sport was launched in the late 1990s, Stafford headed up its performance analysis, biomechanics and skills acquisition team for 15-odd years – or as he puts it, "from when GB was crap until it was second best in the world". After the 2016 Rio Olympics, HPSNZ headhunted him to run its innovation programme. 
Concentrating on priorities
Compared with where he's come from, it's a lean and mean machine – Goldmine's budget is just $1.5 million a year – but the engineering talent is second to none.
"I've worked all over, and I think they're the best bunch of sporting engineers in the world," he says.
"We've got two software engineers, one hardware guy who is purely fabrication and is an expert in CAD design, a firmware engineer, a mechatronics engineer, and a guy who's an electrician by trade but is a kind of hybrid expert in all areas. The beauty of this team is that they all have very good working knowledge of each other's areas, because most of the projects overlap."
How are projects chosen? Goldmine won't build anything that's available off the shelf. And the innovation has to have a performance impact – the unit's tight budget has the advantage of concentrating minds on that priority, says Stafford. 
I've worked all over, and I think they're the best bunch of sporting engineers in the world.
For each of the 13-plus sports the HPSNZ innovation programme works with, an "innovation lead" is responsible for identifying that sport's critical performance question, based on feedback from the people who are putting in the hard yards.
"It's not what we think as engineers or scientists, but what the coaches and athletes think is going to make a difference. What's stopping the boat from going faster? What's preventing that athlete throwing the shotput further?"
Until now, 70 percent of Goldmine's work has been aimed at improving how athletes train, rather than innovations to create an edge on competition day.
But things are changing.
"We'll be shifting in coming years to more delivery of on-the-day performance innovations, because the technology is available now. In the sports that we're big on in this country, such as boats and bikes, it's mainly around using our world-leading carbon knowledge to enhance our equipment."
"Water and electronics don't mix well"
That said, providing better data will always be a key Goldmine function. One recent world-first innovation from the unit is an instrumented paddle designed to provide canoe sprinters with realtime feedback on how much force is being generated with each stroke.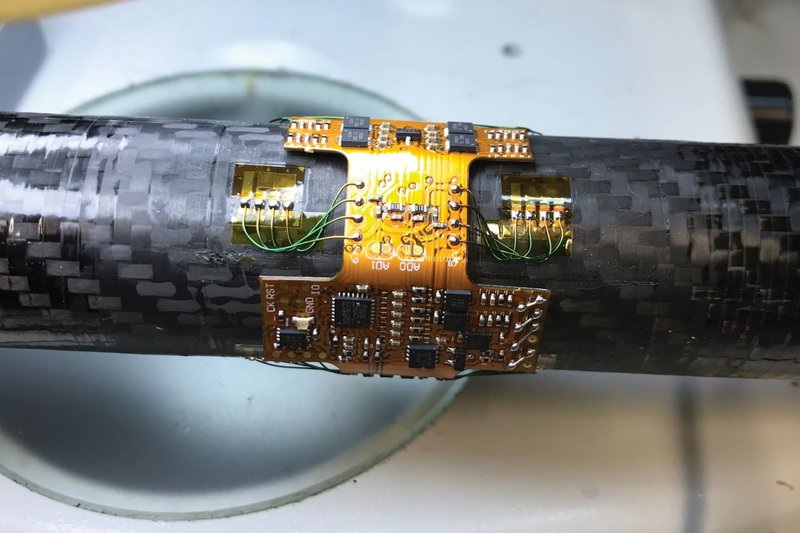 "We wanted to provide highly accurate force/time data," explains Goldmine's hardware engineering guru Robert Tang.
"To do that we had to put strain gauges on the paddle – one of the earlier iterations had 32 gauges, which is quite a number. They measure deflection, so we know how much the paddle is moving, and because we have a sense of what the paddle is doing in a 3D space, we can estimate the power the athlete is putting out."
So far, so straightforward – and other canoeing nations have done something similar. But Goldmine has gone one step further by solving the waterproofing conundrum – as Robert says, "water and electronics don't mix well". In a process of trial and error, the engineers experimented with hot melt (the heat caused the gauges to lift off the carbon shaft), a cold urethane (paddle flex broke the tracks on the circuit boards), and finally the current solution, which involves injecting a runny gel inside a hardshell case. The gel not only waterproofs the electronics, it isolates them.
To get there, Robert and his collaborators had to assess a range of gels, many of which proved too viscous to be injected by syringe. Using mockups, they then tested what happened when the parts were violently twisted – would water find a way through? 
These young people are absolutely committed to what they are doing, and it's a pleasure to help them along their path.
It was a long and iterative process. Says Stafford: "One of the things I've found doing this job is that often the final thing looks quite simple, but the process of getting there is incredibly complicated, multi-faceted and can involve many partners."
Partnering for precision
Those partnerships are key to Goldmine's work – at least half of HPSNZ's innovation projects involve external partners. Auckland-based Southern Spars, for example, has created carbon fibre wheels for New Zealand's Olympic track cyclists and is currently building other pieces of equipment for the sprint cycling team.
"The fact that innovative Kiwi firms want to help is our point of difference," says Stafford. 
Recently, Goldmine partnered on a project for two New Zealand Paralympians with Auckland-based Zenith Tecnica, a leader in titanium additive manufacturing. Both athletes, javelin thrower Holly Robinson and long jumper/sprinter Anna Grimaldi, are missing part of an arm and have prosthetics. Their common problem was that the off-the-shelf attachments they used for lifting weights in training were downright dangerous.
"They needed an attachment custom-designed for their anatomy that would allow them to weightlift a variety of implements, each of which has a slightly different grip diameter," says Goldmine's CAD and fabrication expert Duncan Anderson.
Duncan settled on a simple clamp system, and made a plastic prototype of the two variants from high-strength nylon. Based on testing and feedback from the athletes, the design was fine-tuned, then Zenith Tecnica was engaged to 3D-print the titanium parts.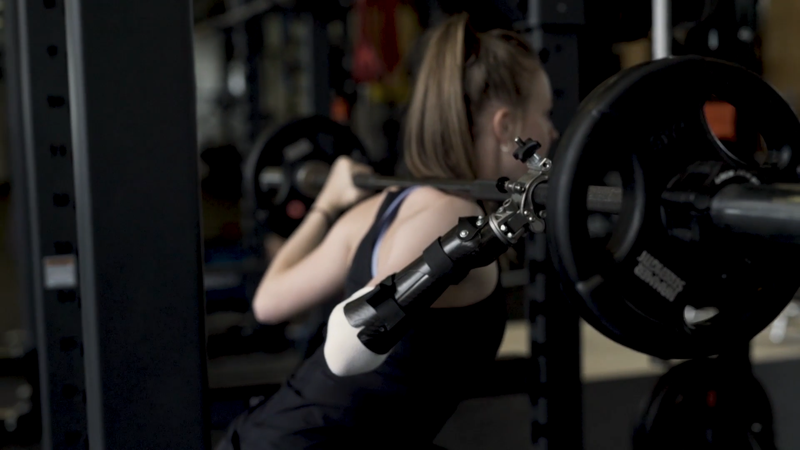 "Holly and Anna have been using them for a year now, and the exercises have become a whole lot safer, which allows them to lift heavier weights. They used to have a wishlist of exercises; now they're able to do those, and it's just been great for their physical strength and confidence," says Duncan.
"For me, that's the best part of this work. These young people are absolutely committed to what they are doing, and it's a pleasure to help them along their path."
In the short term, that path leads to Tokyo. Goldmine has been working on a handful of innovations aimed at giving Kiwi athletes an edge on the day, none of which Stafford can share publicly.
"We know these things are going to take seconds off times and improve performance by quite a large percentage. Whether it's enough to win you can't know, but we're going to help make our athletes the best they can possibly be."
---
This article was originally published in the March 2020 edition of EG.