By Jennifer Black 5 Apr 2022
Ma'ara Ave moved to Palmerston North from Marlborough in 2017 to chase two separate careers – engineering and cricket.
Since then, he's made his professional cricket debut in both List-A (2018) and first-class (2021) cricket for the Central Stags, and completed his engineering degree in chemical and bioprocessing engineering with first-class honours.
In 2021 he began a technical graduate role with Fonterra while studying towards a Master's in Dairy Science and Technology. He now works full time in a research role for Fonterra, helping the dairy cooperative develop processing and product solutions. Outside of work, his big focus is cricket.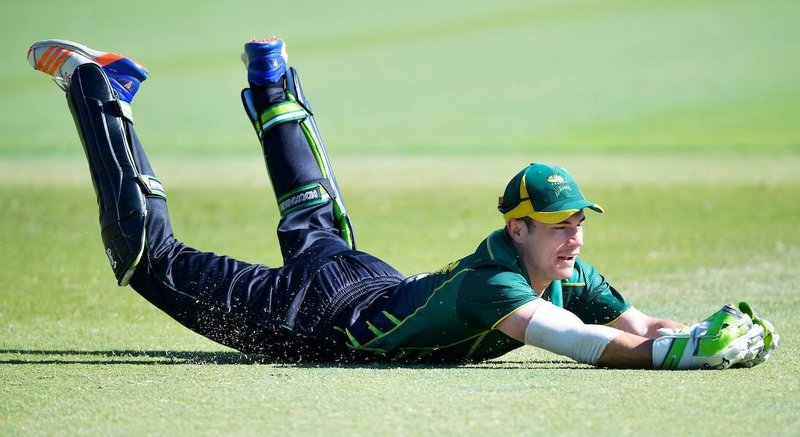 What first sparked your interest in cricket?
As a kid growing up, I enjoyed all things sport. But my love for cricket was probably kick-started when I was around 11 or 12 years old, playing cricket in the backyard with my brother. We always tried to imitate Black Caps like Ross Taylor and Brendon McCullum.
What's the extent of your current involvement?
I'm currently still involved in highperformance cricket playing for Manawatu and Central Districts. When it's cricket season, I spend around 10 hours training (split between specific skills like batting and physical conditioning) and one to two days playing a week.
What do you credit as the springboard to your sporting success?
I've always had a very supportive family who have given up a lot to help me pursue my sporting goals. Alongside that, many of my coaches from Marlborough and Central Districts age group teams gave me valuable tools to propel my career.
You were a member of Massey's Academy of Sport – what did this involve?
A group of Massey students who train together under the guidance and coaching of former New Zealand international cricketer Jacob Oram. It's structured to work around study commitments and aims to give up-and coming cricketers an opportunity to develop their game.
What's your dream with cricket?
The dream would be to become a fulltime professional cricketer and play for the Black Caps.
Does being an engineer bring any advantages to the way you approach cricket?
Yes – as an engineer I am analytically minded. This helps me break down game situations and come up with approaches to play and succeed against different opposition. One of the reasons I studied engineering was because I enjoy problem solving and this is something that is also a big part of cricket. Being able to diagnose a situation and come up with the best solution is the type of challenge I enjoy.
In terms of cricket players, who is your inspiration?
I've always looked up to players like Kane Williamson and Ross Taylor who have great records for New Zealand and very sound techniques. Internationally, I enjoyed watching Kumar Sangakkara as he makes it look so effortless as a wicket-keeper batsman.
What impact has Covid-19 had on your cricket?
Covid-19 had a big impact on pre-season training and meant I didn't pick up a bat and hit balls for majority of the winter in 2021. I had to keep myself on track with plenty of at-home workouts.
What's your goal with engineering?
Through my studies at Massey and my time with Fonterra I have developed a big interest in the food industry. I would love to continue to develop my knowledge in this area and develop processing and product solutions to address some emerging global nutrition needs.
How does your Cook Islands heritage affect the way you live your life, and the decisions you make?
I'm very proud of my Mangaian heritage. I guess it makes me appreciate all the opportunities I have been allowed and drives me to make the most of them.
How do you manage to juggle so much at this point in your life – what's your advice for others?
It's not always easy, but my advice is to firstly set goals. Once you have some clear goals it's important to communicate them to those around you and be transparent above all. Most people will help make things work for you if they know your "why".
Tell us something about yourself that might surprise people.
I have the same name as my dad and grandad!