By Jennifer Black 6 Mar 2023
Our March 2023 'Inside job' features Joyana Finch, a Senior Emulation and SCADA Engineer at Daifuku Oceania, based in Blenheim.
I describe my role to non-engineers as… someone who creates a virtual representation of our large-scale physical system – the emulation. Our controls engineers and software developers can then connect their software to the emulation and test that their own solutions work, as if they were interacting with the actual physical machines onsite. Emulation is a powerful tool in design and testing. Potential errors and scenarios are often highlighted and rectified at this stage, saving time and money.
The part of my job that always surprises people is… there is no patriarchal force holding me back. I've been a CNC technician, an electrical draftsperson, a PLC Engineer, a SCADA/Emulation engineer and a department manager, and my male colleagues have been nothing but encouraging and supportive.
The best emoji to sum up me on a typical workday is…

The best thing I've introduced at my workplace is... besides a big smile and cringey tech puns – a library of macros to streamline the drawing process.
In my role, I always challenge… the new! Yes, I am that fun sponge at the party who loves sticking to standards and living by the letter of the law. People usually applaud thinking "outside the box". I'm like 'Nah there's plenty of that going on and now there's mess!'. Be brave enough to think inside, and respect, the box. The nice, orderly, standardised box. It takes a lot of guts to be meticulous and boring.
At work, I've never been afraid to… ask questions. Miscommunication is often the source of many system design failures.
In the past year, I've pushed boundaries by… joining the Engineering Associates Registration Board.
I admire engineers who… have their own engineering projects happening at home. It shows they are an engineer through and through, applying their skillset to all aspects of their life. They usually have their ear to the ground of the tech world and are informed about upcoming technology.
At school, teachers always described me as… creative and tactful.
My luckiest break was… my whole blimmin' life. For example, being the first Pasifika woman to graduate in Mechatronic Engineering; working for Daifuku Oceania with the freedom to experiment and grow my skillset as I progressed through multiple engineering roles within the company. I'm lucky to be a decent artist and now the author of children's science books (mrsjfinch.com).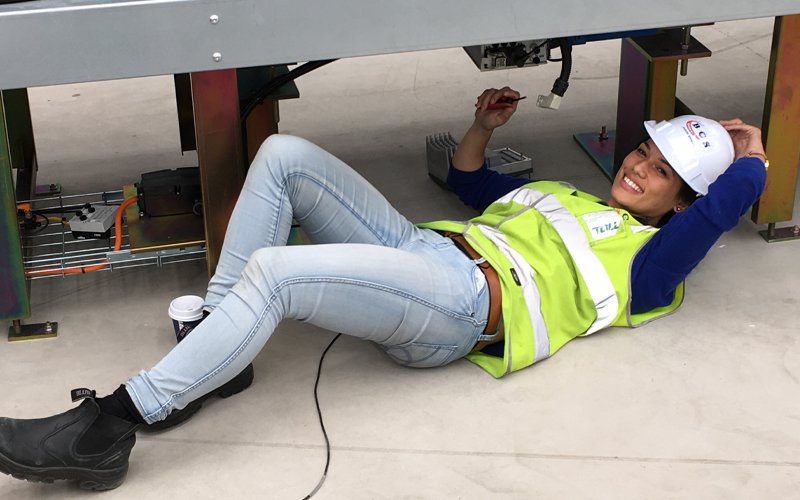 The bravest thing I've done to get where I am today… putting my hand up to become a SCADA engineer, despite having no idea how to do it.
Best career advice I've received… opportunities don't happen, you create them.
I'd advise other people interested in my type of role to… just go for it. Get into automation. It's always going to be relevant to the future and there's a lot of fun to be had while you're at it.
---
3 things I love about my job:
The mental challenge – solving problems. Especially in software. I mostly enjoy revising a piece of code over and over again, rewriting it each time to be more efficient. No two problems are quite the same.
The travel – Daifuku is a global automation giant and one of the best perks of this job was being sent all around the world as a commissioning controls engineer. There's no better way to get to know a place than working alongside the locals.
The teamwork – whether I was terminating wires onsite or writing code to build an emulation environment, I was always only a small part of a large team of engineers working on a project. There's nothing like high pressure situations to brew lifelong friendships.
2 reasons why I chose to study engineering:
It is not enough to simply be a consumer in life. To live a full and happy life, one must create and put back into the world. Engineering is my way to creatively contribute to this wonderful world of technology.
Money – let's be honest! I knew engineers earned a decent wage. It's a dream to be paid well to solve puzzles, travel and work in teams.
1 thing I wouldn't change about my workday:
Flexibility – it's allowed me to be a Senior Emulation/SCADA Engineer, a children's book author and a stay-at-home mum.
---
This article was first published in the March 2023 issue of EG magazine.