By Jennifer Black 6 Nov 2023
As a Performance Engineer for Emirates Team New Zealand, avid sailor Elise Beavis' career combines her academic strengths with her sporting passion.
I describe my role to non-engineers as… varying over the course of the three-to-four year campaign. I run the simulator which is like a video game but the physics is more important than the graphics. I analyse sailing performance both on the water and in the simulator. At times I've done 3D modelling, written basic autopilots, computational fluid dynamics (aerodynamic and hydrodynamic including multiphase simulation), coding, class rule writing and more. I also sometimes translate between sailor speak and engineer speak.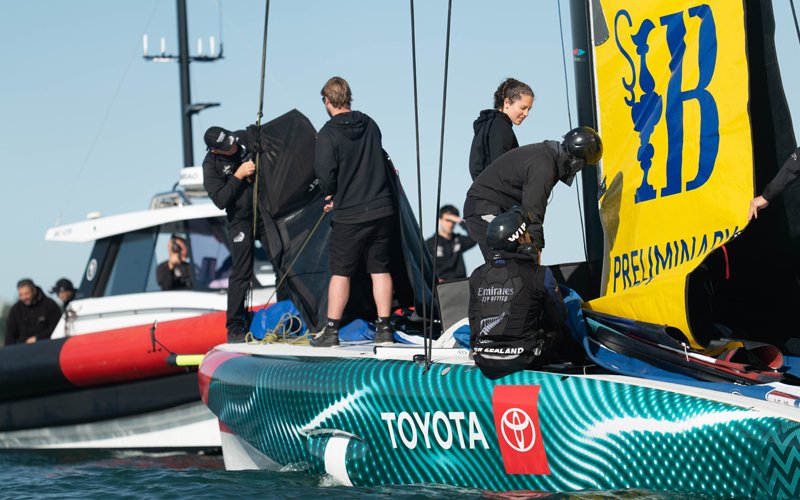 The part of my job that always surprises people is… the requirement to be adaptable with work hours based on the weather. Early starts, late finishes and sailing/working during the weekend when necessary.
The best emoji to sum up me on a typical workday is…

The best thing I've introduced at my workplace is… taking on more engineering interns, some of who have gone on to part- or full-time roles with the team.
In my role, I always challenge… people asking "what is it like working in a male-dominated field?" Asking the question is trying to make a problem out of something that isn't there. I'm doing what I love, learning heaps and working with people I enjoy being around. Like the other female engineers, I'm towards the younger end of the age spectrum, reflecting the proportion of female engineering graduates. Many of the older engineers had no, or very few, females in their class.
In the past year, I've pushed boundaries by… taking three and a half weeks off to do some racing myself in Italy. This allowed me to sail in the bucket list destination of Lake Garda.
I admire engineers who… are passionate about what they do.
At school, teachers always described me as… conscientious, hard working, organised, cheerful, enthusiastic, motivated, articulate, confident… Feedback such as "check carefully all questions are answered" and "eliminate errors by checking work" were also common.
My luckiest break was… obtaining an internship at ETNZ immediately after my final university exams, which led to a real job with the team.
Best career advice I've received… 9/10 people wake up in the morning not wanting to go to their work. You want to be the one in 10 who does.
I'd advise other people interested in my type of role to… not wait for job adverts – reach out and get in touch. If there's nothing available at the time, you may still learn how to make yourself more attractive to the company in the future.
---
3 things I love about my job:
The variety of work I do – it's interesting working in a range of areas and on a range of projects and it means I keep learning.
Working closely with many members of the design and sailing teams.
Seeing all the cutting-edge research and development work going on all around me within the team.
2 reasons why I chose to study engineering:
Maths and physics were always my strongest subjects at school.
As an avid sailor, including competing internationally, I was looking for a degree that could ultimately lead to a career combining my academic strengths with my sporting passion.
1 thing I wouldn't change about my workday:
The people I work with. Everyone is driven towards a common goal and will do everything they can to achieve it. Everyone understands every member of the team is critical and success comes down to the entire team, not individuals.