By Kavita Kansara 17 Dec 2019
This month we catch up with John Findlay from Otago Polytechnic. John is Principal Lecturer in mechanical engineering and a Member of Engineering New Zealand.
What's your role at Otago Polytechnic?
I am a Principal Lecturer in mechanical engineering. Most of my teaching is now done in China where we have a joint engineering degree with Dalian Ocean University. I teach four courses covering Strength of Materials, Mechanics of Machines and Engineering project. These courses are typically semester long courses but delivery is condensed to eight weeks, so an interesting challenge. I also support learners in industry who are upgrading their qualifications while they work.
Describe a typical day for you?
It depends on my location! In China, life is very busy so it's up at 6am with class usually starting at 8am. If I'm fortunate, I'll have two hours with no teaching, during which time I'm either creating new assessments or rewriting teaching notes into plain English. As academics and engineers it seems we're not very good at using simple language which students with only average literacy levels can understand, and it's even worse for people who have English as a second language. After the office day is complete, I'll go with a colleague to find dinner (Chinese of course), and then back to my apartment to do any marking which has cropped up. I'm currently back in New Zealand, so my day started at 6am and I was at work just after 7am. My work today is reading through portfolios of work from some of my students who are doing work learning. Here I am looking to assess naturally occurring evidence against either Learning Outcomes from particular courses or possibly against the Graduate Attributes of a particular qualification. When I identify gaps in knowledge or skill I then get to identify learning opportunities for the student to fill the gap. This afternoon I'll spend time working on text books which I'm producing for the Chinese courses. This may involve some research, or it may involve writing new simple text or alternatively the creation of graphical elements which are easier for the students to follow.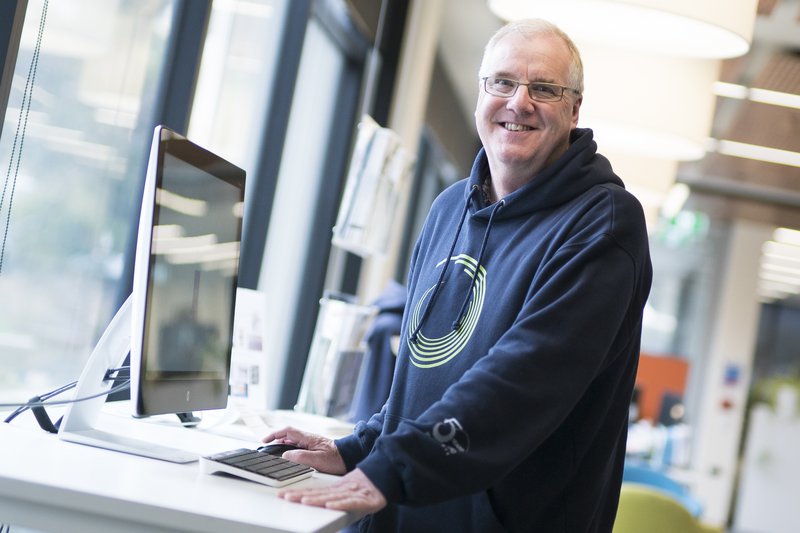 How has teaching engineering students changed over the years?
Young people in New Zealand have changed in the way they question things and in the practical family or farm backgrounds they come from.  Previously there was more of a requirement for the teacher to provide both the information and then teach the students how to use it effectively to actually solve problems.  Today the information is freely available on the internet and the job is to help students moderate what they are reading to ensure it's accurate and appropriate before considering problem solving.
Why do you think softs skills are just as important as technical skills for today's engineers?
I'm not a big fan of the term 'soft skills'. In fact I have heard these referred to as 'power skills' recently and have adopted this term as a really good description of their importance. I believe because of the availability of information through both the internet and a wide range of supplier sources, these 'non-technical skills' are more important than ever before. I particularly see it in my Chinese students who technically can be quite brilliant but too many struggle to communicate effectively so working in teams is something quite uncomfortable for many of them. 
Name an academic who was inspirational to you, while you undertook your engineering studies and why did that academic have such a profound impact on your life?
In my early years studying NZCE I was lucky to have a couple of teachers; John Nyhof and Alan Stevens who had significant industry backgrounds, and made my studies in engineering very real and interesting to me. Their knowledge and experience was contemporary and they just had a nice manner of teaching not lecturing. I've always tried to ensure that my own knowledge is up to date and that I continue to have contact with local companies so I know what is happening in my discipline at any time
As an academic, why are you a member of Engineering New Zealand?
I was very involved in the National Engineering Education Plan project and also in the development of the Metro BEngTech and the NZ Diplomas. I got a new and broader look at IPENZ as it was then and decided that I could see a future as a member.
How do you engage with Engineering New Zealand?
As a member and an academic, plus I'm on my second stint as a member of the local branch committee. I think that particularly at branch level there are real opportunities for students and recent graduates to become engaged and connect and learn from others.
An engineering career is a great way to see the world.  Where has engineering taken you?
I had children relatively young so didn't do the traditional OE thing. Through my work and interest in engineering education and the CDIO initiative, I have attended and presented at conferences in Australia, Japan, Singapore, Copenhagen and Boston. I now spend six months of the year working in China which gives me opportunities to visit other areas.
What is your favourite piece of engineering in Dunedin?
A tough question to answer for a mechanical engineer. Some of my favourite pieces of engineering in Dunedin are the pieces of machinery housed at Toitū Settlers museum. I'm always in awe of the invention and skill that went into early machinery. In terms of buildings, I'm a fan of buildings which have maintained heritage features but been repurposed to allow for modern and future purpose use. We're very lucky in this regard in Dunedin – possibly the best and most recent example is the Dunedin Courthouse which has maintained the heritage appearance but is now a safe and future focused building.
What do you do in your spare time?
Despite my background being mechanical engineering my hobby and skills crossover into wood. In the 90s I built a house for my family. I make contemporary furniture and I'm currently repurposing our 1960's style house for comfortable living in my future retirement. I have a workshop with a range of both wood and metalworking machinery and that is where I spend a good amount of time. I have recently introduced my 11-year-old grandson to the workshop where he dreams up ideas, I 'engineer' those ideas and together we build them to see what happens. The latest work in progress is a two wheeled trolley.