Commissioned in 1916, Wairua Falls Power Station in Northland, is one of New Zealand's oldest hydro schemes still in operation.
The station was built by the Dominion Portland Cement Company to supply electricity to its cement works at Portland, with surplus electricity going to the Whangarei Borough Council and the Maungatapere district. 
Construction began in March 1914 and the station was completed in September 1916. Initially it had two turbo generators, producing a combined output of 2 MW. 
The station has a catchment area of 348 km2 and uses the head available from the Wairua Falls. Water from an intake just upstream of the falls feeds into a canal which runs for approximately 2.4 km down the right bank of the Wairua River to a head pond where two penstocks feed the water down to the powerhouse.

A third generator was added in 1940, bringing the output up to 3 MW. In 2007 the station was upgraded as part of the government's commitment to renewable energy. The control system was replaced, and a forth generator installed bringing the total capacity to 5 MW; enough to power 675 homes.

The typical annual energy output from the station is 22 GWh.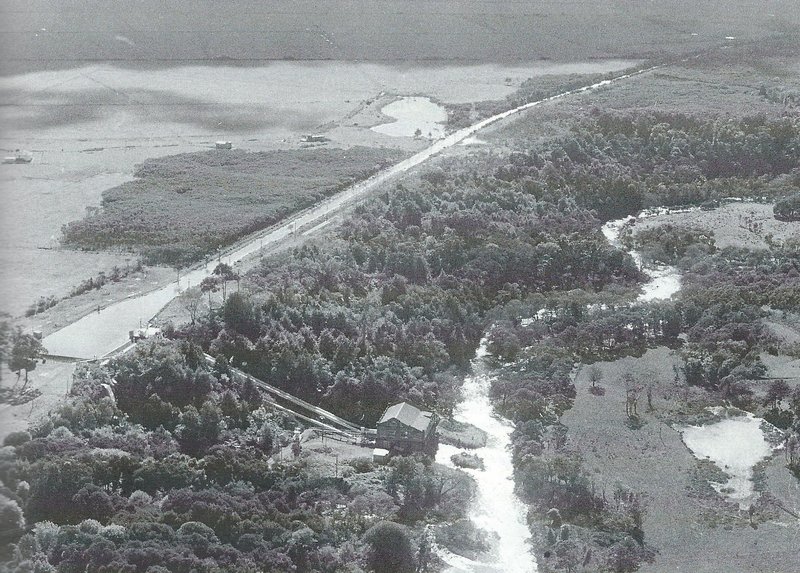 Portland cement 
Cement is made from clay and limestone, ground to a fine powder and then fired in a kiln. To do this requires a large amount of electricity. 
In 1912, William Wilson, a founder of Wilson's Portland Cement Company, noted a hill of limestone near the Oakleigh River. He formed a new company, the Dominion Portland Cement Company, and sought the rights to generate power from the Wairua Falls. 
This was granted with the agreement that the company would supply power to Whangarei Borough Council. Whangarei received power from the Wairua Falls hydro scheme until the 40-year supply licence expired in 1957. 
In 1918 the Dominion Portland Cement Company went into liquidation and was amalgamated with Wilsons Portland Cement Company and the New Zealand Portland Cement Company to form the Wilsons (N.Z.) Portland Cement Company. 
The company was taken over by Golden Bay cement in 1987, and from 1988 has been owned by Fletcher Building Limited. 
The Wairua Falls Hydro Station is now owned and operated by Northpower Limited.
Early interest in the Wairua Falls as the site of a hydro scheme 
Interest in the Wairua Falls as the site of a power scheme dates from 1903 when the government commissioned a survey of sites suitable for hydro development. 
The Public Works Department invited overseas expert, L.M. Hancock, to New Zealand to make a survey of New Zealand's hydro-electric potential and to give advice about its development. 
Hancock was the Electrical Engineer and General Superintendent of the Transmission Department of the California Gas and Electric Company and had been involved with the development of hydro schemes in California. 
Hancock visited New Zealand between October and December 1903. He was accompanied on his tour by Peter Seton Hay, Superintending Engineer of the Public Works Department. Hancock and Hay began their survey at Wairua Falls and travelled south, finishing at Lake Monowai in Fiordland. Hancock reported on 43 sites and made recommendations for initial projects. He favoured Wairua Falls for its proximity to Auckland and wrote that the "locality made a great impression regarding its possibilities, and is well worth a complete survey." 
Hay looked in detail at 60 locations and was more moderate in his assessment of Wairua. He felt a large reservoir dam would not be cost effective and suggested a power station using only the low-water flow of the river.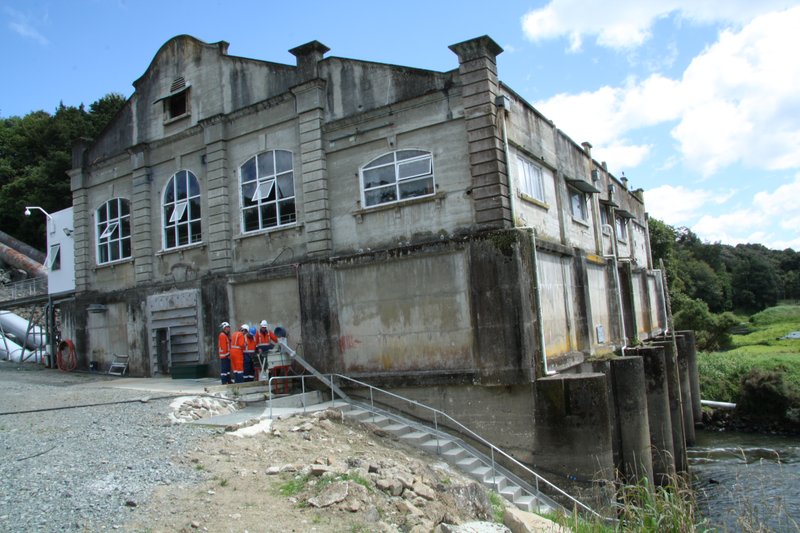 ---
More Information
Further reading
"Harnessing Wairua Falls". Northern Advocate, July 7, 1910. 

"Large Electric Scheme". New Zealand Herald, January 18, 1915. 

"Harnessing Wairua". New Zealand Herald, January 19, 1916. 

"Wairua Falls Electricity". Northern Advocate, July 15, 1920. 

Rennie, Neil. Power to the People: one hundred years of public electricity supply in New Zealand. Wellington: Electricity Supply Association of New Zealand, 1989.
Related Heritage Record entry 
Location
Wairua Falls Power Station
Page last updated 14 May 2021