The largest steamship built in New Zealand, T.S.S. Earnslaw, is now one of the world's last coal-fired passenger steamers. The hull and machinery, including the boilers and engines, were designed and built in Dunedin.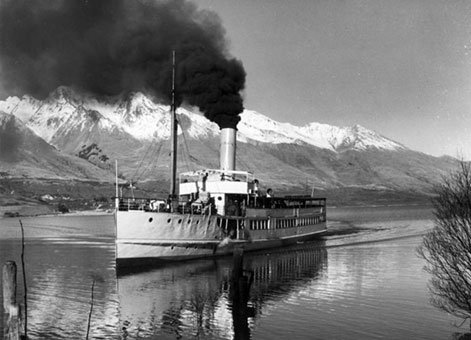 The ship is unique in that the hull was constructed in Dunedin, dismantled so it could be transported to Kingston, then fitted out for use on Lake Wakatipu.
When launched in 1912 the T.S.S. Earnslaw was an extension of the New Zealand Railways network from its terminus at Kingston. The development of the Wakatipu Basin owes much to the steamer for the role that it played in the servicing of Queenstown, Glenorchy, Kinloch and several major sheep stations on the shores of Lake Wakatipu.
With present day road and air services, the role of the ship is now that of a unique relic of early history, still servicing the remote sheep stations on the western shore of the lake, but better known as a tourist and entertainment attraction for which it has an international reputation.
Audio featuring a brief history of the T.S.S. Earnslaw on the Manatū Taonga Channel (1:43 minutes into clip)
Construction details
Built for: New Zealand Railways.
Designer: Hugh McRae, Dunedin.
Builders: J McGregor and Company, Dunedin.
Heritage recognition
IPENZ "Engineering to 1990" project
This item of New Zealand's engineering heritage was recognised as part of the IPENZ "Engineering to 1990" project which the Institution organised to help celebrate the country's sesquicentenary in 1990. A plaque was unveiled to mark the significance of this vessel as part of the development of the nation.
---
More information
Access
The Earnslaw is operated by Real Journeys.
Further reading
Maurice Davis, "TSS Earnslaw," unpublished manuscript, August 2012.

Robert J Meyer, All Aboard: The ships and trains that served Lake Wakatipu, 2nd ed, New Zealand Rail & Locomotive Society Inc, 1980.
Antrim Engine Record entry
Location
The Earnslaw operates from the Queenstown Wharf, Queenstown, Central Otago.