Built between 1923 and 1925, the Springvale Suspension Bridge spans the Rangitikei River, near Inland Patea's Springvale Station.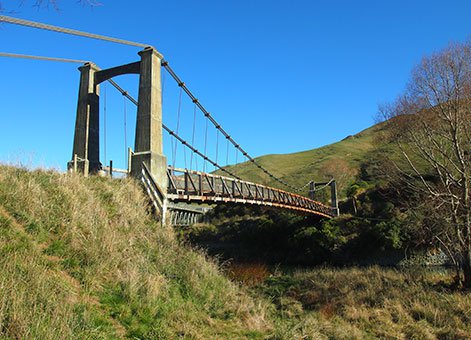 European farmers settled this remote area of Rangitikei from the late 1860s, but in the early 20th century it was still relatively isolated, only being accessible using a crude road between Taihape and the port town of Napier. After World War One the Government initiated a scheme to open up and develop areas like Inland Patea. The resulting Taihape-Napier Road enabled increased transport efficiency for farm produce and Hawke's Bay travellers connecting with the Auckland-bound trains. Motorised transport was becoming increasingly popular at the time and this was factored into the Springvale Suspension Bridge's design. Initially referred to as the Erewhon Bridge, the single lane structure was replaced in the road network in 1970 by a nearby, modern, Callender-Hamilton Bridge.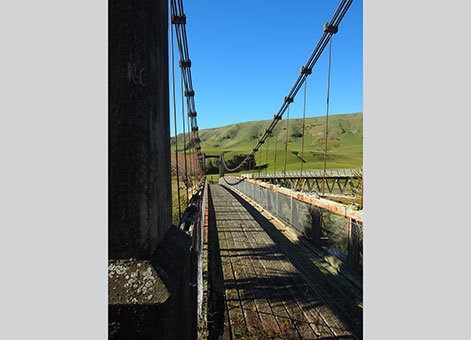 The Springvale Suspension Bridge was designed by Sydney Arthur Robert Mair (1872–1961), who spent 46 years as the Rangitikei County engineer. Mair was also a founder of the Institute of Local Government Engineers of New Zealand (1912) and the New Zealand Society of Civil Engineers in 1914 (now known as IPENZ). Built by William Salt (1887-1929), the bridge's span is 61 metres (m) and its reinforced concrete towers are 7 m tall. While a number of similar bridges were constructed in the North Island during the period, replacement programmes, like the comprehensive one carried out by the Rangitikei County Council in the 1960s and 1970s, means the Springvale Suspension Bridge is a rare example of a local early 20th century suspension bridge.
The bridge was the first engineering heritage structure to become a New Zealand Historic Places Trust (now Heritage New Zealand) property, in the late 1970s. This is evidence of a broadening of what New Zealanders consider to be heritage.  The Springvale Suspension Bridge, used as pedestrian bridge, remains a notable local feature.
Read the heritage assessment. | 418.5 KB
Heritage recognition
This place has been recognised by Heritage New Zealand as a Category 2 historic place (List no.7535):
Sprinvale Suspension Bridge: New Zealand Heritage List/Rarangi Korero information
http://www.heritage.org.nz/the-list/details/7535
.
---
More information
Access
The bridge spans the Rangitikei River and although it is no longer accessible to vehicle traffic it can be accessed by pedestrians from a Taihape-Napier Road rest area on the eastern banks of the river.
Location
41 kilometres from Taihape along the Napier-Taihape Road, northwest of Moawhango, Rangitikei.