The production of steel from titanomagnetite sand had never been achieved before, and this plant at Glenbrook, South Auckland, is the only one of its kind. It was designed to use a process largely developed by New Zealand engineers to produce steel from indigenous ironsand and sub-bituminous coal and is the biggest single-site development in New Zealand.
The original plant, designed to produce 150,000 tonnes per year of steel billets, was built between 1967 and 1969 and commissioned in 1970. It was then subject to extensive modifications with additional plant and other improvements completed in 1978.
The Stage One expansion from 150,000 tonnes per year to 750,000 tonnes per year commenced in late 1985.
The following features were all optimised in the original 150,000 tonne per year plant:
The utilisation of the multiple hearth furnaces to pre-heat the ironsand concentrate and de-volatilise the coal
The hot pan conveyors that transport this material to the kiln
The reduction kiln process.
Although the major plant items have been used elsewhere in the world (for different purposes) the configuration of the plant and the method of operation are unique.
The plant design also includes significant innovations to improve productivity and reduce operating costs including a 34-megawatt-capacity co-generation plant.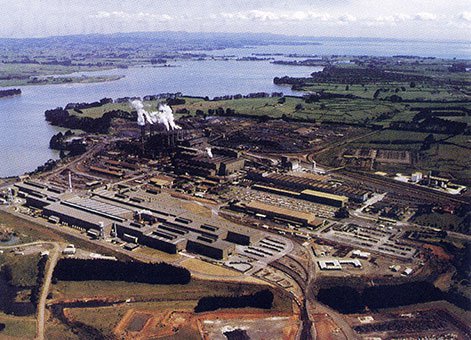 Construction professionals
Owner: New Zealand Steel Limited
Designers: W S Atkins & Partners
Contractors: Dillingham – Stevenson.
Stage 1 Expansion (iron and steel making only)
Project managers/engineers: Davey McKee (Stockton) Limited
Major plant contractors: G E C Materials Handling Ltd, Lurgi GmbH (kiln) Elkem A/S (melters), Flakt – Aust. (waste gas treatment), Davey McKee (KOBM).
Heritage recognition
IPENZ "Engineering to 1990" project
This item of New Zealand's engineering heritage was recognised as part of the IPENZ "Engineering to 1990" project which the Institution organised to help celebrate the country's sesquicentenary in 1990. A plaque was unveiled to mark the significance of this place as part of the development of the nation.
---
More information
Further reading
John Ingram, "Steel from Ironsand," in Evolving Auckland, ed. John La Roche (Christchurch: Wily Publications, 2011), 245-261.
Access
Public tours by arrangement with the company.
Location
131 Mission Bush Road, Glenbrook, South Auckland.