Completed in 1962, the Moutoa sluice gates form a major component of the lower Manawatu River Control Scheme – New Zealand's first major river control scheme. In 1990 it was recorded that these gates, located between Shannon and Foxton, could divert more flood water than any similar structure in New Zealand.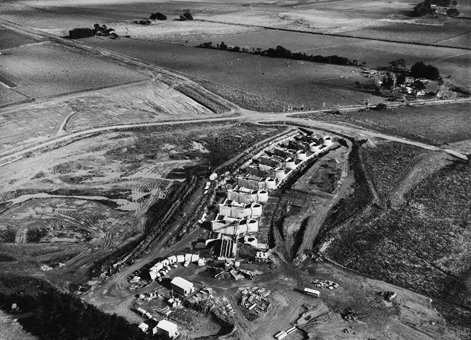 The Lower Manawatu River Control Scheme gives flood protection to 300 kilometres (km) of valuable rural land, and to large parts of Palmerston North and Feilding, which could otherwise be flooded by the Manawatu River and its tributaries. The scheme includes 100km of stopbanking along the Manawatu River between the sea and the gorge, and another 120km of stopbanking on the tributaries.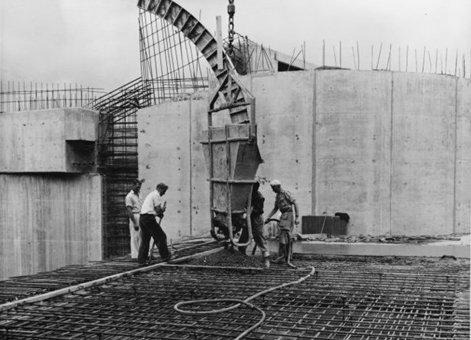 The function of the sluice gates is to divert floodwater from the Manawatu River down a floodway 10km long, which bypasses 30km of river channel which is very winding and has too flat a gradient to carry the necessary discharge. About a third of the land protected by the scheme is dependent on the gates.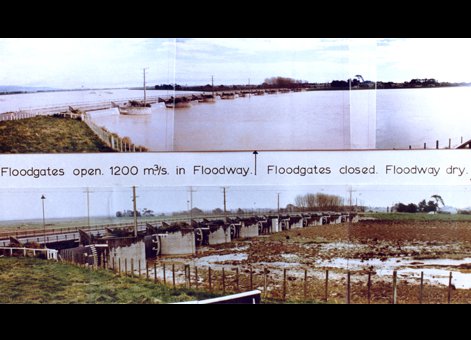 The gates were subject to intensive model testing to optimise hydraulic performance and to check for possible problems with seepage, piping and uplift. Features of construction included wellpointing on a large scale to permit the 210 metre (m) by 37m structure to be built in dry conditions. The groundwater level was lowered 5m, down to 2.5m below mean sea level.
The road bridge running along the top of the structure included one of the early uses of precast post-tensioned beams.
In 1990 the sluice gates were operated at an average of once in 18 months to two years, for periods of up to 60 hours.
Construction professionals
Engineers: Newton-King O'Dea Contractors: Wilkins and Davies Construction Limited
Heritage recognition
IPENZ "Engineering to 1990" project
This item of New Zealand's engineering heritage was recognised as part of the IPENZ "Engineering to 1990" project, which the Institution organised to help celebrate the country's sesquicentenary in 1990. A plaque was unveiled to mark the significance of this flood control system as part of the development of the nation.
---
Find out more
Access
The sluice gate structure can be viewed at all times as the road travels across it.
Location
5km from Shannon on Foxton-Shannon Road, near Marotiri, Manawatu.