Exotic pine plantations are a major resource for New Zealand. They commenced in the 1920s when the apparent wastelands of the cattle-sick pumice country north of Taupo were found to grow Pinus Radiata at much faster rates than in their native California. With the realisation that growing pine trees could be very profitable, it was necessary to develop industries to utilise the large volumes of timber becoming available.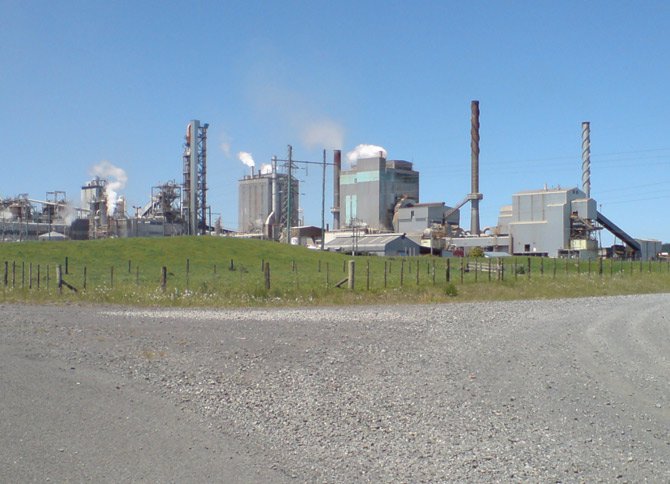 After extensive investigations and trials in Europe and the USA, the first industrial plant to be established was a fibreboard mill in Penrose in 1941. However the onset of the Second World War made the establishment of other processes difficult and machinery had to be imported from America. The manufacture of pulp and paper was also desired but the government of the day would not issue the necessary licences to allow the plant to be built. Pinus Radiata had been identified as being very suitable for making strong brown pulp with a wide range of uses including coloured and easily bleached paper. By 1947 the Tokoroa township and housing area were being constructed for millworkers. New Zealand Railways had purchased the Taupo Totara Timber Company's tramway between Lichfield and the site chosen for the Kinleith mill, seven kilometres south of Tokoroa. From 1949 extensive reconstruction work was done on the railway line to reduce steep grades and eliminate tight curves. The final opening of the upgraded line took place in October 1952. The line is now a major source of revenue for the railways.
In 1949 the site was cleared, and in late 1950 construction work for the mill commenced and the gang-saw mill began producing sawn timber. With the addition of an American bandmill in July 1952, the mill became the largest sawn timber mill in New Zealand. By 14 November 1951 the pulp mill was commissioned and the No. 1 Walmsely breast roll-to-reel paper machine started operating. The official opening by Prime Minister Sidney Holland on 20 February 1952 was attended by 6,500 people, many of whom travelled on a special train that ran right into the Kinleith mill. Important overseas currency savings in the first year were estimated at almost £3 million. It was soon realised that increased production would be necessary to boost paper production from 45,000 tonnes per year to 100,000 tonnes. A chlorine bleaching plant for making fine papers was added, along with a veneer plant for making plywood and a timber preservation plant.

Wood pulp is made from logs unsuitable for cutting into timber. The first step is to de-bark the logs with high-pressure water jets or tumbling. This is followed by chipping into squares about (30 x 30 x 5) millimetres thick. These are then cooked at high temperature for a number of hours in a solution of sodium sulphate and sodium hydroxide to separate out the cellulose fibres. These fibres are then thoroughly washed and screened before being poured on to moving fine wire mesh mats called 'fourdriniers,' where water is removed by pressing and suction. An endless sheet of kraft paper is produced after final drying by passing the sheet over steam-heated rollers. The paper is wound on to reels weighing up to 20 tonnes. Rapid expansion of the mill in the 1960s and 1970s brought additional paper machines culminating in Kinleith's No. 6 Black Clawson machine that produces 100,000 tonnes of paper per year at 600 metres per minute. It is 120 metres long and weighs 2,000 tonnes.

Some of the pulp is diverted for beaching to make white papers. Since 1991 the 'Elemental Chlorine Free' process using chlorine dioxide for bleaching has been used. This eliminates the dioxin hazard produced by use of chlorine gas. However the plant also produces liquid chlorine for municipal water treatment throughout New Zealand, sodium hypochlorite and caustic soda. Other chemical bi-products are vegetable turpentine and tall oil (liquid rosin) from the black liquor residue. Tall oil is distilled at a plant in Mt Maunganui to produce a range of products used in mining, paint manufacture and synthetic rubber.

There is much emphasis on using everything from the trees. Dried bark and sawdust are used to fire the boilers and chemicals used in processing are recovered for reuse. Water is treated and returned to the catchments with every effort made to minimise water use. In 2001 Carter Holt Harvey were ranked second in New Zealand for the 'Greenest Company Award' by Massey University Centre for Business and Sustainability. In 2004 the company won the' Energy Efficiency and Conservation Authority Energy Wise Supreme Award.' The company's 2013 Environmental Sustainability report puts great emphasis on reducing the environmental impact of their operations. The Kinleith mill generated 47.9 % of their electricity needs from renewable sources. In conjunction with the Penrose mill, 219,515 tonnes of recycled paper from the Fullcircle recycling company were used in the paper making process.

Ownership changes
In 1991 New Zealand Forest Products Ltd was acquired by Carter Holt Harvey Ltd, making it the largest industrial company in New Zealand. American International Paper purchased shares in Carter Holt Harvey and by 1995 they had achieved a 50.5 % controlling interest. In 2005 Rank Group Investments Ltd, controlled by New Zealander Graham Hart, purchased American International Papers holding and Carter Holt Harvey became wholly owned by Rank Group Investments. In 2014 the Kinleith, Tasman and Penrose paper mills were sold to Japanese company Oji Fibre Solutions, one of the largest paper manufacturers in the world located in Asia, Europe, Australia, New Zealand, and North and South America. They produce a range of kraft market pulps for use in the manufacture of various papers, boards and specialty products, together with containerboard for conversion into corrugated cases. They service customers globally from their three New Zealand paper mills.

More information
Access
There is no public access to Kinleith Paper Mill
Location
Kinleith is located 7 km south of Tokoroa on State Highway 1.
References
A H McLintock (ed), 'Kinleith,' from An Encyclopaedia of New Zealand, originally published in 1966. Te Ara - the Encyclopedia of New Zealand, accessed 14 April 2017.

Brian Healy, A Hundred Million Trees: The Story of NZ Forrest Products Ltd, Auckland, Hodder & Stoughton, 1982. 
Carter Holt Harvey, 'Working Sustainably: Environmental Sustainability Report for the 2013 Calendar Year,' accessed April 2017.

'Carter Holt Harvey,' Wikipedia, 25 January 2017, accessed 14 April 2017.

New Zealand Forest Products, 'The Kinleith Story,' Kinleith, 1970.

Oji Fibre Solutions NZ Ltd, 'History,' 2017, accessed 14 April 2017

Further reading
Michael Roche, 'Exotic forestry - Harvesting the forests, 1950s–1980s', Te Ara - the Encyclopedia of New Zealand, accessed 14 April 2017.