The Simpsons Reserve Bridge is a portable bridge of a type developed by Charles Inglis specifically for use by the British Army. In the First World War it played a key role in supporting the advance of Allied forces. This Inglis Bridge in New Zealand is one of the last of its type in the world which remains in use.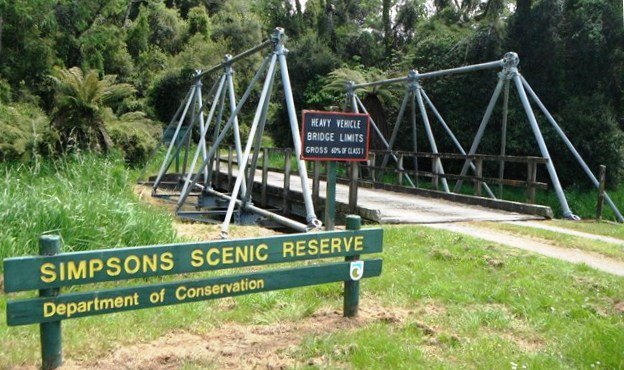 The Inglis Bridge is a Warren truss bridge constructed of standardised steel components. The components are assembled into modules 3.66 metres (12 feet) long and the bridges could be built to any length by joining together different numbers of modules. The Inglis design was the world's first mass-produced portable bridge and predated the well-known Bailey bridge which was developed to take the heavier tanks used in World War Two.
The bridge in Simpsons Scenic Reserve is located 2km north of Hunterville on State Highway 1, and then a further 2km along Murimotu Road. It spans the Porewa Stream, a tributary of the Rangitikei River. The reserve encompasses 38 hectares and protects an outstanding area of lowland podocarp forest that is a rare survivor of the vast forest burned off by early Pākehā settlers when they began establishing farms. Vehicle access to the reserve was initially a wooden beam bridge. The replacement steel Inglis bridge was erected in 1985 because the condition of the wooden bridge had deteriorated. The new bridge was assembled by Project Employment Programme workers under the supervision of the Rangitikei County Council, using components supplied by the Council. In 1995, management of the Inglis bridge transferred to the Department of Conservation. 
The history of the bridge parts prior to 1985 is not known. A possible earlier use of this road bridge was on State Highway 34, across the Rangitikei River at Vinegar Hill. Tracing the history of a particular bridge is difficult because the modular Inglis concept allows interchange of components. It may be that when the Bailey bridge superseded the Inglis as the popular modular military bridge, the British Army disposed of their stock of Inglis bridge parts. Somehow they found their way to the Rangitikei County Council (and maybe other councils around New Zealand). 
The attached paper, 'An Inglis Portable Bridge Survivor', which contains much more detail about the structure and use of Inglis bridges, was presented at the 4th Australasian Engineering Heritage Conference held at Lincoln University, Canterbury in November 2014.
---
Further Reading
An Inglis Portable Bridge Survivor | 892.6 KB
Location
Simpsons Reserve