This reinforced concrete water tower was completed in early 1914 to provide adequate water pressure for firefighting.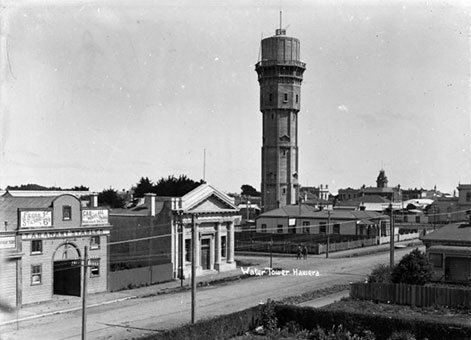 The designer was the Borough Engineer, JC Cameron and the consultant was ST Silver. The Hāwera Water Tower was built by day labour under the supervision of the Assistant Borough Engineer, CP Cameron.
It's 51 metres (m) high with a cylindrical form having buttresses and changing to an octagonal form with a circular balcony. The top has the main tank, a cylinder containing 454,600 litres. A lower tank holds half this quantity. The interior has a central concrete column with radiating beams supporting the several floors.
It's worth noting when the Hāwera Water Tower was almost complete a strong earthquake caused it to tilt some 0.75 m from the vertical. By using anchors and careful undermining on the low side, with the first tank filled with water to help compress the deliberately dampened clay underneath, it was possible to right the tower in seven days. The excavated clay was replaced by concrete with the result that the structure has withstood many subsequent shakes.
Heritage recognition
This place has been recognised by Heritage New Zealand as a Category 1 historic place (List no. 143):
Concrete Water Tower, Hawera: New Zealand Heritage List/Rarangi Korero information.
Find out more
Access
Visitors need to go to the town information centre where they can get a key for a small payment to access the tower.
Further reading
Geoffrey Thornton, Cast in concrete: Concrete construction in New Zealand, 1850–1939 (Auckland: Reed, 1996).
Location
Corner Albion and High Streets, Hāwera, South Taranaki.