One of many bridges over the Clutha River, Beaumont Bridge replaced an earlier structure destroyed in the disastrous flood of 1878 and remains in use as part of State Highway 8.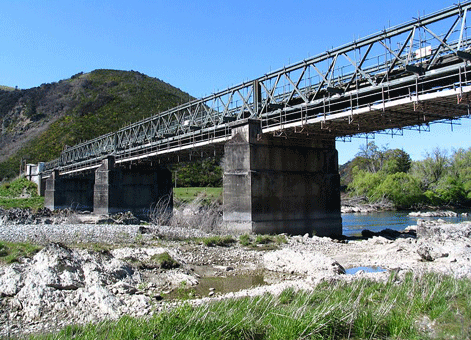 Completed in March 1887, the Beaumont Bridge is a single-lane structure with concrete piers and abutments. An interesting feature of this bridge is that it was the first of four early iron truss bridges made entirely from iron fabricated in New Zealand. Indeed, the contractors, Anderson and Son, railed the material from their base in Christchurch to a small foundry on site, which was established especially for the assembly of the trusses. Later the company repeated this approach on a larger scale on their major project for the North Island Main Trunk Railway, the Makatote Viaduct.
The Beaumont Bridge took one year to construct, but the entire project was three and a half years in the making. When the Beaumont Bridge was eventually completed it was described as "a lasting monument of the undoubted excellence of New Zealand workmanship" (Otago Daily Times).
Find out more
Access
This bridge is part of the state highway network and is open to vehicle traffic. Side roads at either end of the structure provide river bank access and an opportunity to view the bridge.
References
G. Thornton, Bridging the Gap: Early bridges in New Zealand, 1830-1939, Auckland, 2001, pp.132–33.
"The Beaumont Bridge" Tuapeka Times, 16 February 1887, p.3.
"The New Beaumont Bridge" Otago Daily Times, 9 March 1887, p.4.
Location
Clutha River, State Highway 8 at Beaumont, South Otago.