By Rachel Helyer Donaldson 14 Mar 2022
When the Waitematā District Health Board (WDHB) group upgraded a hospital's oxygen delivery system in readiness for a potential influx of Covid-19 patients in late 2021, it was a race against time.
What is it?
Two North Shore Hospital buildings were earmarked for an oxygen delivery system upgrade – the Elective Surgery Centre (ESC) and Ward 11.
Both buildings had an existing O2ringmain, consisting of 28mm pipe. This was more than doubled by installing a parallel 42mm pipe.
The existing 54mm pipe running from the main vacuum insulated evaporator (VIE) to the hospital's pipe network was boosted by the addition of more than 450m of 67mm copper pipe.
WDHB capacity for Covid-19 patients' likely oxygen needs increased six-fold, from 12 suitable beds to a possible 72.
There were up to 28 Covid-19 patients at North Shore Hospital at the peak of the Delta outbreak in Spring 2021.
I've never seen such fluidity of change and speed of information adjustment. - Mark Hildesley.
How did they do it?
In late August the team worked six long days, including three days around the clock to ensure the first building was ready in time for Covid-19 patients.
The work involved nearly 100 people from nine companies: engineers, roof cleaners and workers, filter specialists, electricians, sheet metal fabricators, mechanical fabricators, hoarding constructors, scaffolders and airflow specialists.
They included engineering consulting company Beca; ESP Mechanical who installed the HVAC system with design from 1st Mechanical; and ABC Medical Gas who did the medical gas pipe installation.
Materials used included galvanised steel and stainless steel for the HVAC system and medical grade copper pipes joined with high silver content solder for the medical gas supply. Glass fibre and synthetics were used for the Hepa filters and PPE.
The permanent oxygen delivery system upgrades to the existing Air Liquide VIE system involved 27 plant upgrades, including upgrades to the pressure regulation, automating the switching system between the evaporators, and replacing some of the original valves.
Potential flow through the pressure regulation system was increased from 80m per hour to 350m per hour.
Modifications were needed due to some supply chain issues. When the project started there were no Hepa filtration units available to install in the ESC building. Modifications were made to the HVAC system that could be changed later on. Eventually a New Zealand factory was reopened during lockdown and units were produced specifically for the upgrade at the behest of the Ministry of Health.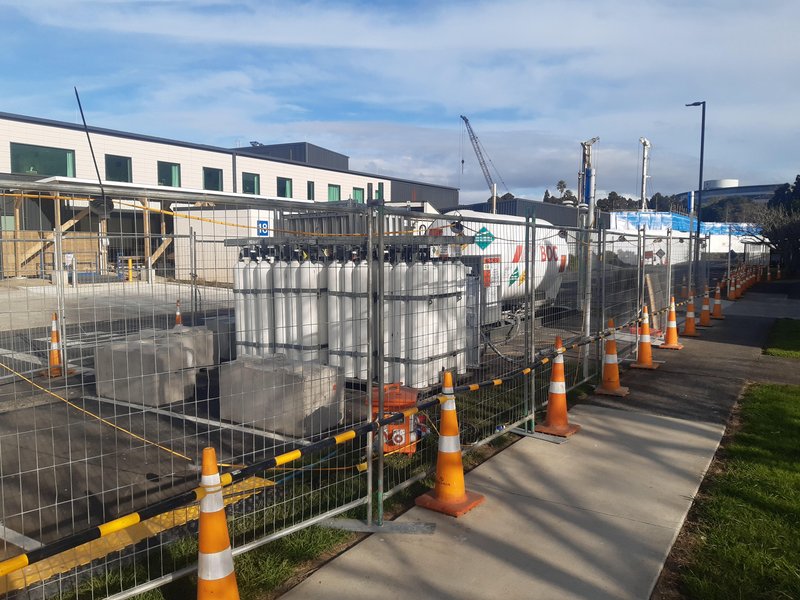 On 18 August 2021, most Kiwis were bunkered down in their bubbles on the first day of Aotearoa's second national Covid-19 alert level 4 lockdown. But at Auckland's North Shore Hospital, a team of engineers and other technicians were starting an ambitious project.
Since the exact arrival time of Covid-19 variants could not be known, the concepts for the project were already in the planning stages, with the Ministry of Health identifying North Shore Hospital as a potential key Covid-19 response site and earmarking it for an upgrade. When the highly contagious Delta variant arrived in New Zealand, "... it became clear we really needed to move ahead and push the button", says Mark Hildesley, the Project Management Engineer for WDHB's Facilities Services Group.
Two parallel issues had to be addressed, he says. Covid-19 patients who are ventilated require significant oxygen supplies but this inevitably puts pressure on the existing oxygen supply for all patients. During the outbreak in the United Kingdom, hospitals there found that when a Covid-19 ward was placed near an oxygen supply the rest of the pressure-based system was quickly starved of supply.
The other challenge was how to ensure the hospital's Heating, Ventilation and Air Conditioning (HVAC) system did not spread the virus. Typically pre-Covid 19, hospital HVAC systems operated using a positive-pressure flow. Globally, hospital planners confirmed that the solution lay in containing the virus in Covid-19 isolation rooms using negative pressure.
The WDHB team, in conjunction with consulting engineers Beca, took all this on board as they executed their plan to upgrade the hospital's Elective Surgery Centre (ESC) and the older Ward 11. Both sites had an existing ringmain, using 28mm pipe, that provides oxygen to all beds. A parallel ringmain was permanently installed, using 42mm pipes, increasing capacity "significantly", says Mark.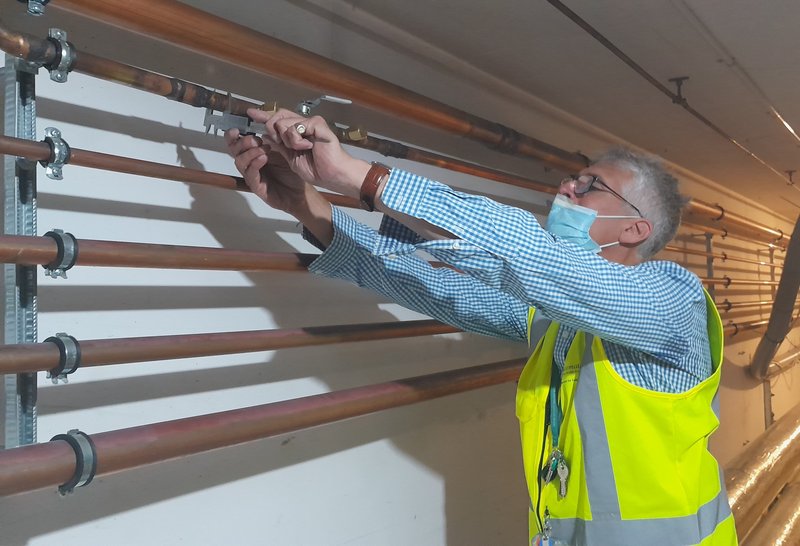 Engineer Mark Hildesley is originally from New York City. A number of his family are medical professionals, including his mother who is a hospital planner. They'd seen first-hand how bad things could get during their city's horrific Covid-19 crisis. All this was at the front of Mark's mind as he worked to protect his local community in Tāmaki Makaurau.
He hopes the system will never need to be used to its full capacity. But if it does, the changes made increase resources for the whole community, ideally improving health outcomes fairly for all. Overseas, a lack of ventilators saw health workers make heartbreaking decisions about who should get to use them. "We are hopefully going to avoid that. There's now at least 50 extra people who are going to get a bed if we do find ourselves in a worst-case situation. It's a much better feeling," Mark says.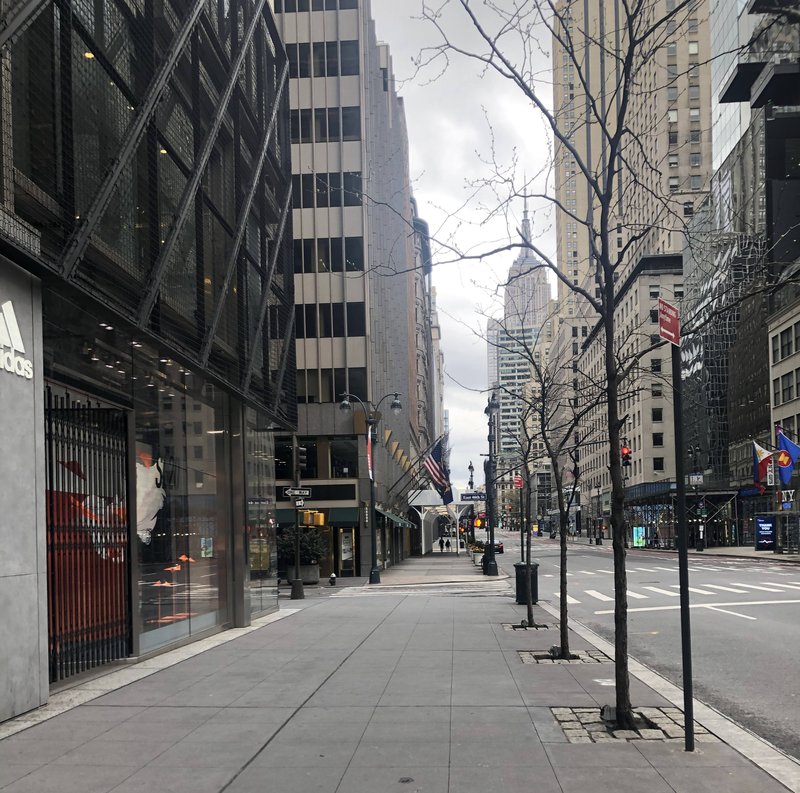 The Elective Surgery Centre
Work began first on the ESC, the newer and more straightforward building. "Within days, we finished the connection and started working on putting the pipes into the building."
A BOC tanker, containing a horizontal vacuum insulated evaporator (VIE), was then delivered and set up outside the ESC building. The day it arrived, the VIE was providing a temporary, additional oxygen supply system to Covid-19 patients. The best work pace was only possible when a building was empty and workers were unimpeded. "Fortunately this was the case for ESC, albeit a small window of time."
Mark says the work could have been undertaken with patients in the ESC, but not at the same speed or without using more resources. "By the time the system was ready to use, it just happened that they were putting Covid-positive patients in."
A local kaumātua blessed the ESC. The team followed a similar procedure for Ward 11, but it was a much more complicated installation, with asbestos present in the basement and foundations. Essential personal protective equipment (PPE), worn for both Covid-19 and asbestos conditions, made working more difficult.
Both sites' HVAC systems were changed over at the same time as the ringmain upgrades. Retrofitting from positive-designed systems in buildings that were never designed to provide negative pressure systems was another big part of the job. "There was a lot of parallel work. But each time we got something finished, it started getting used."
Challenges
Making timely decisions was crucial, particularly when a big storm struck Auckland in late August. This meant three days of round-the-clock work for most of the team.
"There was so much time pressure that Beca's principal engineer was doing significant hands-on, project engineering work because we needed answers for everything then and there. There simply wasn't the time to go through the normal design processes.
"It was all hands to the pump. We worked the weekend, it was windy and wet and the HVAC was put in during extreme conditions where, normally, you would have postponed. But that wasn't possible."
There were plenty of engineering challenges along the way and Mark says the biggest involved coordinating technical and clinical needs, taking into account what was available in the space, what resources were available in the country, and coordinating health and safety requirements such as PPE and social distancing.The project was like nothing he's ever worked on.
"I've never seen such fluidity of change and speed of information adjustment. We just had to assume things would be needed, and work [fast].
"It was also strange working hard, long hours, when most people had to be sitting at home."
Engineering has the chance to make a difference to people's lives, he adds. "It allows people to deliver solutions that wouldn't necessarily have been imagined, before they were done."