By Jennifer Black 6 Sep 2022
Meet Karissa Hyde CMEngNZ IntPE(NZ), a Construction Manager at Antarctica New Zealand working in Christchurch.
I describe my role to non-engineers as…
Managing the construction side of the Scott Base Redevelopment project, including providing input into the design, establishing and managing contractors and construction contracts, and leading a team of project managers and engineers to deliver supporting projects.
The part of my job that always surprises people is…
90 percent of my role is based in Christchurch at our project office, with short visits to Antarctica and Timaru to oversee construction. As there are so many moving parts, multiple construction locations and a team of people to oversee I generally only go to Antarctica once a year, for up to two months.
The best emoji to sum up me on a typical workday is…
❄️
The best thing I've introduced at my workplace/in my role is…
Coordinated flexible working. The team are based in the office Monday to Wednesday (for collaboration), and staff are free to work wherever suits them best Thursday and Friday.
In my role, I always challenge…
The why. If you can't give a good reason why something needs to happen then it should be up for review.
At work, I've never been afraid to…
Change if something isn't working – be it jobs, careers, solutions to a problem. I never get fixated on one thing. Just because something has been done one way for a long time doesn't mean it is still the best way to do it, or best suited to you.
In the past year, I've pushed boundaries by…
Pushing to grow the team, spearheading recruitment and procurement to develop a team that can meet the growing needs of the project.
I admire engineers who…
Are open to new ideas, adaptable and always learning.
At school, teachers always described me as…
Talks too much, quite bright but tends to distract others.
My luckiest break was…
When this job ad popped up on my LinkedIn feed when I was at home on maternity leave with my six month old.
The bravest thing I've done to get where I am today…
Quit a well-paid job as a Geotechnical Engineer where I wasn't happy to take a junior project management role where I could work my way up, closer to the construction side of the industry that I loved.
Best career advice I've received…
Don't drop who you are to become what people think a leader should be. Who you are has gotten you this far and is valued by those who are closest to you.
I'd advise other people interested in my type of role to…
Build a broad base of experience across the industry, as this sets you up best to understand all the different areas covered by a client-side role. Also, always keep one eye out for that once-in-a-lifetime role, even if the timing mightn't seem ideal.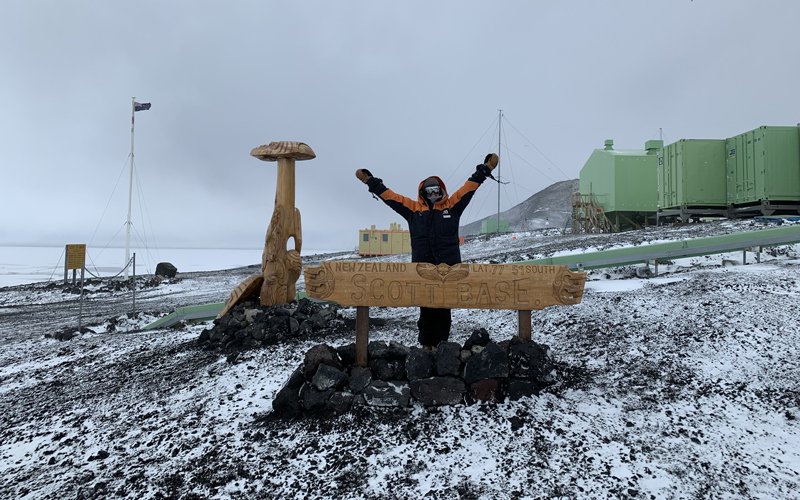 ---
3 things I love about my job:
The challenge – working on such a unique project in such a special environment there are so many different aspects to consider in every decision, from logistics, the harsh environment and short summer construction season to the huge variety of stakeholders who are passionate about New Zealand's home in Antarctica. Every day is different.
The people – I work with the most amazing and passionate team of people including the project team, consultants, contractors and the wider Antarctica New Zealand family, all dedicated to delivering a world class scientific research station for the next 50 years.
The place – the opportunity to visit Antarctica and work at Scott Base is a privilege.
2 reasons why I chose to study engineering:
I loved finding out how and why things worked.
I wanted to build things that would last and make a positive contribution to society.
1 thing I wouldn't change about my workday:
The team. Working in a collaborative and passionate team to deliver the best project we can, while still having a laugh (and a lot of chocolate) makes even the hard days fun