By Rachel Helyer Donaldson 9 Jun 2020
Could wool, used by humans since the Stone Age, regain its crown as a miracle material? A growing awareness about the sustainability of natural fibres, as well as health, safety and wellness benefits, is leading to innovative wool products – including in the fight against the global coronavirus pandemic.
Wool was once New Zealand's most valuable export before it fell into the doldrums, superseded by synthetics. The bulk of it, known as strong wool, is sold as a commodity product, lately for rock-bottom prices.
Wool prices hit an historic low in 2017, with the value of wool exported from New Zealand at around $522 million. In December, MPI forecast that wool export revenue would fall to $490 million for the year ending June 2020. This was due to the China-US trade war, and prior to the Covid-19 outbreak and expected global recession.
None of this is good for wool growers. Yet post-pandemic, the world is tipped to be a radically different place. The economy and environment are now seen as intertwined. Natural products, such as wool, could potentially play a big role.
In Auckland, mechanical engineer Nick Davenport's company Lanaco has been inundated with orders for its new protective wool mask in the wake of the Covid-19 outbreak.
Its first production run of N95-level masks all pre-sold as the small company of 10 staff fielded demand from around the world for "hundreds of millions" of masks, says Nick.
We've been flat out since this all happened, just trying to keep up, as well as developing new products to suit local demand.
"There are very few supply chains for filter media outside China, so our capability resonates strongly with all markets seeking a trustworthy media from a reputable country."
N95-level masks like Lanaco's are seen as the gold standard in protection. They block out at least 95 percent of very small (0.3 micron) particles, including bacteria and viruses.
"This is the perfect size for capturing in Lanaco's wool filter media," says Nick.
"That's our sweet spot."
Because wool is bacteria-resistant, manages moisture and removes toxins from the air, the filter media was perfect for healthcare products. Lanaco's Helix Filter launched in Healthy Breath's MEO mask, an anti-pollution face mask sold in several Asian markets, with a range of interchangeable cover designs created by Kiwi fashion designer Karen Walker.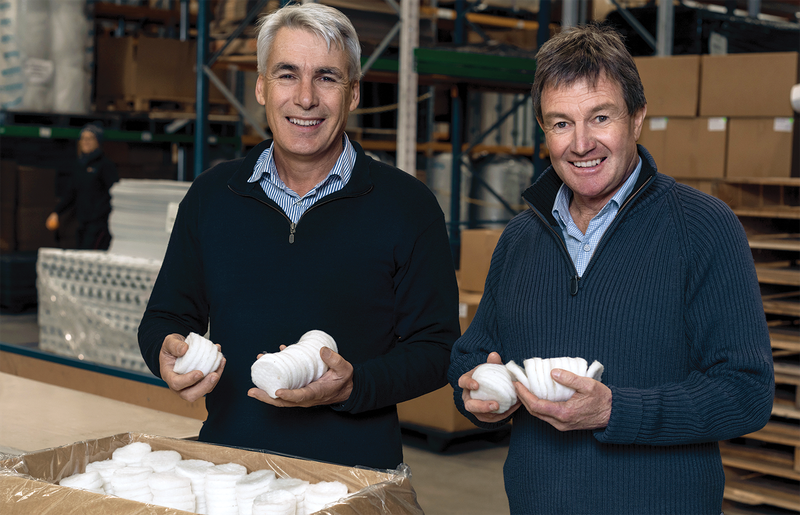 Where no Kiwi wool has gone before
Lanaco's wool-based filter system received the "greatest possible endorsement" when, late last year, NASA selected it to protect astronauts on the Orion spacecraft in the event of a fire.
"Orion is the most expensive vehicle ever created, and the biggest exploration mission ever undertaken which will see man and woman taken to the moon, Mars and beyond," says Nick.
"We are over the moon, of course. It's fantastic."
NASA tested Lanaco's wool-filter technology for particle loading capacity, breathability and flame resistance, plus the ability to function when exposed to water-based fire extinguishers. NASA's seal of approval means the technology could be adopted by first responders, like fire fighters, and the military, or automotive and public transport.
"It's based purely on performance," says Nick.
"First responders don't want to compromise on performance because lives are involved."
Lanaco was originally called Texus Fibre when Nick established it in 2011. Then, "the perceptions of wool weren't so good in our space".
These days Lanaco wears its wool connections proudly. Its name stems from the Latin, lana, meaning wool. The company is based in Ellerslie, on land that used to be one of Auckland's first sheep farms.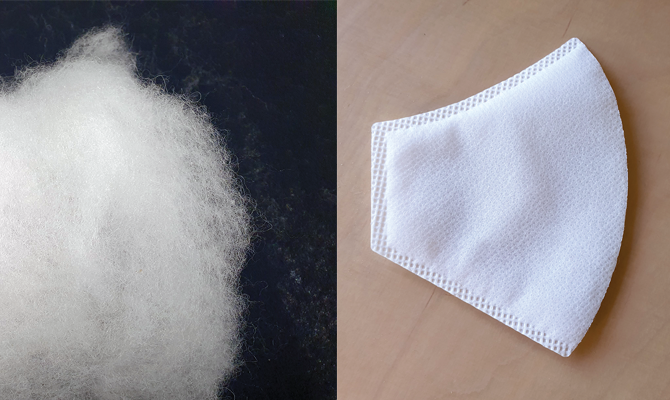 Nick discovered wool "by accident" while trying to produce a clothes dryer rotary seal that needed to cope with high temperatures and compression.
At the time he was manufacturing polymer-based material components for a host of products. The best material for the seal was wool.
He says it was "fascinating" that it was possible to manufacture raw materials that acted like the polymers he'd been using, yet were made from a natural fibre.
The idea of using wool for filtration came from Australian research. But the technology needed more development – "it wasn't reliable enough or thin enough" – and Lanaco created a prototype wool filter with the help of AgResearch.
Nick then took a punt, he says, and decided to manufacture it himself, despite never having processed wool.
There was a huge amount of variability in the wool. Lanaco created the trademarked Astino breeding programme with Wanaka breeder Andy Ramsden, to address its precise requirements for "a highly technical product addressing global health needs", says Nick.
"If we were going to compete with products that use synthetic materials, it had to be of a very high standard to prove itself in performance and be consistent."
"Time for a wool renaissance"
Around 90 percent of the wool produced in New Zealand is strong, or coarse, wool while around five percent is fine, soft merino. The defining difference between strong and fine wool is the micron or fibre diameter of the wool.
Merino – New Zealand's success story, used in premium apparel brands Allbirds and Icebreaker – is about 18 microns. More than 80 percent of wool produced in New Zealand is 32 micron or coarser. Strong wool of 30-plus microns has traditionally been used for carpets and upholstery.
Two decades ago, around 80 percent of carpets were wool and 20 percent were synthetic.
Then, armed with huge marketing budgets, the synthetics industry arrived in Aotearoa.
They sold a story around durability, colour fastness and recycling, recalls Stephen McDougall of Studio Pacific Architecture.
"They told an apparent 'green' story but this entailed picking up old carpet and melting it down."
Now it's "more like 10 percent wool carpets, and 90 percent synthetic", says Tom O'Sullivan, Chair of the New Zealand Campaign for Wool Trust. He says it costs farmers more to shear a sheep than they get from selling the wool.
"It's the price factor: the world has become a very throwaway society, and people just go with what's cheap."
But the "environmental groundswell" over the past decade has meant "a huge opportunity for wool", says Tom.
"It's an anti-synthetic, anti-plastic lobby and it's global."
Wool's attributes are very significant in terms of sustainability, adds Stephen.
"It is time for a wool renaissance. It just makes sense now."
Wool growers hope to capitalise on this. The Campaign for Wool (CFW) is an international initiative to raise awareness about wool's unique attributes and encourage people to buy more wool products. It hopes to encourage collaboration between an international community of wool growers and industry – including retailers, manufacturers, architects, designers and engineers.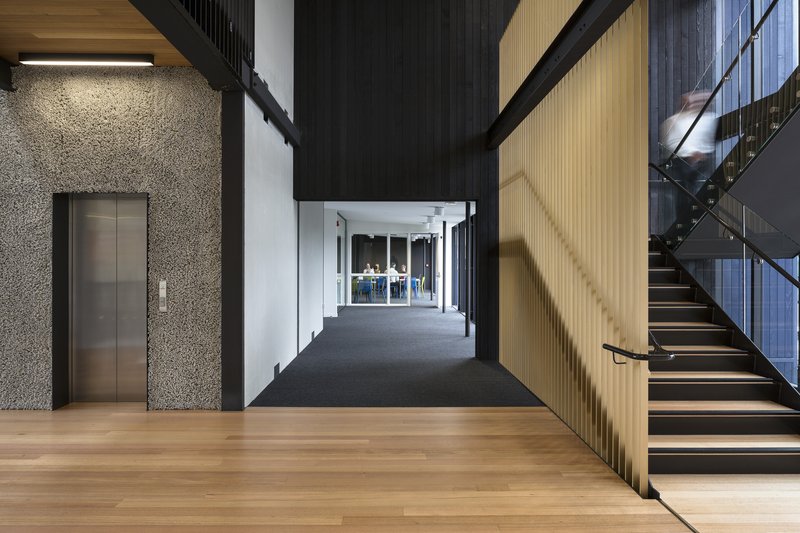 A "wonder product"
Wool's many inherent properties make it a "wonder product" for use in building, industrial and lifestyle areas, says Stephen, a CFW ambassador since 2011.
"Wool simply makes sense on so many levels. It's a natural soak of VOCs [volatile organic compounds], it's renewable, it's biodegradable, it's got low-carbon impact. It's breathable, it's got in-built humidity control, low-allergy properties, it absorbs toxic chemicals, it's a sound absorbent, it's a thermal insulator and it's got signficant flamability advantages."
Studio Pacific Architecture tries to use wool in as many of its projects as possible, including residential developments – from high-end projects to Housing New Zealand clients – and commercial projects.
Meanwhile, wool carpet, upholsteries and textiles can "completely" change a room's atmosphere, thanks to the way wool absorbs moisture, sound and heat, says Stephen.
Using wool not only benefits the New Zealand economy, but could also provide the answer to sustainability, health, wellness and safety issues.
He says engineers, along with architects and designers, have a "crucial" role to play.
They understand sustainability and environmental issues. As "specifiers of products", they make conscious decisions to select particular materials.
"I would encourage them to consider wool. They should also encourage their clients to choose wool over synthetics."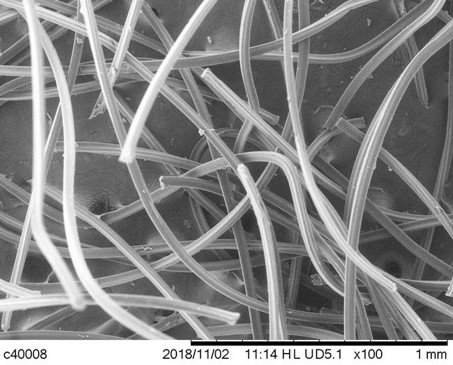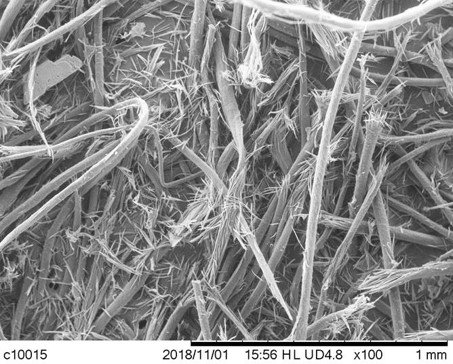 Environmentally sound
When synthetics are washed, be it clothes or carpet fibres, tiny granules of plastic end up in the oceans.
In contrast, new research by AgResearch in Lincoln and Scion in Rotorua has found that carpet wool biodegrades in the marine environment, just as it does on land.
Meanwhile modifications to the strong wool fibre – such as dye, or treatments to make it stain resistant or machine washable – do not reduce biodegradability, generally.
AgResearch senior scientist Stewart Collie says that, when comparing the life cycle of wool and synthetics, it's important to remember that wool has no lasting impact on the environment.
"Wool provides a reliable, sustainable opportunity in most applications where you might think you can recycle a product at the end of its life."
---
This article was originally published in the June 2020 edition of EG magazine.