By Kavita Kansara 3 May 2023
University of Canterbury Professor Philippa Martin recently became a Fellow of Engineering New Zealand. Learn about her role and how she incorporates Te Ao Māori into her engineering courses.
What is your role at Canterbury University?
I'm a Professor of Wireless Communications at Te Whare Wānaga o Waitaha – University of Canterbury (UC). I'm currently helping with the advancement of 5G and 6G communications technology, and investigating how they can bring value to people, communities and businesses in a sustainable and responsible manner. I've also been leading culture change to create a more inclusive learning environment for our ākonga|students. Another part of my role is leading, mentoring, coaching and teaching the next generation of engineers. After doing this for 18 years, it's been interesting seeing how the different intakes vary in outlook and behaviour.
What lessons have your students taught you over the years?
I really like the Māori word "ako", which means to learn, study, instruct, teach and advise. This captures the essence of education as a bi-direction and collaborative space to explore knowledge together. I think many of us can learn from how the recent generation of engineers coming through focus on well-being, work-life balance, and having purpose and growth in their work. I also appreciate their activism and willingness to put actions behind their words.
There are constant changes taking place in engineering, how do you keep up to date?
One of the wonderful things about a career in engineering, is that it's ever changing. I love a good challenge and learning new things, so engineering has been a good fit. Conferences and collaborative projects with students, researchers around the world, and industry are fun additions to hitting the "books"/articles to stay up to date on technical engineering projects.
The changes taking place in engineering aren't restricted to just technical engineering knowledge. I also keep up to date on diversity, equity and inclusion in engineering, engineering education and modern leadership approaches. In an Aotearoa New Zealand context, this includes learning Te Reo Māori, and about Te Tiriti o Waitangi and Colonisation. I'm spoilt with lots of libraries, seminars and courses at UC.

What would be your dream engineering project to supervise and why?
I get a real kick out of working on projects that make a tangible difference in the world, whether it be for building community, conservation, supporting our public safety professionals, keeping people safe at work, keeping people connected or keeping the lights on. I also really love working on diverse trans-disciplinary teams, where we combine different knowledge, perspectives and experience to create something unique and bigger than any of us could do separately.
If a student is having trouble finding a solution to an engineering problem, what do you think they should do?
One thing I've learnt from hundreds of performance conversations with students, is that we all have very different ways of thinking, and my approach may not be the best approach for them. My job is to connect people to their resources, past successes and strengths in order to help them leverage those to get results. So, my question would be: what has helped you move towards a solution when solving a tough problem in the past?
One of my favourite things as an engineer or leader is to achieve the seemingly impossible by breaking things down into manageable chunks and drawing together an amazing group of people around a joint purpose. So, when I get stuck, I ask myself: What is one small thing I can do right now to advance this project/ get closer to the solution? Who can I work with/ talk to in order to progress this project?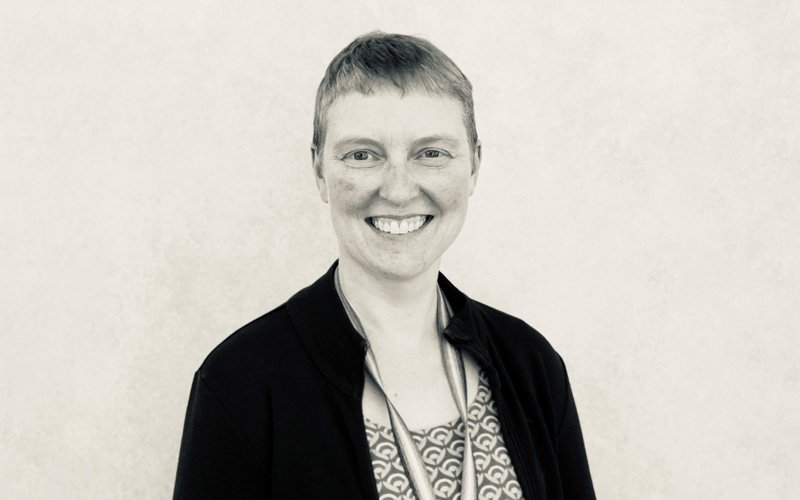 How do you incorporate Te Ao Māori into your engineering courses?
This is an ongoing journey. As I grow in confidence in my Te Reo Māori, it gets woven into my teaching and daily life. I am also bringing case studies into class as I find them. I am very lucky to have a connection to the Interim Māori Spectrum Commission and the incredible work they are doing to ensure Māori industry and communities are positioned to lead Aotearoa New Zealand's innovation in the 5G and 6G+ communication eras. Antony Royal was kind enough to speak to my students about the journey to indigenous spectrum rights and the work they are doing to get private 5G networks operating in Aotearoa New Zealand. Please go and check out their work.
How do you explain the Washington Accord to your students?
The Washington Accord is awesome. It allows us to practice engineering around the world. Opening up so many opportunities to learn and bring value. The associated accreditation also makes sure that what students get taught is internationally relevant and that they get taught it well.
Why are you a member of Engineering New Zealand?
It may have taken over 20 years to convince me, but I am now confident that Engineering New Zealand is genuinely committed to supporting a diverse engineering workforce in Aotearoa New Zealand. This is something I believe is worth supporting. I'm proud to be associated with Engineering New Zealand as a Fellow. They offer a community for engineers to learn, connect and celebrate. Over the earthquakes/pandemic/floods many of us have seen the huge value in having community.
Complete the sentence.   A world without engineers would be …
It's 2023 and I'm the only continuing female Electrical and Electronic Engineer in the UC Electrical and Computer Engineering Department. The gender and ethnic mix of my colleagues and students is far from representative of the Aotearoa New Zealand population. I'm absolutely sure that there are thousands of people across the motu who would be excellent engineers if we had better pathways and support for them. We are currently living in a world without diverse engineers and the result is that we are designing elegant, sophisticated and beautiful solutions to problems for a certain subsection of society. So, I rewrite the original sentence as… a world without diverse engineers is inequitable.
The world is facing some huge challenges at the moment: climate change, overpopulation, aging population, dispossessed populations (conflict and climate change), food insecurity, water quality, global health issues and massive inequity. We need diverse engineers in order to be able to imagine a wide enough set of solutions to tackle these issues. We need diverse engineers in order to design solutions for all people.
What is your favourite piece of engineering in Christchurch?
The high voltage lab at UC always has something interesting going on. My most memorable day was when human made lightning shot through the carpark outside my office window. Hard to beat that! Although, I do also have a soft spot for their singing tesla coil.
---
This interview originally featured in our Academic newsletter, Teach.