By Engineering New Zealand 11 May 2023
Tropical Cyclone Gabrielle was an historic event, causing widespread damage and the tragic loss of 11 lives. Kiriana Andrew of WSP tells us about her involvement with bridges in the Hawkes Bay region in the wake of Cyclone Gabrielle.
Kiriana Andrew has been a bridge engineer at WSP in Napier for over two years and is currently the project manager for bridge structures for the Wairoa District Council. She's been doing a lot of site visits to assist contractors on the ground with some of the temporary repairs needed to reconnect communities cut off by flooding.
On the day the cyclone hit, Kiri was evacuated from her Taradale home. She feels lucky her house was spared, especially after seeing the devastation just across the Tutaekuri River while out inspecting bridges. "In places where the river breached, it was pretty sad. It didn't look like surface flooding had occurred – it was like a raging river had swept right through."
The sheer amount of silt was also shocking. "We're returning to bridges we saw last year that previously had a deep valley beneath them, and now have silt that's built right up to the beams."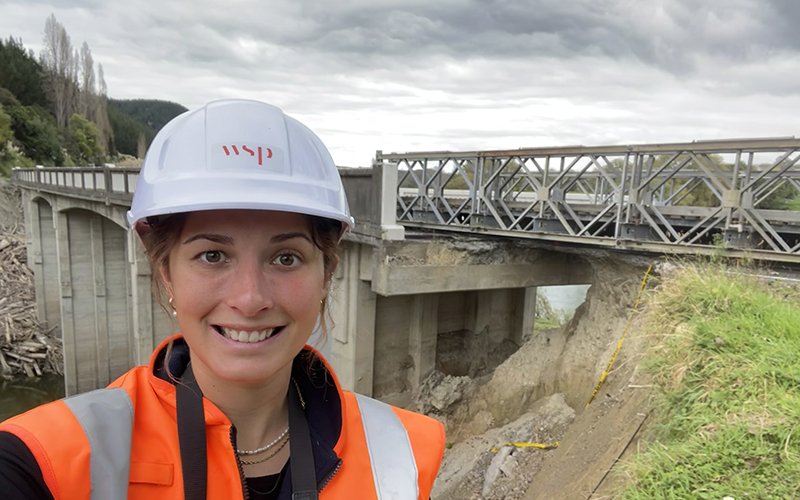 Bridges that were destroyed also left a strong impression. "Bridges that are just gone, or so damaged that they are dangling down in the river – you don't see that every day."
Kiri's priority is to reconnect every corner of Wairoa. "We've still got two bridges down with no access and no detour, and another down with a two-hour detour. So we're still furiously working to get access to those isolated communities."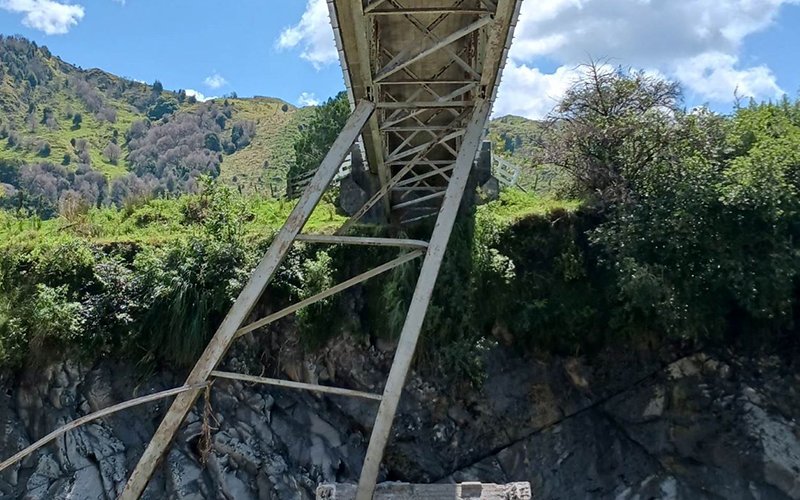 The work involves overcoming significant logistical challenges. Damage to one bridge can limit access to others, which makes getting heavy equipment where it's needed a serious undertaking.

"We still can't get heavy traffic across the Waikare bridge on State Highway 2, so just getting to one of the lost bridges on Glenbrook Road meant we had to find a way for excavators to cross the river, then break through two kilometres of two-metre-high silt."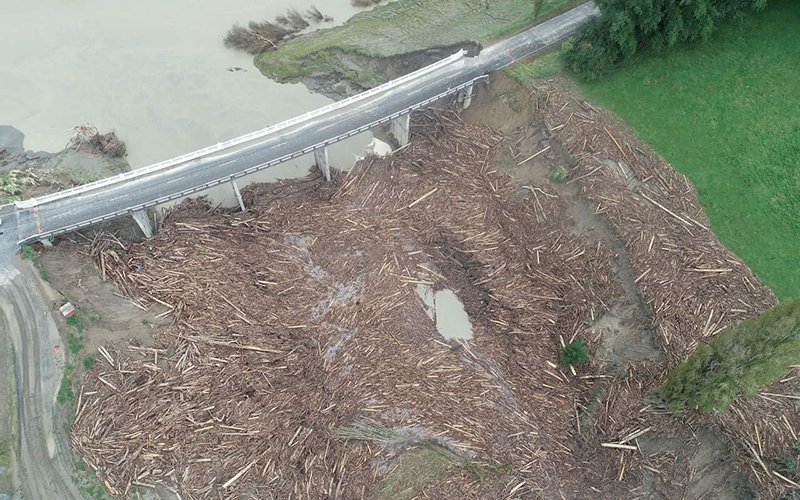 Choosing the correct temporary solution until a new bridge can be built is not always straight-forward either. "That bridge was a 70-metre span. When you lose something that big you can't just put in a quick pedestrian bridge."
Simply restoring access for people also may not be the only consideration. "We need to reinstate stock truck access as well, because there's a lot of stock down there. So rather than giving them something two weeks sooner that doesn't actually meet all of their needs, we're trying to make sure that it's fit for purpose, even if that takes a little longer."
The damage that couldn't be easily seen is what made the situation so dangerous for the public.
Additionally, there may not be enough bailey bridges in the country to span all the bridges lost to the flooding. Kiri says this means creativity is often required. "In one case, for Te Reinga bridge, we are using a hybrid of three different methods – a 45-metre length of modified construction staging, then a 40-metre bailey span, and a single 15-metre span of steel-beam bridge at the end."
When asked what surprised her most about the experience, she said it was how normal an unsafe bridge can look at first glance. "We would get to a bridge sometimes, park on one side and it would look fine – you'd think 'we could have maybe driven over that.' But then you start inspecting the bridge and you think 'oh my god, no one should be driving on this.' The damage that couldn't be easily seen is what made the situation so dangerous for the public."