By Engineering New Zealand 19 May 2023
Tropical Cyclone Gabrielle was an historic event, causing widespread damage and the tragic loss of 11 lives. Jonathan Mukhtar, a Senior Engineering Geologist at LDE, speaks about his experience responding to the disaster and how some of his previous projects held up to the storm.
Jonathan's Taradale home is about 900 metres perpendicular to the stop bank of the Tutaekuri River, so it was an anxious night for him and his wife as the cyclone rolled in. "It was pretty gnarly. We were probably up seven or eight times checking for flooding as we listened to this relentless, heavy rain."
The house lost power at 7am and the river was rapidly rising. With all communications cut off, they made the decision to relocate to the home of a relative who lived on higher ground before the evacuation order was given.
That afternoon they were relieved to find their home had survived unscathed – but it had been a close call. "I went to check out the stop bank at about 4pm and you could see from the sediment line that the water got to just 100 millimetres from the top," said Jonathan.
In the initial aftermath, Jonathan focused on his family and those in the local community who had been more severely affected by the storm – including the professional community. "A group of architects I work closely with had both their homes and office completely devastated, so we've invited them to LDE's office to set up as a temporary home. They'll probably be here for the foreseeable future and it's been really rad to have them here with us as our teams get on very well together."
The cyclone also served as a test of some of Jonathan's previously completed projects. "Many years ago we designed and constructed a landslide debris bund to protect a building platform against a length slope that's actually a series of overlapping ancient landslip lobes. I was very interested to see how that performed in the storm."
The above photo showing the bund in the aftermath of Cyclone Gabrielle offers a clear example of Jonathan's and LDE's expertise in assessing the risks inherent in a particular landscape and providing an effective solution.
"We can see that the slope failed in many locations uphill of the platform – as the modelling predicted it would," says Jonathan. He says the dwelling would otherwise have been inundated based on the landslip run-out trajectory had nothing been in place to mitigate the slope hazard risk.
"But instead, the bund effectively deflected all the debris to either side of the home. It did exactly what it was meant to do, so I was pretty stoked," says Jonathan.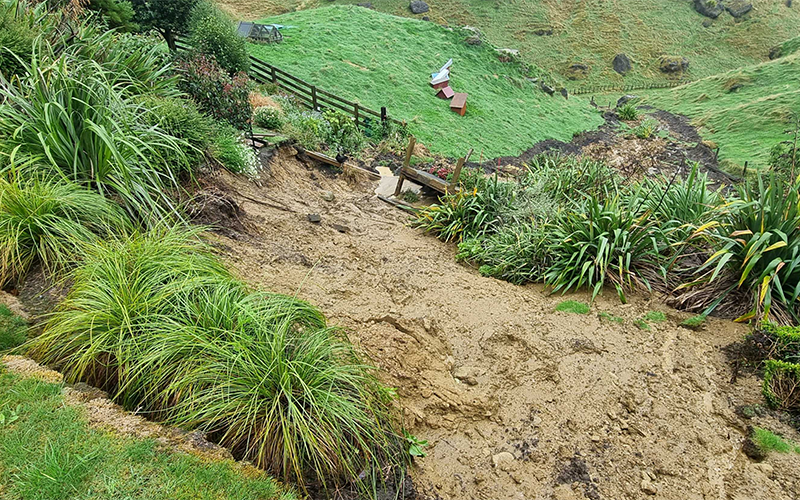 Since getting back to work at LDE, a lot of his time is spent doing emergency landslip assessments. "Usually the worst examples are older cut-and-fill building platforms or failed retaining walls that have been pushed outside of their tolerances by such a large weather event."
The whole region was just flipped on its head within a 24-hour period
With so many people affected, many homeowners face long wait times before crews become available to put Jonathan's advice into action. So he also makes an effort to provide short-term solutions to stabilise their site in the meantime.
"The main thing is to prevent direct rainfall that might lead to further erosion and instability on the slope. Even placing some pinned down polythene over a failed slope can help prevent further destabilisation," he says.
The work doesn't just call for technical knowledge, but people skills as well. "It's a lot of dealing with really stressed individuals wondering what's going to happen to their home or their land."
But overall, Jonathan has been impressed by people's resilience. "The whole region was just flipped on its head within a 24-hour period," he said. "But people have just been taking it on the chin, carrying on, and trying to fix things the right way."