By Ceinwen McNeil 13 Mar 2023
Engineering professional services firm Brevity (formerly BVT) has experimented with future work environments for more than a decade. A recent decision to trial the increasingly popular four-day work week left staff feeling like they'd received a gift.
When Perpetual Guardian piloted the four-day work week (4DWW) almost five years ago, they reported a reduction in levels of burnout, stress, sick leave and absenteeism. They also reported an increase in stimulation, commitment and a sense of empowerment at work, along with a 20 percent increase in productivity. Wider benefits included the reduction in car travel to and from work, increasing the time people were able to spend with their families, and improved mental health. These findings have been repeated in subsequent trials and these factors, plus talent shortages, made for a compelling case to try something new in our world of professional services.
Brevity is one of 20 organisations taking part in the 4DWW pilot across Aotearoa and Australia, with outcomes documented by a number of universities to provide an objective third-party measurement. A similar recent pilot in the United Kingdom in conjunction with the University of Cambridge found revenue increased by more than a percentage point each month, with a total rise of 8 percent during the trial. When compared to the same six months in 2021, it rose by 38 percent.
The practicalities
Defining what a 4DWW looked like was fundamental, and our team members were critical in leading the mahi. It doesn't mean trying to squeeze 40 hours of work into fewer days or lowering expectations on deliverables. It is about improving an organisation's productivity so employees can deliver their usual output in fewer hours. In a nutshell, each full-time employee works for 80 percent of the time, receives 100 percent of their pay and maintains 100 percent productivity.
Maintaining productivity was key – we didn't want to lose our ability to turn around projects rapidly, so planning our resources to meet client deadlines any day of the week was critical. As part of our trial, our engineers collaborated to structure their weeks to allow for design days and inspection days, with the latter as geographically efficient as possible.
There's no need for specific technology to make the 4DWW work. We refined an existing process for construction monitoring to enable our site engineers to complete their reports onsite before returning to the office. Our clients love this, and our engineers have reduced report writing time. Other simple productivity improvements included shortening meetings from one hour to 30 or 45 minutes.
In a nutshell, each full-time employee works for 80 percent of the time, receives 100 percent of their pay and maintains 100 percent productivity.
Each full-time member of the team nominated a gift day each week, which was only given if all productivity targets were met. This further increased our collaboration and teamwork. Each week, there were targets such as revenue to meet and tasks to complete. To assist, a Power BI dashboard shows how the team is tracking against its goals. At any point, any member of the organisation can review progress against tasks, allowing early identification of productivity drops and fast intervention. We ensured gift days were organised so we always had full cover for key roles. It was critical our client experience was only impacted in positive ways. Throughout the pilot, the team met productivity measures every week and were gifted a day each week, widely referred to in 4DWW initiatives as the "gift of the fifth".
The impact
Wednesday was my gift day and I loved it, but it did take around a month for me to really enjoy that day, as I felt quite guilty initially. I chose Wednesday to break up the intensity of my week, which is often back-to-back meetings, and it provided an opportunity to reflect and calibrate. It was amazing how often the solution to an issue presented itself when I wasn't actively "working" on it. This is a common finding among participants. Also, this was the best day to take my teenage daughter to and from sport and get a range of life admin done, freeing up my weekends to go for a long run, spend time with my family and relax.
Team members have used gift days to contribute to causes close to their hearts, from working for charities such as Eat My Lunch, to posting offers of help on a Facebook community page, or helping at a local school, church or drama group. I volunteered with my eldest daughter, Olivia, at Fair Food (fairfood.org.nz), an organisation working with supermarkets and fresh produce organisations to repurpose kai for people in need. We spent the morning making fresh banana bread and muffins, and I loved working with my daughter on an activity that had genuine community benefit.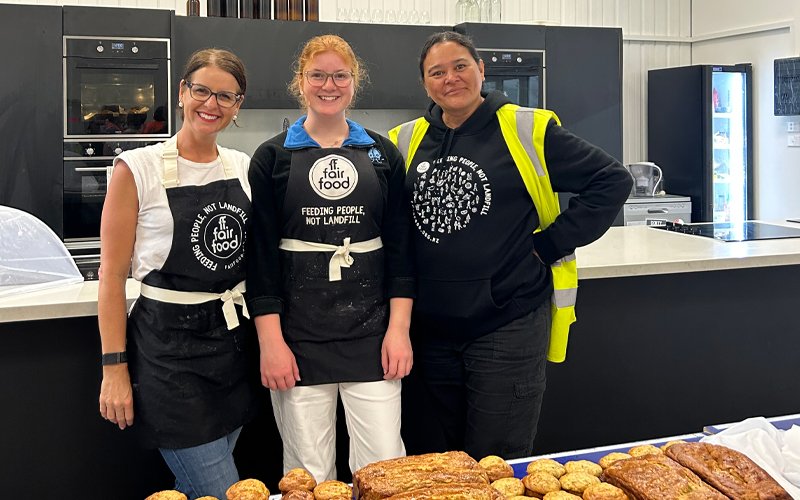 The benefits
The number of tasks completed during our pilot was higher than the three months preceding it. Our revenue also increased, with November our highest month in this financial year. To date, every metric for the trial has been achieved, but it has been the indirect consequences that have provided the greatest surprises and delivered benefits beyond our expectations. Many of the team have noted improvements in their wellbeing, including sleep, fitness and relationships. There will be qualitative data back from the trial in April to validate reduced sick leave and employee engagement.
An empowered and collaborative team is the secret sauce. The leadership team needs to set the authorising environment, then step aside to let the team to drive the activity. Success comes from a team approach, as ultimately, it's the organisation's productivity that counts. Brevity is now extending the trial for another six months.
Former CEO of Brevity, Ceinwen McNeil is now Head of Strategy at Harrison Grierson and Vice President of ACE New Zealand.
---
This article was first published in the March 2023 issue of EG magazine.