Constructed between 1880 and 1882, the Rakaia Gorge Bridge is a wrought iron, single vehicle lane, mid-Canterbury bridge important in the local road network asset because it facilitates access to the surrounding farms and towns, as well as Mount Hutt ski field.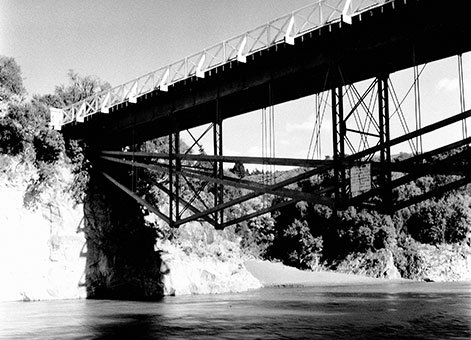 Its deck truss has a unique design in relation to any other New Zealand bridge, and this dynamic looking bridge's design and construction involved several of the country's high profile late 19th century Public Works Department (PWD) engineers.
During the 1870s calls grew for bridges across Canterbury's biggest river, the Rakaia. While one had been built close to the river mouth in 1873, the increasing inland farming and service centre town population greatly desired a local access point. Such a structure promised to facilitate further population and economic growth. After various debates about the type of traffic the bridge would carry and its form, in 1877 it was decided to progress with a road bridge that could take rail if necessary.
This coincided with a period of upheaval among New Zealand's public service engineers when government was centralised in 1876, closely followed by the PWD's restructuring. Therefore, several well-known local and senior engineers were involved in the planning and construction of the Rakaia Gorge Bridge, including: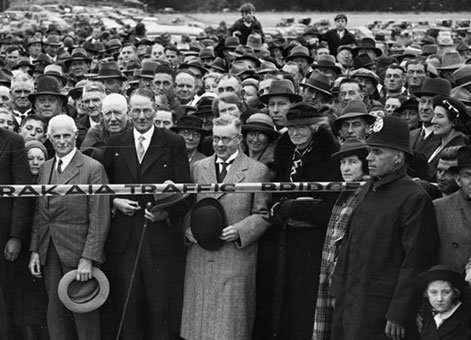 George Thornton (1828–1914), Canterbury Provincial Engineer.
John Carruthers (1836–1914), the PWD's first Engineer-in-Chief.
William Newsham Blair (1841–1891), who became the South Island's PWD Engineer-in-Charge as a result of the department's restructure.
Peter Seton Hay (1852–1907), who would later become PWD Engineer-in-Charge, in 1890 designed additional wind bracing for the structure.
At one time the Rakaia Gorge Bridge was believed to be one of only two remaining Bollman truss bridges in the world. Although similar, research has proven the Rakaia Gorge Bridge is not a Bollman truss bridge and it is thought to be unique. The 55-metre single span bridge, constructed by Oamaru's W. H.  Barnes, features a timber deck and handrail atop its wrought iron plate girder and truss. This unconventional truss has no bottom chord and its ties fan out from the gorge's edge carrying the load forces to the bridge's anchors.  The Rakaia Gorge Bridge also has significance as one of the oldest wrought iron bridges in New Zealand.
Heritage recognition
The Rakaia Gorge Bridge was added to the IPENZ Engineering Heritage Register on 3 September 2013. 
Read the heritage assessment. | 832.3 KB
This place has been recognised by Heritage New Zealand as a Category 1 historic place (List no.272):

Old Rakaia Gorge Bridge:New Zealand Heritage List/Rarangi Koreroinformation.
---
More information
Location
State Highway 77/Rakaia Gorge Road, Windwhistle, Canterbury.
Access
State Highway 77/Rakaia Gorge Road branches off from State Highway 73/West Coast Road when travelling inland west from Christchurch. The bridge crosses the Rakaia River close to the base of Mount Hutt, and is between Windwhistle and Mount Hutt townships. There are car parking areas at each end of the structure.
References
G M Jones; 'Rakaia Gorge Bridge – The truss that isn't' (PDF 1MB), Proceedings of the 1st Australasian Engineering Heritage Conference, 1994.
G. Thornton, Bridging the Gap: Early Bridges in New Zealand, 1830-1939, Auckland, 2001, p.130.