Constructed between 1908 and 1911, the Morton Dam is located in the Wainuiomata River water catchment. Upon completion it was named after William Hobbard Morton (1866–1923), the Wellington City Engineer who designed this reinforced concrete flat slab buttress dam.
In 1878 Wellington became the first municipality in New Zealand to have a public water supply dam. However, by the early 20th century the existing Karori and Wainuiomata supplies were insufficient. The Karori supply was expanded when Morton's Upper Karori Dam was completed in 1908. While this was being built, further Wainuiomata extensions were getting underway with the Morton Dam's design during 1907 and 1908. This well-publicised hconstruction project at Solomon's Knob was undertaken by local contractors Martin, Hurrell and Snaddon, beginning in late 1908. They finished work in September 1911 and at the celebration of the structure's completion it was named the Morton Dam in recognition of Morton's achievements. The Morton Dam was eventually decommissioned in 1988 because of concerns about its seismic performance, spillway capacity and reservoir silt levels.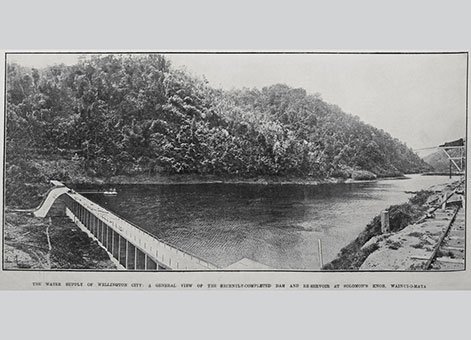 The Morton Dam is 128 metres (m) long and 17 m high, ranking it among New Zealand's largest early concrete dams. Its buttresses form a line of open-fronted cells, interrupted by a spillway towards the west end. The upstream side of the dam features an inclining wall. There seems to have been little alteration to the structure until it was decommissioned. The Morton Dam's engineering heritage value was considered in the decision to retain the majority of the structure and only remove a western section to allow the Wainuiomata River to revert to a pre-dam flow position. This structure forms an impressive monument to Morton's distinguished career.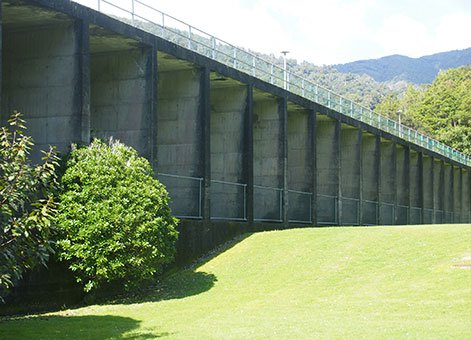 Morton was an important early 20th century engineer and the Morton Dam has special engineering heritage significance because it was the first and largest of only two reinforced concrete buttress dams to be built in New Zealand. An Ambursen-type dam was a bold choice for the Morton Dam and it was one of the largest of this type in the world at the time of its completion. 
Heritage recognition
The Morton Dam, Wainuiomata was added to the IPENZ Engineering Heritage Register on 30 August 2016.
New Zealand Archaeological Association Site Recording Scheme, R27/416.
Read the heritage assessment | 2.2 MB
---
More information
Location
Wainuiomata Water Collection Area, Wainuiomata, Wellington.
Access
Access is restricted – permission to enter this area must be obtained from Greater Wellington Regional Council.
Reference
Peter Cooke, Our Water History - On Tap: Water supply in the Wellington region, 1867-2006, Wellington, 2007.
Additional image gallery details
The water supply of Wellington City: A general view of the recently-completed dam and reservoir at Solomon's Knob, Wainui-o-mata, 9 November 1911. Sir George Grey Special Collections, Auckland Libraries, AWNS-19111109-14-4.