Across the Clutha River at Alexandra are impressive masonry piers, towers, and abutments – the remnants of Alexandra Bridge. This important landmark was constructed between 1879 and 1882, and the former suspension bridge components have withstood the force of the South Island's longest river for well over a century.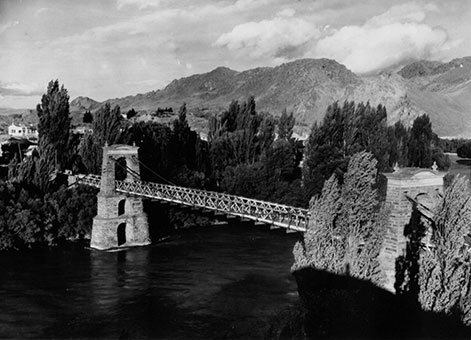 As a key junction town in Central Otago, in the late nineteenth century Alexandra people campaigned hard for a traffic bridge to replace their existing Clutha River punt service. This cause was strengthened when the closest bridge, at Clyde, failed as a result of the destructive Clutha flood of 1878. Consequently, Vincent County engineer, Leslie Duncan Macgeorge (1854-1939), designed a suspension bridge with two majestic masonry piers and towers which featured repeating arches and ornamentation. Robert Hay (1847-1928) was a consulting engineer on the project, and construction began in 1879 with local builder, Jeremiah Drummey (b.1833), winning the contract. After overcoming construction difficulties, the Alexandra Bridge was opened amidst much local fanfare in 1882. For over 70 years the structure was a key link in the road network of the area and State Highway 8. However, modern traffic flows were over and above the capacity of the single-lane structure, and it was replaced by a new highway bridge in 1958. At this time the suspension bridge's deck and cables were removed, leaving the monumental piers and towers as a memorial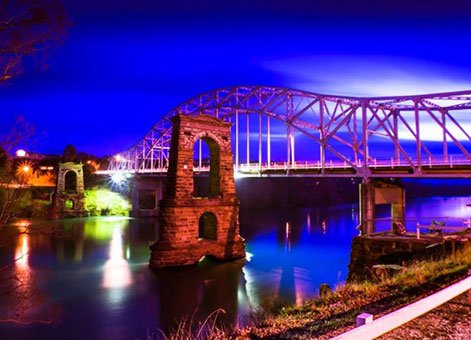 The Alexandra Bridge Piers and Towers have outstanding engineering significance as the legacy of the important late nineteenth century local engineer, Macgeorge. They are a lasting tribute to the technical skill of both Macgeorge and the bridge's contractor Drummey. These suspension bridge remnants also have landmark importance, are significant vestiges of a formerly vital Clutha River crossing and state highway bridge, as well as representing the peak of this late nineteenth century characteristic local bridge type.


Heritage recognition
Alexandra Bridge Piers and Towers was added to the IPENZ Engineering Heritage Register on 15 February 2011.
Read the heritage assessment | 527.2 KB
This place has been recognised by Heritage New Zealand as a Category 1 historic place (List no. 349):
Alexandra Bridge (Former): New Zealand Heritage List/Rarangi Korero information.
---
More information
Location
Between Rivers Street and Old Bridge Road, Clutha River, Alexandra, Otago.
Access
The abutments, piers and towers of the bridge formerly spanning the Clutha River are visible from the current State Highway 8 road bridge or from car parks on the north (River Street) and south (Old Bridge Road) banks of the river.