Hamilton's Victoria Bridge, also known as the Town Bridge, crosses the Waikato River and links central and east Hamilton. This steel plate girder deck arch bridge was completed in 1910.
Prominent New Zealand engineer, James Edward Fulton (1854-1928) designed the structure for the Hamilton Borough Council. Waddell and Harrington of Kansas City may have had some input as well, having just worked with Fulton on the Victoria Street Bridge in nearby Cambridge. Fulton was particularly known for his bridge work, including the original Kelburn Viaduct, Wellington, and the Lower Shotover Bridge in Central Otago.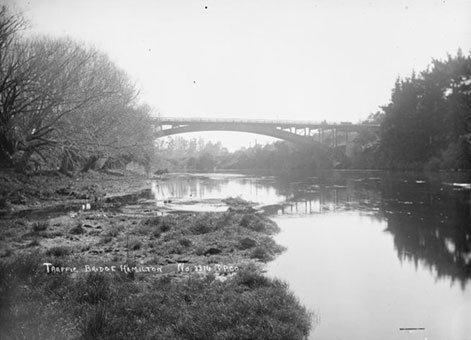 Victoria Bridge was fabricated overseas and local contractor G M Fraser began erecting it in 1909. The structure has a central span of 103.6 metres (m), with flanking pairs of 12.3 and 12.2 m girder spans. Initially the width of the bridge was 7.6 m, including pedestrian access. In the 1990s the roadway was widened, encompassing the original footway, and new lanes for pedestrians were cantilevered at the sides. This addition has not compromised the pleasing appearance of the structure.
Heritage recognition
The IPENZ Waikato-Bay of Plenty Branch commissioned a bench to commemorate the centenary of this structure in 2010.
This place has been recognised by Heritage New Zealand as a Category 1 historic place (List no.772):
Victoria Bridge: New Zealand Heritage List/Rarangi Korero information.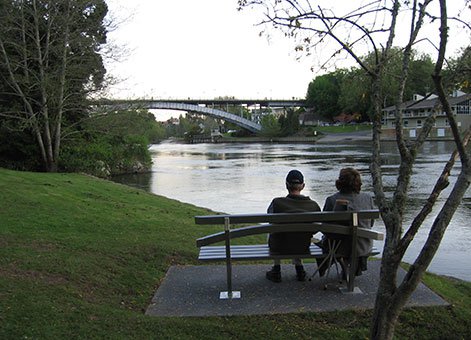 ---
More information
Access
The bridge is best viewed from the riverside walkways either side of the river.  The IPENZ Centennial seat is located on the east bank to the north of the bridge.  
References
'A contractor's troubles with a consulting engineer,' Auckland Star, 4 November 1912, p.7.
Geoffrey Thornton, Bridging the Gap: Early bridges in New Zealand, 1830 – 1939, Auckland, 2001.
Location
The bridge spans the Waikato River and is located in Bridge Street, Hamilton, at the southern end of Victoria Street.