At Molesworth Station, Marlborough, stands a picturesque suspension bridge that was designed and built by Canterbury University engineering students in their 1944 summer break.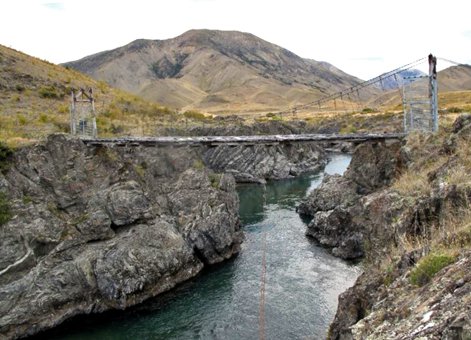 The purpose of this 23.5 metre span Acheron River bridge was to facilitate the annual mustering of around 15,000 sheep on St Helens station. The river current was too strong to have the sheep ford it safely. The bridge was needed to replace an earlier bridge that had been washed away. It had to be sufficiently strong to support the sheep or a support musterer riding a horse. Getting that many sheep to cross the bridge must have been a major achievement. If 30 sheep crossed in a minute it would take eight hours for the whole flock to cross.
The 1944 bridge project was undertaken to give the students design experience and "practical work experience", which was a formal part of their degree requirements. Roger Harding is known to have been one the students who built the bridge. He died in 2004, but in 2005 his wife recalled that Roger had extremely fond memories of the summer spent bridge building. The brief given to the students was "the bridge should be capable of supporting a man on a galloping horse".
The bridge had only a few seasons of use. In 1948 a decision was made on environmental and economic grounds to stop grazing sheep on St Helens station, which then became part of Molesworth, which grazed cattle only. Management of Molesworth Station passed to the Department of Conservation (DoC) in 2003 and a road was opened to the public over the summer.
The Students' Bridge has attracted attention as a possible heritage site. Unfortunately it is closed to the public because of deterioration issues. In 2005 Opus undertook a structural inspection and heritage assessment. In future years the bridge may be restored as a visitor attraction. It is sited close to the Molesworth Road and spans a very scenic section of the Acheron River, providing an ideal break on the four-hour Molesworth driving adventure.
---
Find out more
Access
The Department of Conservation's website has information about Molesworth Station's history and access.
Location
Molesworth Station, Marlborough.