Surveyed by John Rochfort in 1870–71, the railway from Wellington as far as Kaitoke opened on 1 January 1878, and was extended to Featherston on 12 October 1878.
It had very steep grades over the Remutaka Range of 1 in 40 on the Wellington side and 1 in 15 on the Remutaka Incline (Summit – Cross Creek) on the Wairarapa side, which required Fell locomotives and brake vans using a raised centre rail.
The railway was closed on 30 October 1955, when a new 8.8 kilometre (km) tunnel between Upper Hutt and Featherston that bypassed it was opened.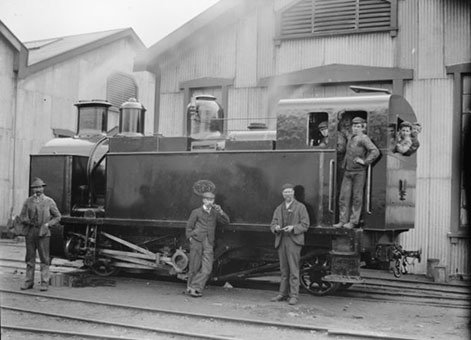 Pakuratahi Valley to Summit section
The section of railway through the Pakuratahi Valley between Kaitoke and Summit features 65 cuttings and 64 embankments. Many of these cuttings, which are still in near original condition, are narrow and steep-sided. The rail line crosses numerous small bridges and culverts, all dating from the period 1874–1878.
The largest culvert between Kaitoke and Summit can be closely inspected. It is accessed by a stairway leading from the formation down to a creek, which passes through the culvert and into the Pakuratahi River.
The rail formation has a number of sharp curves, the sharpest being just over 100 metres (m) radius – some of the tightest curves on New Zealand's railway system. The curves and gradients between Kaitoke and Summit severely restricted engine loads and train speeds.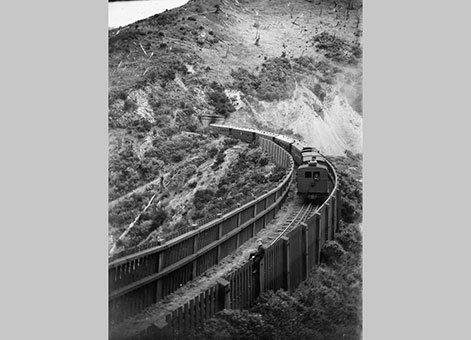 Remutaka Incline
The Remutaka Incline, between Summit and Cross Creek, was the steepest railway line in New Zealand, dropping 265 m in less than 5 km (average gradient 1 in 15).
The special Fell engines had two pairs of horizontal driving wheels set under the boiler for extra grip when climbing. The wheels were held by compression springs against a raised centre rail.
Descending trains used special brake vans with brake blocks bearing on the centre rail. Using four locomotives spaced along the train and three brake vans, goods trains of up to 264 tonnes climbed the Incline. Five engines and four brake vans, with a crew of 15, were required to haul passenger trains of 264 tonnes up the Incline.
This section was unique in the world for 72 years (1883–1955). It was the most successful and longest serving of only three "Fell" operated railways in the world, built to work based on John Barraclough Fell's 1863 patent that pre-dated rack railways as used on later-built mountain railways overseas. 
By 1955, despite its age and somewhat antiquated operation, the Remutaka Incline was still part of a mainline section of railway. The "H" class locomotives used on it remain the longest serving mainline steam locomotives in New Zealand's railway history, having seen up to 78 years of revenue service.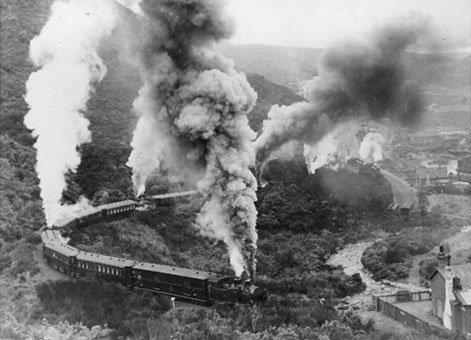 What remains
Details of the operation of the railway, together with the restored locomotive H 199 that was used to build and to dismantle the Incline, and a Fell brake van, are displayed in Featherston's Fell Locomotive Museum.
The Department of Conservation manages the Rimutaka Rail Trail.
Further information is also available from the Greater Wellington Regional Council.
Heritage recognition
IPENZ recognised the engineering heritage value of the Remutaka Railway with a plaque unveiled 18 October 2003.
Part of the railway has been recognised by Heritage New Zealand as a historic area (List no.7511):
Rimutaka Incline Rail Trail: New Zealand Heritage List/Rarangi Korero information.

---
More information
Access
There is an 18 km walk or cycle from the car park at the end of an access road off SH 2 on the Wellington side of the range to the Cross Creek car park on the Wairarapa side.
Additional image gallery details
H class steam locomotive, NZR 199, 0-4-2T type, for use on the Fell system on the Rimutaka Incline, with a group of men standing on and beside the engine. Godber, Albert Percy, 1875-1949: Collection of albums, prints and negatives. Ref: APG-0534-1/2-G. Alexander Turnbull Library, Wellington, New Zealand.
Fell engine and train exiting Siberia Tunnel on the Rimutaka Incline [circa 1910]. Godber, Albert Percy, 1875-1949: Collection of albums, prints and negatives. Ref: APG-0153-1/2-G. Alexander Turnbull Library, Wellington, New Zealand. 
Royal train ascending the Rimutaka Incline [1934]. Ref: 1/2-027952-F. Alexander Turnbull Library, Wellington, New Zealand.
Permission of the Alexander Turnbull Library, Wellington, New Zealand, must be obtained before any re-use of these images.
Location
18 km section between Kaitoki (north of Upper Hutt) and the Wairarapa.