In 1886, following a demonstration of electric lighting in four of the hotels in Reefton by self-styled "electrician" Walter Prince, it was decided to form a company to build a power station to provide electricity for lighting the town.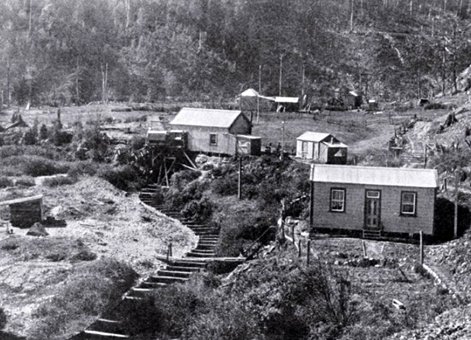 The Reefton Power Station was completed a few years later and on 4 August 1888 it became the first public power supply in New Zealand.
The scheme involved an intake some 2 kilometres up the Inangahua River above Reefton (opposite the township of Blacks Point) feeding water into a headrace flume 6 feet (ft) wide and 5ft deep on the left bank of the river. A couple of sections of the headrace needed tunnels where slips had occurred. The station had a head of 8.3 metres and a 70 horse-power (hp) Rafel turbine belt drove a 20 kilowatts (kW) 30/110 volt DC Crompton bipolar dynamo. It was intended to supply sufficient power for 500 lamps in the town.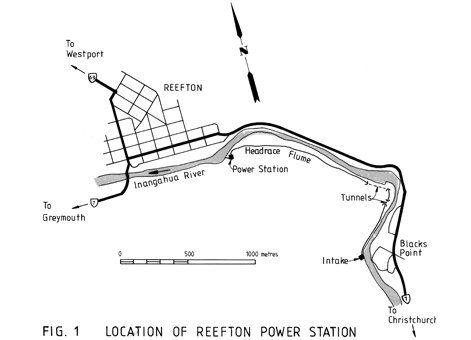 As the load grew various changes were made. In 1901, the generator was replaced by a 220 volt, 46kW Fynn generator which was supplemented by a steam engine. A new 110hp Boving horizontal turbine was fitted and the output increased to 80kW in 1908. In 1911, a new powerhouse was constructed. The power house included a 230 volt DC Lawrence Scott 100kW generator. Further steam driven generators were added in 1920 and in 1935 a Boving turbine and Thomson-Houston generator were fitted.
The system was purchased by the Grey Electric Power Board in 1946 and ceased to operate three years later when Reefton became part of national grid. The power house was demolished in 1961.
Heritage recognition
This place has been recognised by Heritage New Zealand as a Category 2 historic place (List no. 5002):
Reefton Power House Foundations: New Zealand Heritage List/Rarangi Korero information.
http://www.heritage.org.nz/the-list/details/5002
---
Find out more
Further reading
Rob Aspden, 'Electricity supply in New Zealand – Part 1:Origins – The progression from curiosity to amenity', IPENZ Proceedings Vol.14:2(E) (February 1988).
John Martin (ed.), People, Politics & Power Stations, Bridget Williams Books Limited and ECNZ, 1991.
Neil Rennie, Power to the People, Electricity Supply Association of New Zealand, 1989.
Location
Rosstown Road, Reefton, West Coast.