Ever since it opened on 25 March 1939, the Rakaia River Bridge (State Highway 1) has retained its title as New Zealand's longest bridge.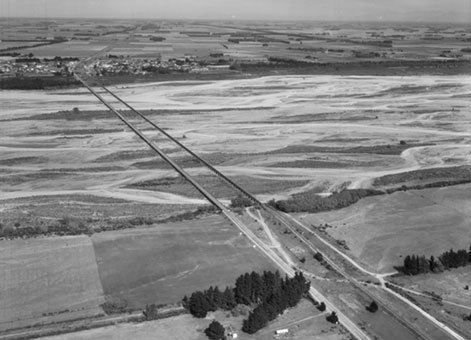 The bridge is 1.8 kilometres in length, comprising of 12.2 metre spans. The Minister of Public Works, Robert Semple (1873–1955) opened the structure.
The Rakaia River Bridge is a typical, yet notable example, of many simply supported reinforced concrete road bridges from this period, with standardised spans, parapets and general appearance. There was reportedly 8,400 cubic yards of concrete and 1,100 tons of steel used in the construction of this structure.
The present concrete bridge is a replacement for a timber bridge begun in 1869 and modified for road-rail traffic in 1873. Crossing the former bridge was said to be a frightening experience because it was a combined road-rail bridge on common deck. This combined use also caused lengthy delays for motorists who had to wait for trains and other users, such as drovers with their sheep, to cross the bridge. The opening of a new rail bridge followed that of the road bridge in December 1939.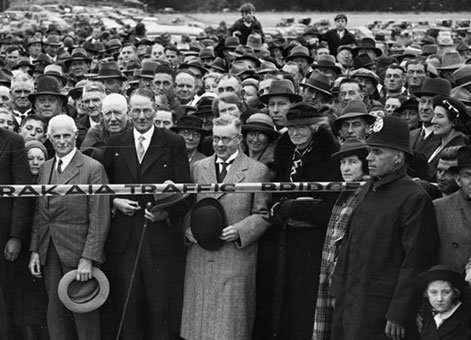 The Rakaia River, with a brief account of the bridge and early settlement, is featured on the Ministry for Culture and Heritage's Manatū Taonga channel, Rakaia, salmon river.
Heritage recognition
IPENZ "Engineering to 1990" project
This item of New Zealand's engineering heritage was recognised as part of the IPENZ "Engineering to 1990" project which the Institution organised to help celebrate the country's sesquicentenary in 1990. A plaque was unveiled to mark the significance of this bridge as part of the development of the nation.
---
More information
Access
The bridge is generally open for motorway traffic.
References
'Rakaia Bridge,' Evening Post, 25 March 1939, p.11.
'Longest in Dominion,' Evening Post, 12 December 1939, p.11.
G. Thornton, Bridging the Gap: Early Bridges in New Zealand, 1830-1939, Auckland, 2001, p.85.
Location
Immediately northeast of Rakaia township on State Highway 1, Canterbury.