Implementation of long-deferred North Island Main Trunk (NIMT) line electrification schemes enabled a 50 per cent increase in train load and cut the transit time by one and a half hours.
By far the most significant and far reaching improvements to New Zealand's railway network since the completion of the NIMT in 1908 were the track upgrading and 25 kilovolts alternating current electrification of the mountainous central section of that railway, between Palmerston North and Te Rapa, north of Hamilton.
Begun in 1984, the four-year project involved 411 kilometres of track, and cost about $260 million. Included were major civil engineering works – the elimination and lowering of tunnels, the easing of curves and gradients, the strengthening and replacement of bridges.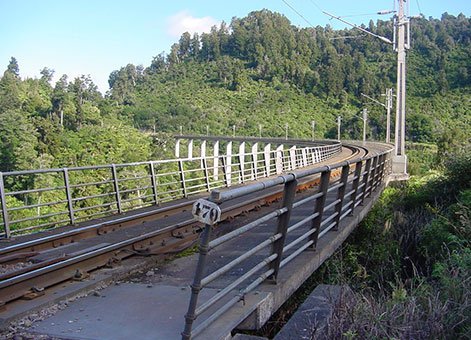 In anticipation of this project the spectacular Mangaweka to Utiku Rail Deviation was completed. This deviation avoids the unstable ground on the right bank of the Rangitikei River crossings that river twice, and also the Kawhatau River once.
The deviation's bridges are all major structures designed by Beca Carter Hollings and Ferner Limited. The South Rangitikei Viaduct, built by Codelfa Construction Limited, is 315 m long and is 76m above river level. This tall structure includes damped stepping pier bases for earthquake resistance.
Heritage recognition
IPENZ "Engineering to 1990" project
This item of New Zealand's engineering heritage was recognised as part of the IPENZ "Engineering to 1990" project, which the Institution organised to help celebrate the country's sesquicentenary in 1990. A plaque was unveiled to mark the significance of this rail electrification project as part of the development of the nation.
Some of the major works included in the electrification project are part of a Heritage New Zealand Historic Area (Register no. 7793):
North Island Main Trunk (NIMT) Historic Area: New Zealand Heritage List/Rarangi Korero information.
---
More information
Location
Palmerston North to Te Rapa (Wanganui/Manawatu, King Country and Waikato).