The Marsden Point Oil Refinery in Northland is New Zealand's only refiner of oil products. It produces premium and regular gasoline, automotive and marine diesel, aviation and lighting kerosene, fuel oils and bitumens for the New Zealand market.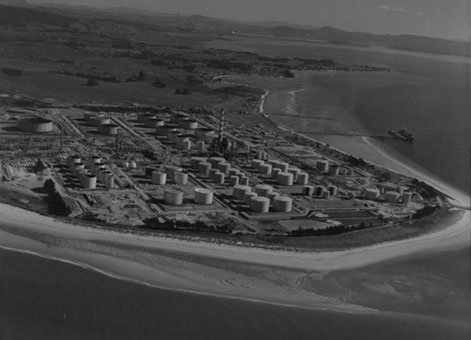 The government initially considered a refinery in 1956, with Marsden Point selected because of its deep water port, proximity to the main North Island markets, low earthquake risk and the availability of suitable industrial land. Within a few years the Government requested Shell look into the construction and operation of the refinery. As well as Shell, all the oil companies and the New Zealand public had a stake in the resulting company, the New Zealand Refining Company (now known as Refining NZ).
The original refinery was designed to produce 65,000 barrels per day. Bechtel was the engineering and construction contractor, beginning work in 1962 and completing it in mid-1964 at a cost of £10 million. Within three years expansion was being planned, but it was not until May 1973 that a $160 million project was approved.
Expanding Marsden Point Oil Refinery
The economic situation in the 1970s, with the "oil shocks", motivated the planned inclusion of a fluid catalytic cracker in the expansion scheme. This aimed to end reliance on expensive imported light crude, which by 1979 had risen from US$3 to US$32 per barrel. However, the requirement to refine Taranaki crude, and improve efficiencies, resulted in a change of plan to a hydrocracker, and an associated increase in budget to $500 million. The hydrocracker required further plant to provide feedstock, including a hydrogen manufacturing unit for hydrogen gas, and a high vacuum unit to treat crude distiller residue. In a world first, a butane deasphalting unit allowed production from heavier feedstock that created a more valuable product.
The project proceeded in the 1980s with a Badger-Chiyoda joint venture as the main design build contractor. The physical works were undertaken by a group of New Zealand contractors: Fletcher, Downer, Wilkins and Davies, McConnell-Dowell and Robert Stone. Badger-Chiyoda was also involved in this joint venture. The works were plagued by industrial disruption and the challenge of working in and adjacent to an operational refinery. It was necessary to close it for almost five months in mid-1985 while tie-ins and modifications were made to the original plant.
In 1981 the Government gave approval for the $55 million Wiri Oil Terminal and the Wiri to Marsden Point Pipeline. Works started in January 1982 and were complete 25 months later. The 170 kilometre pipeline carried product to Wiri for storage and road transport distribution, with the balance being distributed by coastal tanker.
The expansion project was officially completed on 30 May 1986 at a final cost of $1.84 billion. Components came online progressively throughout 1986: the crude distiller in March, the hydrogen manufacturing unit in August, and finally the hydrocracker in November. The expansion meant a 100 per cent increase in refined oil production, while only increasing the crude intake by some 25 per cent.
Late 20th and early 21st Century developments
Since this major expansion the refinery has undergone other modifications. These include process improvements to remove lead additive from petrol, reduce sulphur dioxide emissions and a $180 million project to provide production of lower sulphur diesel and reduced benzene in petrol. The Wellsford pumping station allowed a 30 per cent increase in capacity of the Wiri Pipeline, and, in 2012, there were plans for a $365 million Continuous Catalyst Regeneration Platform. This will replace the existing petrol manufacturing plant that has been operational for nearly 50 years.
---
Find out more
Further reading
"History", Refining NZ.
Location
Point Marsden Highway, Ruakaka, Northland.