The Mahurangi Cement Works ruins, near Warkworth, was the site of New Zealand's first Portland cement manufacturing in the 1880s.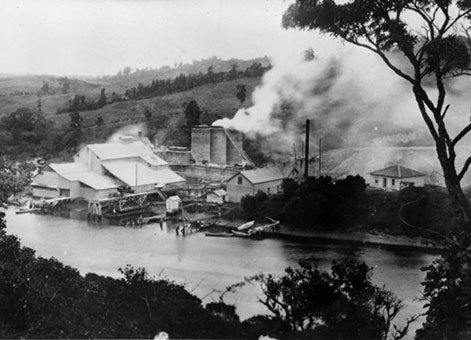 The founder of New Zealand's cement industry, Nathaniel Wilson (1836–1919), emigrated from Glasgow with his family when he was six years old. Nathaniel initially trained as a shoemaker, but in 1864 he purchased a small piece of land adjacent to his parents block south of Warkworth village.
Close by, John Southgate had been making lime since 1851 by burning local limestone in a kiln. With limestone deposits on his land Nathaniel decided to attempt to make lime himself, building his own lime kiln in 1866. With this he started manufacturing Roche lime, used in plaster and mortar.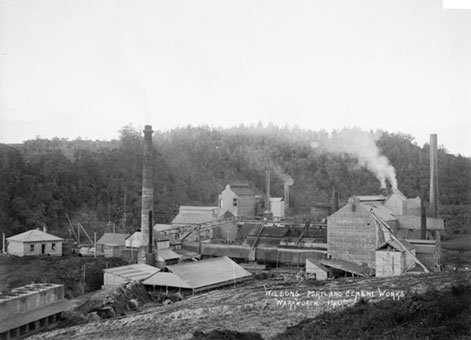 New Zealand's first Portland cement
Nathaniel became interested in Portland cement in 1883 after reading Henry Reid's book Science and Art of the Manufacture of Portland Cement. After many experiments, by 1885 Nathaniel and his brothers, John and James, began trading as J. Wilson and Company. Theirs was the first enterprise to commercially manufacture Portland cement in the Southern Hemisphere.
Early production was challenging because of the variability of the local limestone. This was eventually overcome, with advice from Mr Pond, by adding shells collected from the Mahurangi River, and later from Clevedon, to increase the lime content. The coke supplied by Auckland Gas Company also caused problems, and for a short period Wilson's manufactured their own coke using Westport coal.
There was a prejudicial preference by the authorities for imported cement. However, the Wilsons benefitted from the intensive late 19th century public works programme, which dramatically increased the demand for cement. By 1893 it was necessary to make major additions to their plant, including installing more boilers for powering the kilns.
Expanding to meet demand
The Wilsons also increased production by utilising the latest in overseas technology, which was identified by Nathaniel's engineer son William during a trip to the United States of America in 1898. As a result, rotary kilns and ball and tube grinding mills were installed. This meant annual production grew from 1,524 tonnes to 7,620 tonnes between 1897 and 1902. With further expansion of the works in 1903 the annual production rose to 20,220 tonnes. At this time other companies established cement works at Whangarei Harbour's Limestone Island and at Milburn near Dunedin. By 1910, 180 people were employed at the Mahurangi works and it was the major employer in Warkworth.
The ready availability of Portland cement from the beginning of the 20th century enabled rapid development of durable structures and port facilities, particularly in Auckland. Notable projects using Wilson's cement included the Rangitoto Beacon, Grafton Bridge and Queen's Wharf, as well as the Rotorua's Bath House and Napier's breakwater.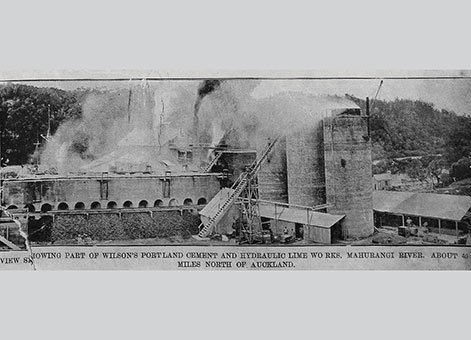 The end of the Mahurangi works
Although Wilson's invested heavily in new machinery and processes, by 1918 the company was voluntarily wound up and amalgamated with the New Zealand Portland Cement Company. The company's works were at Limestone Island where most of the cement was then produced, while its Mahurangi works focused on hydrated lime. By 1926 the closure of the works was imminent and machinery was transferred to Portland (near Whangarei). The Mahurangi works closed in 1929.
Heritage recognition
This place has been recognised by Heritage New Zealand as a Category 1 historic place (List no.82):
Cement Works Ruins: New Zealand Heritage List/Rārangi Korero information.
IPENZ "Engineering to 1990" project
This item of New Zealand's engineering heritage was recognised as part of the IPENZ "Engineering to 1990" project which the Institution organised to help celebrate the country's sesquicentenary in 1990. A plaque was unveiled to mark the significance of this place as part of the development of the nation.
This place is also a New Zealand Archaeological Association recorded archaeological site.
---
More information
Access
The ruins of the cement works can be viewed during daylight hours.
Source
Andrew Marriott and John La Roche, 'The cement works of Northland,' in John La Roche (ed.), Evolving Auckland: The city's engineering heritage, Christchurch, Wily Publications, 2011, pp.281-83.
Further reading
Margaret McClure. "Auckland places" Te Ara - the Encyclopedia of New Zealand, updated 21 September 2011.
Dave Pearson Architects Ltd, "Wilson's Cement Works, Warkworth, A Conservation Plan for Rodney District Council," 2005.
Geoffrey Thornton, Cast in Concrete: Concrete construction in New Zealand, 1850 -1939, Auckland, Reed, 1996.
Geoffrey Thornton, New Zealand's Industrial Heritage, Auckland, Reed, 1982.
T H Wilson, History and Growth of Wilsons Portland Cement in New Zealand, Whangarei, Calders Design and Print Company Limited, 1956.
Additional image gallery details
Overlooking Wilson's Cement works at Mahurangi [1902]. Ref: 1/2-071393-F. Alexander Turnbull Library, Wellington, New Zealand.
Wilson Portland Cement Works, Warkworth, Rodney County [ca 1910]. Price, William Archer, 1866-1948: Collection of post card negatives. Ref: 1/2-000597-G. Alexander Turnbull Library, Wellington, New Zealand.
Permission of the Alexander Turnbull Library, Wellington, New Zealand, must be obtained before any re-use of these images.
Location
Mahurangi, off State Highway 1, 2 kilometres south of Warkworth, Northland.