The Lyttelton Road Tunnel connects Christchurch with the South Island's largest deep-water port at Lyttelton. Opened on 27 February 1964, the tunnel through the Port Hills was an engineering challenge. The tunnel is 1.9 kilometres long and until the opening of Auckland's Waterview tunnel in 2017, was the longest road tunnel in New Zealand.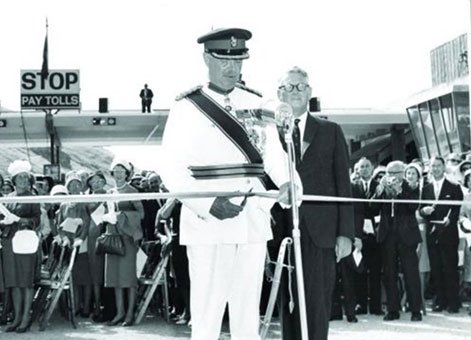 By the 20th Century the shortcomings of the single track railway were proving costly and legislation was passed in the late 1950s to allow a Christchurch to Lyttelton road tunnel to be built. The tunnel would cut out 8km of hilly road travel.

The road tunnel was more than 35 years in planning and took four years of drilling and construction to complete. It was built by a joint venture of New Zealand-owned Fletcher Construction Limited and Henry J. Kaiser Company of the United States of America. New Zealand's Ministry of Works were design and construction supervision consultants on the project. The tunnel's walls required 50,000 cubic yards of concrete and were then tiled.
Governor General, Brigadier Sir Bernard Fergusson opened the tunnel on 27 February 1964 and the ceremony was also attended by Prime Minister Keith Holyoake. Local residents had the opportunity to walk through and admire the new tunnel. The tunnel cost about £2.7 million to build and initially carried an average of 2,800 vehicles per day.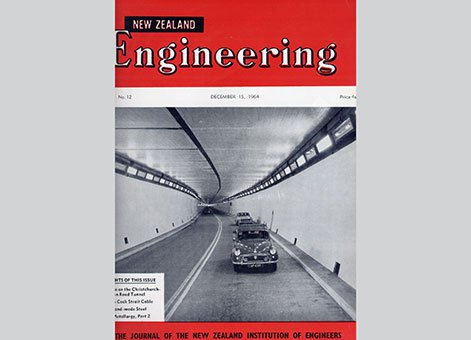 The Lyttelton Road Tunnel is a critical transport link for the South Island and, in 2014, more than 11,000 vehicles use it each day. The closure of Sumner Road following the 2010/2011 Canterbury earthquakes meant the tunnel was the only direct route for port traffic, making it economically vital for the South Island and an essential lifeline for the residents of Lyttelton and surrounding bays.
The February 2011 earthquake badly damaged the Lyttelton Tunnel Control Building designed by architect Peter Beaven. This important modernist building was subsequently demolished in early 2013. Work began later that year on a new purpose-built facility for managing the tunnel's operation and maintenance. The building was completed in June 2014.
A community celebration was held on Sunday 31 August 2014 to jointly open the new Lyttelton Tunnel Control Building and to commemorate the tunnel's 50th anniversary.
---
Find out more
Access
The tunnel is part of State Highway 74 and is accessible by road vehicle.
References
Christchurch–Lyttelton Road Tunnel: Official opening by His Excellency Brigadier Sir Bernard Fergusson (Christchurch: Christchurch–Lyttelton Road Tunnel Authority, 1964). NZTA, accessed 7 September 2015.
PS Doktor, "Ventilation", New Zealand Engineering Vol.19:12 (15 December 1964), 469–72.
JK Horn, "Lighting and Electrical", New Zealand Engineering Vol.19:12 (15 December 1964), 473–78.
JG Smith, "Construction", New Zealand Engineering Vol.19:12 (15 December 1964), 461–68.
BW Spooner, "Planning and Design", New Zealand Engineering Vol.19:12 (15 December 1964), 457–60. 
John Wilson, "Canterbury places - The Port Hills", Te Ara - the Encyclopedia of New Zealand, last modified 14 November 2012.
Location
Tunnel Road/State Highway 74, Port Hills, between Christchurch and Lyttelton, Canterbury.
Page last updated 27 August 2021