Situated in Whangarei Harbour, Limestone Island is an important site for New Zealand's early cement industry.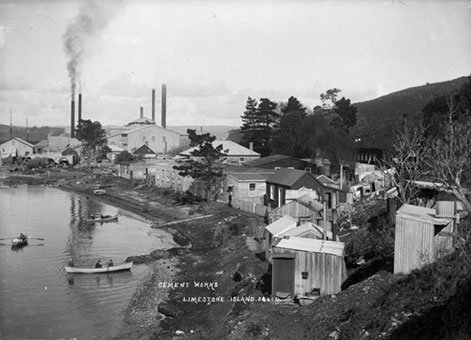 Ernest Schaw Rutherfurd produced what is thought to be the first cement made in the Southern Hemisphere at Limestone Island in 1881. However, it was not until 1895 that Rutherfurd and Company erected a cement works there and commenced manufacturing Portland cement.
Rutherfurd's business was soon taken over by Alan Hall's new company, the New Zealand Portland Cement Company. The plant was able to produce 46 tonnes of cement and 61 tonnes of hydraulic lime per week. The island's wharf could take vessels of up to 3.3 metres draught, which brought over coal from nearby Kamo and Hikurangi and took away the manufactured cement and lime.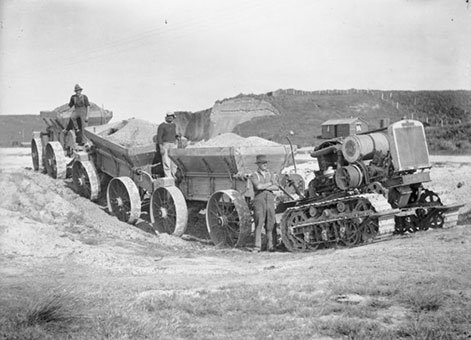 Around 1918, when New Zealand Portland Cement Company bought out Dominion Portland Cement, most of the buildings and equipment were moved to the nearby Portland works and the Limestone Island works closed. The island was then farmed before passing into the ownership of the Northland Harbour Board.
Matakohe/Limestone Island is now a public scenic reserve, maintained jointly by Friends of Matakohe - Limestone Island and the Whangarei District Council with support from Golden Bay Cement.
The island has been developed as a habitat for many threatened native species including kiwi, banded rail and dotterel, as well as skinks and geckos. The ruins of the cement works have also been preserved.
The New Zealand Heritage List/Rārangi Korero features many of the island's archaeological sites relating to Māori use and occupation.
---
More information
Access
Limestone Island, in Whangarei Harbour, is accessible by boat. There is no public ferry service. The island is maintained as a predator-free environment. Therefore, visitors must not bring animals or unwanted predators with them.
Further access information is available from the Friends of Matakohe-Limestone Island website.
Source
Andrew Marriott and John La Roche, 'The cement works of Northland,' in John La Roche (ed.), Evolving Auckland: The city's engineering heritage, Christchurch, Wily Publications, 2011, pp.282–84.
Additional image gallery details
Cement works at Limestone Island, Whangarei Harbour [ca 1910]
Price, William Archer, 1866-1948: Collection of post card negatives. Ref: 1/2-001787-G. Alexander Turnbull Library, Wellington, New Zealand.
Tractor, wagons and workers at a cement works on Limestone Island, Whangarei [circa 1925]. Ref: 1/2-029026-G. Alexander Turnbull Library, Wellington, New Zealand.
Permission of the Alexander Turnbull Library, Wellington, New Zealand, must be obtained before any re-use of these images.
Location
Whangarei Harbour, Northland.