Initially known as Waiau Stream Viaduct, this is one of six major viaducts on the Napier-Gisborne Railway, which was completed in 1942. The design was carried out in the Public Works Department's Head Office in Wellington under Charles William Oakey Turner, Chief Designing Engineer.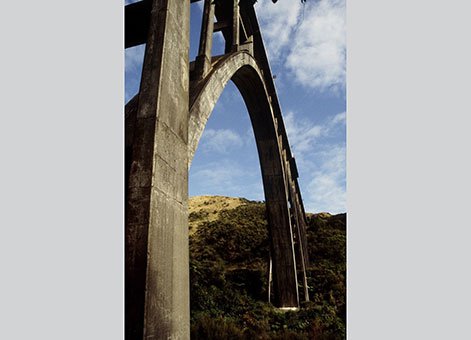 The Kōpuawhara Viaduct differs from its counterparts as it was constructed in reinforced concrete, rather than steel. A design in steel was also prepared, but one of the deciding factors in favour of a concrete bridge was the wartime shortage of structural steel.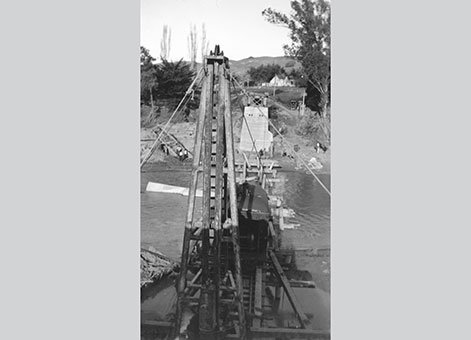 The viaduct is 162 metres (m) long, with an open spandrel parabolic arch of 54.9m and a height of 30.5m. There are five reinforced concrete girder spans of 12.2m and one of 9.1m on the south side. On the north side there are three 12.2m spans – all are supported on reinforced concrete trestle piers. The viaduct is a completely monolithic construction, and the abutments have Mesnager hinges to restrain temperature movements. Longitudinal forces are taken by compression in the arch ribs and lateral forces by bending of the bridge deck and transmission to the main bents.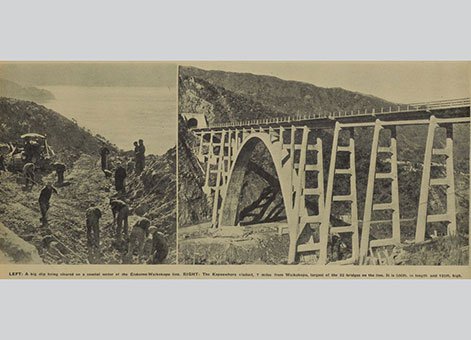 The Kōpuawhara flash flood of 1938 swept through the railway construction workers camp, killing 21 people and setting back work on that section of railway. Wartime labour and materials shortages subsequently further delayed the viaduct's completion. When it was eventually finished in 1942 it was hailed as a splendid design. The viaduct is a superb structure technologically, and a visual delight.
Heritage recognition
This place has been recognised by Heritage New Zealand as a Category 2 historic place (List no. 7344):
Kopuawhara Railway Viaduct: New Zealand Heritage List/Rarangi Korero information.
---
Find out more
Access
Close viewing of the structure is available from private farmland. Permission from the owner is required.
Further reading
Geoffrey Thornton, Bridging the gap – Early bridges in New Zealand 1830–1939 (Auckland: Reed, 2001), p.288.
"21 drown in Kopuawhara flash flood", Ministry for Culture and Heritage, last modified 23 September 2014.
Location
Napier-Gisborne Railway, at the head of Kōpuawhara Stream north of Opoutama and Mahia Peninsula, Hawke's Bay.