This factory at Whareroa, three kilometres south of Hawera in South Taranaki, is the world's largest dairy processing complex on one site.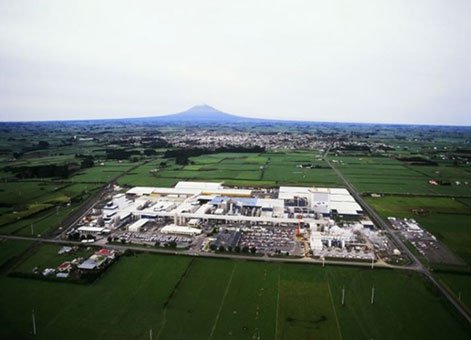 With the 2001 merger of Kiwi Dairies and the New Zealand Dairy Group, the factory is now owned by Fonterra, one of the world's largest dairy companies.
Operations began on the site in August 1973. Capacity more than doubled in 1984 with the merger of Kiwi and Taranaki co-operative dairy companies. Owned by 1,500 dairy farmer shareholders, Kiwi Dairies could process 4.5 million litres of milk daily into milk powder, butter, cheese and casein protein powder. In 1990 the factory processed 12 per cent of New Zealand's milk production.
Unique features of the complex, apart from its size, include the:
Rapid milk reception system
Centralised milk reception and standardising
Integrated energy system
Allen-Bradley large system programmable logic control (PLC) network
Layout of site from milk reception to product load-out, including services with flexibility for future expansion.
Other New Zealand dairy companies have had to follow the Kiwi lead into large centralised, highly efficient milk-processing sites to remain competitive, and many of the features of the Kiwi plant and layout have been copied.
Kiwi was the major employer and economic player in its region, earning $300 million a year in overseas exports. During 1990 it paid out $250 million to supplying dairy farmers, plus $20 million in salaries and to service suppliers.
Construction professionals
Architects: Laurenson, Robinson and Boon
Consulting Engineer: Donald Bruce-Smith
Plant design: National Dairy Association of New Zealand Limited
Building construction: Arthur Brown Construction Company Limited.
Heritage recognition
IPENZ "Engineering to 1990" project
This item of New Zealand's engineering heritage was recognised as part of the IPENZ "Engineering to 1990" project which the Institution organised to help celebrate the country's sesquicentenary in 1990. A plaque was unveiled to mark the significance of this dairy factory as part of the development of the nation.
---
More information
Access
The factory complex is not open to the public although there is an information centre on State Highway 3 outside the plant.
Location
Whareroa Road, Hawera, Taranaki.