The Hutt Railway Workshops, in the Lower Hutt suburb of Woburn, was a significant place for the creation and maintenance of New Zealand's locomotives from the late 1920s, as well as the fabrication of other essential railway elements.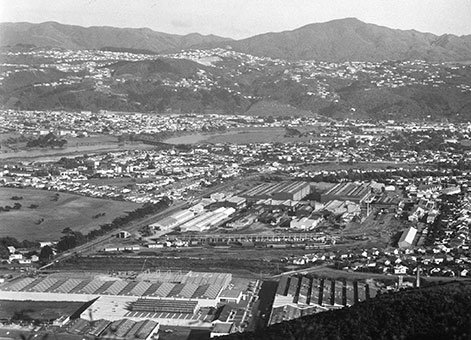 Outgrowing the Petone Railway Workshops
The first permanent railway workshop in the Wellington area was established at Petone in 1877, three years after the opening of the Wellington-Lower Hutt railway. This facility grew gradually in a property whose area was restricted by its location between the original main line and Main Hutt Road. In 2010, one last building that originally housed those workshops was still in use as a sporting venue.
As the Railways grew, the Petone Workshops became increasingly crowded and cramped, with primitive working conditions and increasingly outmoded machinery. By the 1920s, for example, a formal estimate was some 40 per cent of overhaul and repair work was being performed out of doors, with interruptions from adverse weather being a major problem.
At this time, the Acting Chief Mechanical Engineer, Mr Sims, and the Production engineer, Mr ET Sidey, assessed the situation at Petone and recommended new Workshops designed to contemporary standards be built to replace the Petone Workshops. The report was largely based on Sidey's previous experience in England and on the Canadian Pacific Railway. The report was submitted to Sir Vincent Raven (1859–1934) who was one of two Royal Commissioners enquiring into the state of railways in New Zealand in 1924. Raven confirmed the views expressed in and the conclusions of this report. The Sims/Sidey report was submitted in turn to the Chief Mechanical Engineer, the Board of New Zealand Railways, and to Cabinet, all of whom approved it.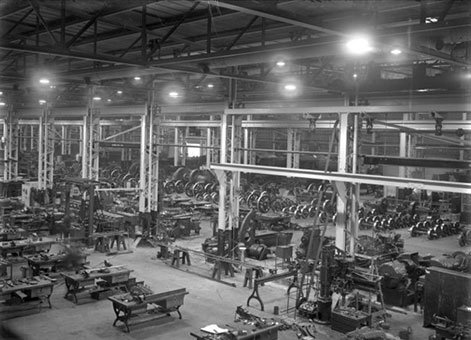 Building the Hutt Railway Workshops
Planning began in 1925, with tenders being called for site preparation and for construction of the main buildings in 1926 at Woburn in Lower Hutt. Despite difficulties caused by strikes in England, where the structural steel was obtained and fabricated, good progress was made over the next three years.
The new workshops were built as part of a larger plan to develop the land southward from about the present Hutt Central (Waterloo) station, under the Hutt Valley Lands Settlement Act 1925. Under this Act, a new double track railway was built from a junction north of Petone Station to the site of the present Hutt Central Station, with a single track branch line connecting to the site of the new Woburn workshops. Also included in the plan were a rail connected industrial area and housing subdivisions, for both sale to private owners and for rental homes for Railway Department employees. Sale of subdivided land was intended to make the whole scheme self-funding.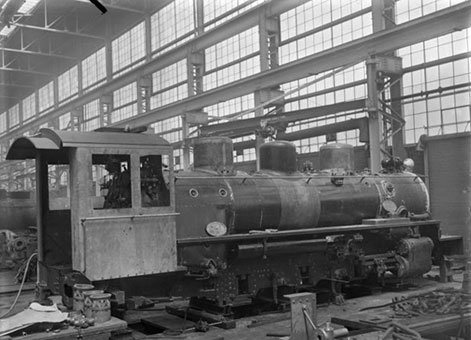 Facilities and products
The changeover of operations moving from the Petone Workshops to Woburn was a staggered process throughout 1929. At Woburn, the major facilities included shops for blacksmithing, boilermaking, locomotive erection, carriage and wagon work, railcars, sheet metal work, woodwork and joinery, trimmers (upholstery and linings of passenger carriages), coppersmiths, foundry, metallurgical laboratory attached to the foundry, testing laboratory, pattern making, machining of parts, points and crossings, and reclaiming of scrap materials. Railways had to be able to make everything they needed. Particular activities were concentrated into specific Workshops under an overall plan, with Woburn's prime responsibility being for locomotive construction and overhaul.
Locomotive building at Woburn began with 12 C class 2-6-2 shunting locomotives (1930–31), then progressed on to the 30 K class 4-8-4 main line locomotives (1932–1936) and in turn to their derivative, 25 of the 35 Ka class (1939-1950) (the remainder were built at Hillside Workshops, Dunedin). The 71 K, Ka and Kb class, together with 40 imported J class locomotives bought for light track provincial lines, did much to ensure Railways were able to meet wartime traffic demands until fuel supply problems (1944–1950) caused curtailed train services. These were all first class locomotives that incorporated the best modern practice and fittings of the day. The C class weighed 67 tonnes, the K class 142 tonnes, and the Ka class 148 tonnes, when filled up with water and fuel, ready to work.
Since those times, most of the present main line diesel and electric locomotives have been received into and commissioned at Woburn following their importation. Almost all main line locomotives are overhauled and upgraded at Woburn to suit present and foreseeable traffic needs.
A notable example of steel bridge spans fabricated at Woburn may be seen in the present bridge carrying the North Island Main Trunk Railway over the Whangaehu River at Tangiwai. This was designed and built following the 1953 Tangiwai disaster, when a lahar in the Whangaehu River washed out the former bridge underneath an express train.
Peak employment at Woburn was in the 1939–40 period, when some 2,200 people worked there. Like its counterparts around the country, a comprehensive New Zealand Railways apprenticeship programme was run at the Workshops, which was promoted in Railway Worker by the National Film Unit in 1948 (starts 3:11 minutes into the film).
The whole site occupied some 26 hectares, of which 7 hectares was under cover. Road motor vehicle garages and workshops, also materials stores, were built on the same site, but not under control of the workshops manager. There was 14.4 kilometres of rail tracks within the Workshops site.
The Hutt Railway Workshops have been key in the building of many large steam locomotives, diesel railcars, and for the erection and commissioning of generations of imported rolling stock. Overhaul and upgrading of diesel and electric locomotives continues to be an important task. Points and crossings are still made for installation throughout the whole of the national rail network. Structural steelwork for many major rail bridge spans has been fabricated at Woburn. Much work has been carried out for other Government Departments in the past, with a great deal of military supplies being made during World War Two.
---
Find out more
Access
The Workshops are not publicly accessible. Occasionally there are open days.
Further reading
Arthur Quinn, Hutt Railway Workshops (Lower Hutt: Lower Hutt Historical Society, 2002).
Location
Woburn, Lower Hutt.