In 1935 five men with picks, shovels and wheelbarrows began piercing the Darran Mountain Range, beginning the creation of a 1,240m long tunnel into Southland's Cleddau Valley and the magnificent country beyond. The Homer Tunnel was an essential part of the Milford Sound to Te Anau road project – State Highway 94.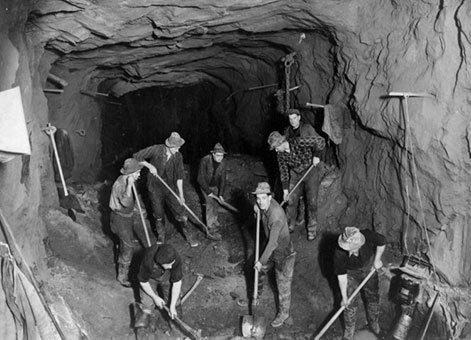 Completed in 1953 and designed and predominantly built by the Public Works Department (PWD), the tunnel was named after William Henry Homer (1838–1894). He and George Barber discovered the Homer Saddle in 1889, and suggested the nearby road tunnel. PWD engineer Robert West Holmes believed this would be a worthwhile project because of the route's potential tourism value.
The project was not seriously addressed until late 1933 when PWD Engineer in Chief, Frederick William Furkert, sent a team led by John H Christie to survey the road's route and the tunnel's location
Working conditions
Work on the tunnel began in 1935 with workers living in canvas tents and later relatively primitive buildings. The area's isolation, high annual rainfall, and heavy winter snowfall meant living and working conditions were often harsh for tunnellers and road gangs.
The tunnel has a down gradient of one in ten from the eastern portal, and the work proceeded from this end only. The rock is a granite type. Although full-face tunnelling could have been used on a more level grade, a smaller heading was put through to ease the problems of seepage water discharge, and ventilation, then enlarged in one operation to the required size by a system of ring drilling.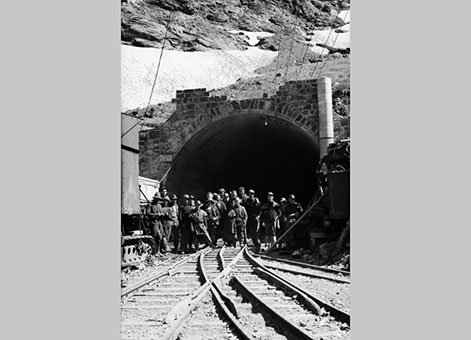 Avalanche danger
The Upper Hollyford and Cleddau Valleys are typical of nature's glacial handiwork, with a floor approximately 800m wide and almost vertical 800m high walls. Above were vast areas of snowfields up to 2,500m elevation, and when combined with heavy snowfalls this made the valleys particularly prone to avalanches. Dry avalanches occur when it is snowing on the tops, and are noiseless until suddenly a powerful compressed air blast occurs upon landing.
Unfortunately, these were a feature of the Homer Tunnel's construction and the lack of proceeding noise meant little time for workers to get out of their path. In July 1936, 26-year-old tunneller Percy Leigh Overton was killed and several men injured when an avalanche engulfed the tunnel's entrance. Following this a reinforced concrete shelter was built out from the tunnel mouth to provide protection for workers.
However, this measure did not stop further fatalities and injury. Donald Frederic Hulse had been appointed the PWD Engineer-in-Charge of works after the 1936 avalanche, and he, along with the tunnel works overseer Thomas W Smith, was killed near the tunnel entrance by another avalanche in 1937. Approximately 20 men were working outside the tunnel at the time, with a similar number engaged on the works inside.
Completion
Following these events workers were pulled out until Downer and Company Limited picked up the tunnelling contract the following summer. For safety reasons, works stopped during the winter of 1938 as well.
These events, the weather, and World War Two all delayed the Homer Tunnel project further. It was not until February 1940 that "hole-through" was accomplished. However, the tunnel still required widening to the desired dimension of 5.5m by 7m.
In 1945 the massive reinforced concrete approach was destroyed by another avalanche. However, at this time labour shortages had seen works suspended, so no one was injured. The final phase of work on the Homer Tunnel did not resume until the early 1950s. However, completion in 1953 meant that in the summer of 1954 the first private car drove through. Since then the tunnel has enabled thousands of visitors to experience this spectacular area of New Zealand.
Heritage recognition
IPENZ "Engineering to 1990" project
This item of New Zealand's engineering heritage was recognised as part of the IPENZ "Engineering to 1990" project, which the Institution organised to help celebrate the country's sesquicentenary in 1990. A plaque was unveiled to mark the significance of this tunnel as part of the development of the nation.
---
More information
Further reading
'Avalanche kills two workers at the Homer Tunnel,' New Zealand History online, accessed 26 August 2015.
AF Downer, Tunnelling in New Zealand, 1861-1978, unpublished manuscript, pp.102–112.
DU White, 'The Homer Tunnel,' New Zealand Engineering 2:5 (May 1947), pp.488–490.
Matthew Wright, New Zealand's Engineering Heritage, 1870-2000, Auckland, Reed, 1999, pp.82–85.
Additional image gallery details
Men at work on the Homer Tunnel, Southland [1935-1953] Raine, William Hall, 1892-1955: Negatives of New Zealand towns and scenery, and Fiji. Ref: 1/2-024836-F. Alexander Turnbull Library, Wellington, New Zealand.
Workers outside the Homer Tunnel [circa 1939]. Kent, Thelma Rene, 1899-1946: Prints and negatives of New Zealand wildlife and scenery. Ref: 1/2-009020-F. Alexander Turnbull Library, Wellington, New Zealand.
Permission of the Alexander Turnbull Library, Wellington, New Zealand, must be obtained before any re-use of these images.
Location
State Highway 94, Te Anua to Milford Sound, Fiordland.