A & G Price Limited in Thames has the largest foundry in the country. It's New Zealand's premier heavy engineering company and has been manufacturing high quality iron, steel and brass products since it was established in 1871.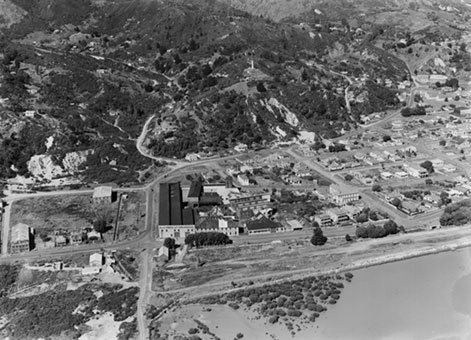 Alfred Price (1838–1907) learned about pattern-making and building textile machinery before he emigrated from England to Auckland in 1863. A few years later his brother George followed him to New Zealand and the two established A & G Price Limited at Onehunga in 1868. The business had grown sufficiently by 1871 to expand and open a Thames works.
In Thames, A & G Price made stamper batteries, Pelton wheels, pumps and other machinery for the goldfields of the region. The Onehunga works supplied flax milling machinery and built railway carriages and wagons for the government. However, the Onehunga factory was closed when their railway contract was completed in 1874, and all work was shifted to Thames.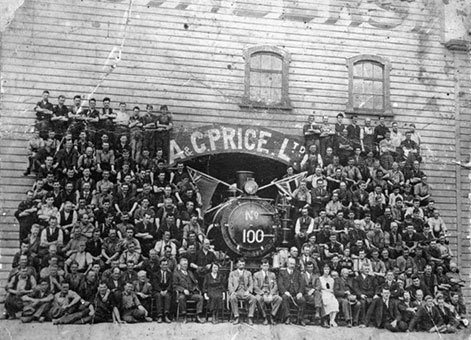 In its early days A & G Price was able to design and construct much of the manufactured equipment needed to service New Zealand's requirements. By 1896 the Thames premises had electric lighting from a Pelton wheel-powered generator. Picking up where the Onehunga works left off, the Thames factory manufactured railway engines even before the Thames branch railway was completed in 1898.
A & G Price has made a major contribution to New Zealand's progress in its more than 140 years of operation, through the design and construction of steam and diesel locomotives, road graders, rock crushers, boilers, marine engines, mining, sawmilling and forestry equipment. Between 1904 and 1928 they manufactured 123 steam locomotives for the New Zealand Railways Department.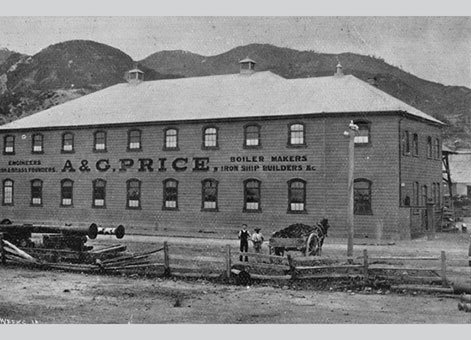 In July 2017, A & G Price went into liquidation. The company was then bought by Auckland businessman, Chris Reeve, who also owns the land and buildings. The sale has enabled the business to continue operating, although at a reduced scale.
A & G Price is perhaps the oldest and longest running engineering works in New Zealand. It continues to work in the field of pattern-making and can cast up to 10,000 kilograms (kg) in iron, 6,000 kg in steel, 2,500 kg in stainless steel, and up to 1,300 kg in non-ferrous alloys. Other activities include metallurgy testing and development, and the heavy machine shop has capacity to handle items up to 40 tonnes, six metres (m) in diameter and 10 m long. A recent development has been manufacturing the specialised keels for America's Cup and Whitbread/Volvo Ocean Race yachts.
Heritage recognition
This place has been recognised by Heritage New Zealand as a Category 1 historic place (List no. 128):
A & G Prices Foundry: New Zealand Heritage List/Rarangi Korero information.
IPENZ "Engineering to 1990" project
This item of New Zealand's engineering heritage was recognised as part of the IPENZ "Engineering to 1990" project, which the Institution organised to help celebrate the country's sesquicentenary in 1990. A plaque was unveiled to mark the significance of this engineering works as part of the development of the nation.
---
More information
Location
A & G price is located on Beach Road in Thames
Access
The works are not open to the public.
Further reading
John La Roche, "A & G Price Ltd" IPENZ Record Report (January 2012).
The New Zealand Railway and Locomotive Society and the Coromandel Heritage Trust hold archives from A & G Price. Please contact them for further information regarding what they hold and to arrange viewing.
Additional image gallery details
A G Price, Engineering, Thames [March 1946]. Whites Aviation Ltd: Photographs. Ref: WA-05707-G. Alexander Turnbull Library, Wellington, New Zealand.
Staff of A & G Price Ltd with 100th New Zealand Railways locomotive produced by the company [circa 1923]. Ref: PAColl-6508. Alexander Turnbull Library, Wellington, New Zealand.
Permission of the Alexander Turnbull Library, Wellington, New Zealand, must be obtained before any re-use of these images.
Page last updated 17 April 2019