The death was announced on 14 March 1974 of William Newnham, a former President of the New Zealand Institution of Engineers (NZIE, now the Institution of Professional Engineers New Zealand (IPENZ)), in his 86th year. Newnham was remarkable for the wide range of his engineering interests and activities.
Engineering career
Newnham spent a total of 41 years in the Public Works Department (PWD), progressing from cadet in 1908, through posts as Assistant Engineer, Design Engineer, Inspecting Engineer and then Engineer-in-Chief and Under-Secretary in 1941 in PWD Head Office, Wellington. He retired in 1946 but continued to hold a number of Government appointments, including Chairman of the Soil Conservation and Rivers Control Council, for some years after.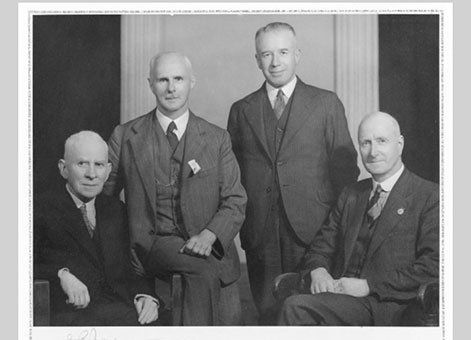 Serving the profession
Elected to NZIE corporate membership in 1920, he was a founder of the Wellington Branch and became its Chairman in 1935. He served on the NZIE's Education and Examination Committees as member and Chairman for long periods, as well as being a member of the Awards Committee. Newnham was elected to the NZIE Council in 1936, became Vice-President in 1943, and President in 1945.
In 1925 he was appointed the first Registrar of the newly formed Engineers Registration Board. He held that office until 1940 when he was appointed a member of the board, ultimately becoming its chair from 1943 until 1965.
In 1949 he accepted nomination to the Council of the Standards Institute and became its Chairman from 1953­–1957. He also served as the NZIE's representative on the Board of Health from 1952–57.
Shortly after the death of Frederick Furkert in 1949, the Council invited Newnham to edit Furkert's manuscript for Early New Zealand Engineers. This was no easy task, and it was not until mid-1952 that the book was ready for publication by NZIE. Newnham records some of the difficulties in the book's preface.
In 1957 Newnham's service was recognised with the NZIE's FW MacLean Citation, awarded for exceptional and distinguished service to the profession of engineering. This award had only been given once since its inception in 1952.
The following year Newnham moved to Rotorua and consequently relinquished his membership of the NZIE committees. However, he got involved again during preparations for the February 1964 NZIE 50th jubilee conference. He had the idea of compiling a NZIE history and Newnham's offer to write it was accepted with alacrity by the Council. The result was Learning, Service, Achievement: Fifty Years of Engineering in New Zealand, published by the NZIE in 1971.
In 1970 the Council decided to commemorate Newnham's efforts by creating a namesake address or lecture delivered at NZIE annual conferences. In 1974 the lecture was given by his son, John, a well-known Wellington architect.
Newnham was made a Commander of the Order of the British Empire (CBE) in 1952. He was a kindly, courteous gentleman who will be remembered with admiration, respect and affection by those who worked with and for him.
---
More information
Source
New Zealand Engineering (April 1974), p 126.
Further reading
Peter Lowe. "Newnham, William Langston," from the Dictionary of New Zealand Biography in Te Ara - the Encyclopedia of New Zealand, updated 4 December 2013.
Additional image gallery details
S P Andrew & Sons (Photographers): Successive engineers in chief, Public Works Department [1946]. Furkert, Frederick William, 1876-1949: Photographs. Ref: PAColl-4136-01. Alexander Turnbull Library, Wellington, New Zealand.
Newnham is second from the right of the image.
Permission of the Alexander Turnbull Library, Wellington, New Zealand, must be obtained before any re-use of this image.