David Thom was a civil engineer and early advocate for environmental protection and the importance of sustainable development within his profession. He changed the way engineers in New Zealand think and act towards the natural environment. He also had a major influence on environmental thinking for engineers worldwide.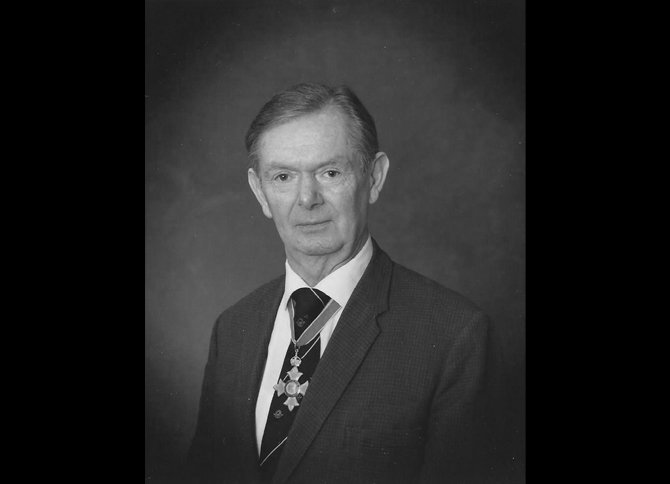 Early Years 
David Thom was born in Whakatāne on 20 October 1924. He spent his early years in the Bay of Plenty and in Whangarei. In 1937 the family moved to Auckland where David attended Mount Albert Grammar School. On turning 18 in 1942, David joined the air force as an air navigator. He trained in Canada and in England before being posted to an operational squadron with the RAF just three weeks before the war ended. 
Engineer 
After returning to New Zealand in early 1946, David studied engineering at Seddon Memorial Technical College, now Auckland University of Technology. After his studies he took up an apprenticeship with engineer, Andrew Murray, in 1950. Part of his work involved surveying the environmental deterioration of the Maketu Estuary in the Bay of Plenty and proposing remedies. This project was the beginning of David's life-long commitment to preserving the environment. David joined engineering firm, Jones, Adams, Kingston in 1952, becoming a partner in 1957 in what then became Kingston, Reynolds, Thom and Allardice (KRTA). David spent 35 years with KRTA, becoming a director in 1962 and retiring in 1987. 
Environmental issues to the fore 
While David had already developed an interest in environmental matters, it was the proposed 30 metre raising of Lake Manapouri for hydro-electric generation in the 1960s that prompted him to bring this interest and his concerns to the attention of the wider engineering profession. David had become involved with the New Zealand Institution of Engineers (NZIE) in the early 1950s, and in 1963 was chair of the Auckland Branch and chair of the committee responsible for organising the 1965 NZIE conference. The committee decided on 'Engineering and the Environment' as the theme of the conference. The conference widened attendees environmental outlook and opened a conversation that inspired further NZIE conferences: 'The Countryside in 1980', held in November 1967, and 'Population Conference', held in 1972. This heightened awareness also led to the introduction of the legislative requirement that all major projects must have environmental impact reporting. 
Wider impact 
David was a superb leader and original thinker. He was highly regarded and respected, both in New Zealand and overseas, as a leading advocate for engineering and sustainable development and care for the environment. He was invited to be a guest speaker at many national and international engineering conferences for which he wrote numerous papers and speeches. David also took an active role as a member and chairman of many national and international organisations that were concerned with engineering and environmental issues. David was president of the New Zealand Institution of Engineers in 1979-1980 and chairman of the Institution's standing committee on engineering and the environment between 1986 – 1990. In 1969 David was invited to join the National Parks Authority. He served as chairman of the Environmental Council of New Zealand from 1976 -1981, and chairman of the National Parks and Reserves Authority from 1981- 1990. In this capacity, he guided the development of Paparoa and Whanganui National Parks. From 1990 – 1993 he was chairman of the New Zealand Conservation Authority. In 1979 the World Federation of Engineering Organisations (WFEO) established a committee on engineering and the environment and David joined as an inaugural member. He chaired the committee from 1991 – 1999 and served as WFEO vice president between 1995 – 1999. David was the driving force behind WFEO's adoption of its Code of Environmental Ethics in 1987. 
Educator 
David believed that change must come not only through policy, but also through education. He strongly promoted environmental responsibility as part of an engineer's training and was always ready to share his knowledge and give his time to this cause. In 1995 he contributed a paper to the conference 'The Environmentally Educated Engineer' organized by the Centre for Advanced Engineering at Canterbury University. He strongly supported and contributed to the Association of Engineering Education in Southeast Asia and the Pacific, presenting a paper at that organization's conference on engineering education in Manila in 1997 entitled 'Environment, Sustainability, Engineering'. David was appointed Adjunct Professor at UNITEC from 2000 – 2005. 
Awards and accolades 
David's commitment to sustainable engineering and care for the environment was recognised with a CBE, awarded in 1981. He was made a Distinguished Fellow of IPENZ in 1996. In 1998, the Royal Society of New Zealand presented him with the Charles Fleming Award for environmental achievement. And in 1999, David was awarded the Institute of Civil Engineers (UK), gold medal. 
Approach and philosophy 
Through his writings and actions David changed the way engineers think about and approach the environment. David took a long view and dedicated much time and energy to initiating and supporting the development of policy frameworks that delivered environmental protection. He believed that engineering development and environmental protection were not mutually exclusive and saw opportunities for the engineering profession to take an active and positive role in managing how we live in our environment with respect and care.
---
Select publications
"New Zealand Countryside in 1980: a conference to consider its use and enjoyment", Logan Park, Auckland, November 3, 4, 1967: proceedings. Auckland: New Zealand Institution of Engineers, 1968. 
David, Thom. "Roads in the landscape": paper presented to the Auckland Branch, New Zealand Institution of Engineers. New Zealand Institution of Engineers, Auckland Branch, 1968. 
Morton, John, David Thom, and Ron Locker. Seacoast in the seventies: the future of the New Zealand shoreline. Auckland: Hodder and Stoughton, 1973. 
Thom, David. Heritage: the parks of the people. Edited by Richard King. Art by Kate Greenaway and Chris Elliot. Auckland: Lansdowne Press, 1987. 
Thom, David. "The papers of David Thom: onset of the environmental age." Compiled and edited by Carolyn Halliday. Auckland: David Thom, 2014.
---
Biography prepared by John La Roche with comment from Jo Ryan, David Elms and John Blakeley.
Page last updated: 09 October 2019