Charles Walkden was a surveyor and engineer. He was born in London, England. His early engineering work was on railway construction in England.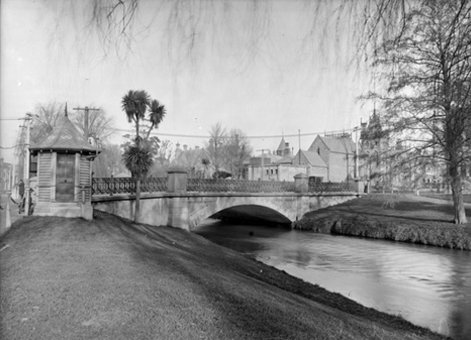 He worked in Austria for 12 years and also in Denmark where he supervised railway construction. He married Mary Vincent Kein and they had two daughters and a son.
Walkden travelled to New Zealand with his family on board the ship Harvest Home. They arrived at Lyttelton, Canterbury, on 10 December 1871.
He was appointed surveyor to the Avon Roads Board in January 1874 after his intended employment on railway construction fell through. Within a few months he became the Christchurch City Council's Engineer, at a salary of £300 with an additional allowance of £30 for horse forage.
Walkden was responsible for the design of nine bridges in central Christchurch. They varied in type: three were brick arch, two timber arch, two cast iron arch, and two were timber trestle bridges. Among these were the:
In addition Walkden was responsible for much of the initial roading and drainage works in the city. He also sank artesian wells and constructed underground water tanks for firefighting.
Walkden, by now much esteemed in Christchurch, retired from the Council employment in September 1896. His subsequent activities are unclear.
Walkden died in Cape Town, South Africa, on 20 July 1908 at the age of 84.