Born in the London Borough of Islington (England) on 9 September 1841, Arthur Dudley Dobson was the son of Edward Dobson, an engineer. After the collapse of railway work in England, Edward Dobson and his two sons, George and Arthur, shipped in the barque Cressy for New Zealand, landing at Lyttelton on 27 December 1850, after 16 weeks at sea.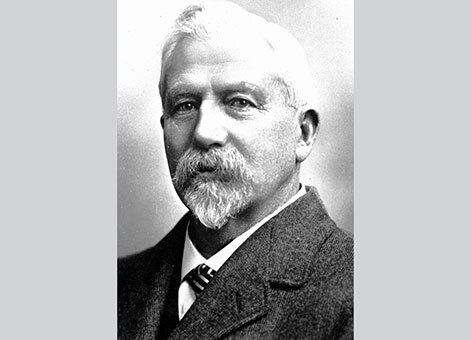 From 1851 to 1853 the two boys lived with their uncle, the Rev. Chas. Dobson in Tasmania while their father built up a practice in Lyttelton. After going to school in Lyttelton, the young Dobsons were employed under their father, learning their business as engineers and surveyors. At the age of 20, in 1861, Arthur Dobson was appointed as topographical surveyor under Dr Von Haast, on the Geological Staff of the provincial government. In 1863, he undertook the survey of the West Coast and the Nelson boundaries.
In March 1864 he discovered Arthur's Pass, and later in that year he was busy on river surveys. In 1866 he married Eleanor Lewis at Nelson. At this time he was occupied with country work, including road-making in the Waimea and Motueka Valley.
In April 1869 he was appointed district engineer on the Nelson-West Coast goldfields, with headquarters at Westport. In 1871, at the age of 30, he became provincial engineer in Nelson, and a few months later took over the duties of chief surveyor. Owing to the change in the provincial government in 1875, Arthur Dobson resigned his provincial appointments and was appointed under the central government as district engineer at the Public Works Department, holding this post until, in 1878, he joined his father again in private practice in Christchurch.
Between 1878 and 1883 he worked on projects including the Timaru water supply. In the latter year, a committee was formed in Christchurch to press the importance of railway communication with the West Coast, resulting in an Act being passed authorising the Government to give land in payment to any substantial company that would undertake the construction of a railway by the Arthur's Pass route. A company was formed, who raised funds to send a deputation to London, made up of Alan Scott, of Christchurch, and Charles Fell, of Nelson, with Arthur Dobson as engineer. Leaving Lyttelton in January 1885, the deputation's mission was successfully accomplished in England by July, when the Midland Railway Company was promoted, and by September, Arthur Dobson was back in Christchurch.
Finding business slack at that period, he left New Zealand in December 1885 for Melbourne. In 1886, he built the Warrnambool breakwater, and was in engineering practice in Australia until 1898, when the bank failures in Victoria necessitated fresh business plans.
In April of that year he again sailed for New Zealand and resumed practice until, on 1 January 1901, he was appointed city engineer for Christchurch, from which post he retired in August 1921, within a month of his 80th birthday.
In March 1882 Arthur Dobson was elected a member of the Institution of Civil Engineers, of which his father, Edward Dobson, had been elected an associate member in 1842. He was elected a member of the New Zealand Society of Civil Engineers in February 1918, was a Vice-President during 1923 and 1924, and President from 1924 to 25. He was a member of the Council from 1925 to 1929.
In recognition of his outstanding services to the Dominion he received a knighthood in 1931. He died on 5 March 1934.
It's hard for a brief memoir like this to adequately appreciate a life so long, closely bound up with the early development of the country, and so wide in its interests, which ranged from engineering science and astronomy, to music and horticulture. But it's important to mention his constant interest in the School of Engineering, Canterbury College, where he was in name and in fact the patron of the Engineering Society.
His autobiography, published in 1930, and dedicated by him to his fellow-members of the New Zealand Society of Civil Engineers, gives a plain, unvarnished outline of a useful and for very many years a strenuous and adventurous life.
Sir Arthur Dobson's father was, from 1846 to 1849, associated with the Rastricks, a name which at once recalls the Stephensons and the earliest days of railway engineering. Following the railway boom in England in the 1840s, it was the crash in 1849 that caused Edward Dobson to make a fresh start in New Zealand. His son, Arthur, utterly sincere, resolute and cheerful, and to the very end of his long life full of energy, was able to hand on to his fellows and successors the best traditions and ideals of a generation that produced great and honoured men, whose names will live for ever in the history of the profession.
---
More information
Source
William Newnham, Learning Service Achievement (Wellington: New Zealand Institution of Engineers, 1971), pp.341–42.
Further reading
Frederick Furkert, Early New Zealand Engineers (Wellington: New Zealand Institution of Engineers, 1953) p.151.
Suzanne Starky, 'Dobson, Arthur Dudley and Dobson, Edward,' from the Dictionary of New Zealand Biography in Te Ara - the Encyclopedia of New Zealand, updated 17 September 2013.