By Rachel Helyer Donaldson 4 Sep 2023
One New Zealand-based seismic engineer who travels the world working in disaster recovery describes Aotearoa as a world leader in earthquake safety. With the anniversary of the September 2010 Canterbury earthquake, we look at what the country is doing well and how our expertise is valued overseas.
On 6 February 2023, two catastrophic earthquakes rocked southern Turkey and northern Syria. The 7.8 and 7.7 magnitude quakes killed more than 55,000 people, injured more than 100,000 and caused widespread destruction.
When they struck, Christchuch-based engineer Jitendra Bothara FEngNZ IntPE(NZ) was preparing to visit Pakistan, to advise the World Bank on the reconstruction and recovery of 2.1 million homes, following cataclysmic floods and landslides during the 2022 monsoon.
Jitendra, who has spent three decades working in earthquake engineering, disaster risk management and post-earthquake response, was asked by the United Nations Development Programme (UNDP) to help in Syria. Up to 5 million people there are estimated to be homeless, many already displaced after 12 years of internal conflict. He began advising remotely, but arrived in Damascus, where UNDP is based, in March.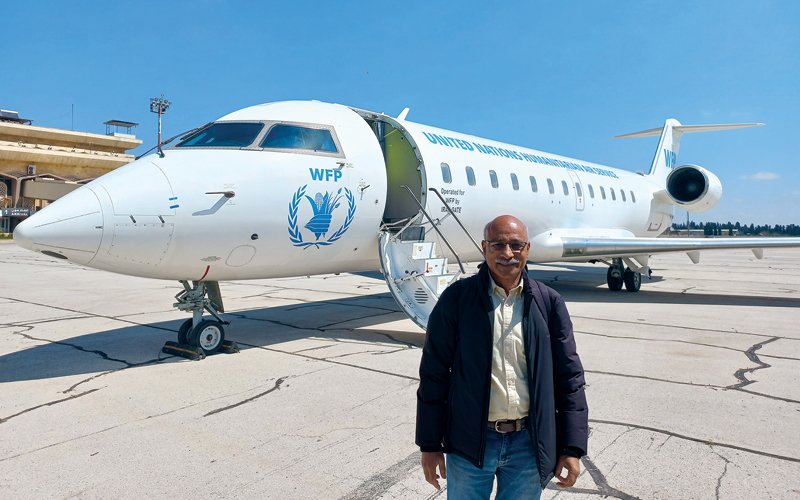 Jitendra has worked on 10 major earthquakes and was heavily involved in the 2005 Kashmir (Pakistan), 2011 Christchurch and 2015 Gorkha (Nepal) rebuilds. Syria is proving the most difficult and complex, due to the ongoing political crisis. This affects many aspects of recovery, from accessibility to funding, and travel – including working 300km from the disaster zone, often relying on secondary information and travel in an armoured vehicle while in the earthquake affected areas. He has been helping Syrian engineers to assess damaged buildings, developing systems for housing recovery and working on capacity building (training local engineers and building artisans, and orienting policy makers) for safer construction. Capacity building, he says, is crucial to improving a country's earthquake resilience.
It can be painful. But it is very fulfilling work. Coming here and supporting people gives my life a greater purpose.
Speaking to EG from Syria by video call, four months after the quakes, Jitendra says he's also been developing a strategic plan to enable the UNDP to intervene in the recovery process.
"That way people can finally start working on their homes."
Jitendra says New Zealand is a world leader in earthquake safety. Aotearoa's engineers working in disaster-hit countries promote safety culture, protocols and "cutting-edge" technology. Their "softer approach" with local communities makes a big difference, he says. "It's 'we are here to help you, tell us how we can help you, and here is how we help you'."
New Zealand engineers also help affected countries with long-term recovery. Originally from Nepal, Jitendra was a graduate engineer when, in 1993, he joined a project to develop Nepal's building codes and worked with two New Zealand seismic experts, Dr Richard Sharpe DistFEngNZ IntPE(NZ) and Rob Jury FEngNZ, from Beca. The pair became Jitendra's mentors, and changed the course of his life. In 2006, Jitendra moved to Aotearoa to join Beca. "They gave me the whole concept of earthquake safety."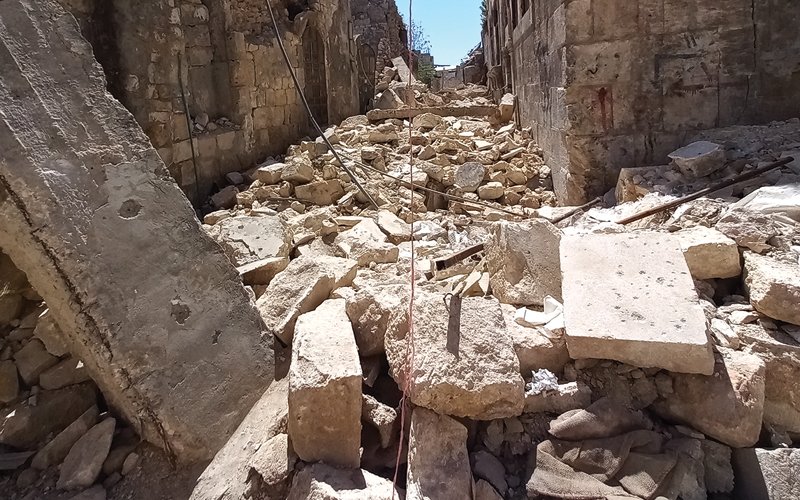 Now Jitendra travels the world, working in earthquake, flood and war recovery. He says the international disaster community is small and closely connected. He works frequently for the UNDP but he also advises governments and multinational organisations such as World Bank and Asian Development Bank. Working in different countries and cultures has given him "a deeper understanding of how culture, society, politics and safety are interlinked".
In some countries, people see earthquakes as God's will. It's a frequent stumbling block to improving safety culture. But Kiwis' reliance on insurance – thinking if they're insured that an earthquake is wholly the insurer's problem – can be "just as fatalistic" as religion.
Jitendra says the biggest challenge working in disaster areas is avoiding psychological trauma. "I connect with people, but I take care of myself. I keep engaged in work, and stay in regular communication with family and friends." In Syria, people are still mourning loved ones. There are many orphaned children. Yet despite the country's crises, people have been welcoming.
"It can be painful. But it is very fulfilling work. Coming here and supporting people gives my life a greater purpose."
---
Concrete understanding
University of Auckland structural engineering lecturer Dr Lucas Hogan's research into natural hazards is improving building practices here and overseas. He's the 2023 winner of the Toka Tū Ake EQC/NZ Society for Earthquake Engineering Ivan Skinner Award for his work in understanding the earthquake risk to buildings and bridges in New Zealand, and for helping to change building codes. He says his work with precast concrete has had the biggest impact on earthquake engineering practices.
Precast concrete wall panels perform poorly, yet much of New Zealand's building stock is assembled this way, including commercial buildings housing big box retailers. Lucas's work highlighted vulnerabilities in the way the walls are connected to the foundations and has helped provide assessment guidelines.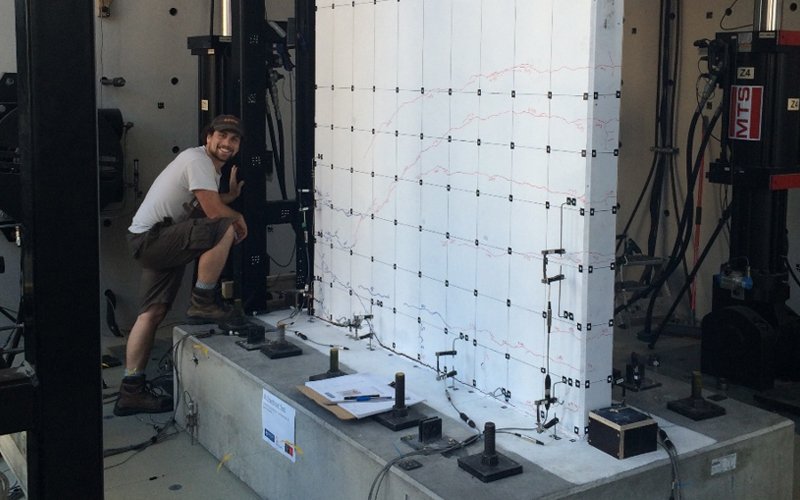 Meanwhile, his work as a team member on the ReCast project (funded by BRANZ, EQC and ConcreteNZ) has led to improved assessment and strengthening of hollow-core precast concrete floors. These floors were commonly used in multi-storey buildings in the 1980s and 1990s. ReCast's research showed they would not hold up in an earthquake. Changes have been made to the building code, and these floors are no longer put into buildings.
We all have the same mission – to keep people safe.
Originally from Ohio, Lucas is a member of the American Concrete Institute. He plans to use his $10,000 award prize money to share his expertise with peers to improve building guidelines in the United States as well as New Zealand. There's a strong desire for collaboration among the international earthquake engineering community. "We all have the same mission – to keep people safe."
One reason he loves working in Aotearoa is the impact his research can have on industry. "The feedback loop is tighter. If you have good work, you can see it get implemented and make positive change."
Lucas hopes to make buildings more robust, to either withstand earthquakes or be built back faster.
---
Hinging on evidence
A low-cost and low- to no-damage seismic engineering system developed in New Zealand could be a game changer for the global construction industry. Dr Shahab Ramhormozian MEngNZ, a senior lecturer in structural and eathquake engineering at Auckland University of Technology (AUT), developed the Optimised Sliding Hinge Joint (OSHJ) for his PhD. Shahab's work improved and finetuned sliding hinge joint technology conceived by his PhD supervisor, Dr Charles Clifton DistFEngNZ, in the late 1990s.
The system allows buildings to withstand stronger-than-expected earthquakes, by dissipating seismic energy and limiting the earthquake-induced forces, acting like a fuse in electrical wiring.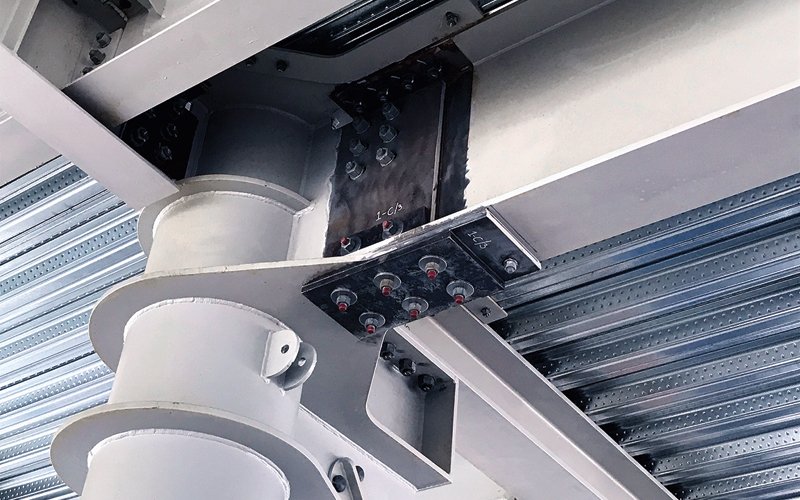 Shahab says the original system was "groundbreaking, but had some shortcomings". These include design and construction accuracy and precision issues, and post-earthquake loss of strength.
For his work, the Iranian-born engineer, who moved to New Zealand in 2012, won the 2022 Ivan Skinner Award. Late last year his research group's $9.47 million proposal to the Ministry of Business, Innovation and Employment's (MBIE) Endeavour Fund was successful, with funding for five years.
If we are the first country to codify these systems, I'm sure other countries will follow.
The aim is to show that the innovation can be used within a wide range of building types, with the long-term objective to have it adopted into building codes. Retrofitting is also in Shahab's sights.
So far five major construction projects are using OSHJs, including three buildings for ACC in Hamilton.
Engineers and academics around the world are keen to explore the technology, including a major project to construct the first building w ith OSHJs in Europe, plus research at Tongji University in China. For their own MBIE-funded project, Shahab's team are collaborating with international researchers, and an American manufacturer who is a NASA partner and supplies Belleville Springs (an important component of the OSHJ system).
Shahab says New Zealand is "the world leader, and one of the pioneers" in this research area. "If we are the first country to codify these systems, I'm sure other countries will follow."
---
Traditional techniques pass seismic testing
An ancient Māori building technique that involved tightly lashing and tying interlocked structural supports was able to withstand big earthquakes. Architect and researcher Professor Anthony Hoete and his team from the University of Auckland put the practice, known as mīmiro, to the test in April. They built a prototype, and testing was carried out with the help of the University's School of Engineering. A snap test was undertaken as well as various vertical, horizontal and combined loadings. The prototype withstood three tonnes of lateral load, oscillating for just nine seconds afterwards.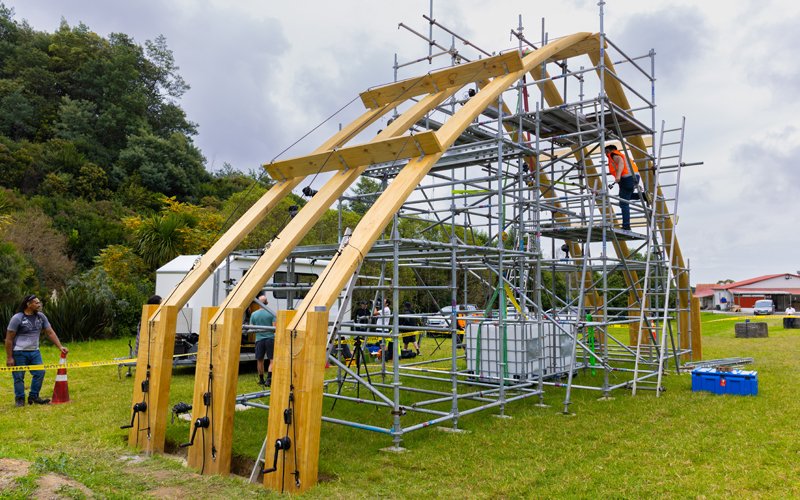 Anthony, a Professor of Architecture and Planning at the University, and his team plan to rebuild a wharenui near Opōtiki that was destroyed in the 1931 Hawke's Bay earthquake. He says the technology, lost when Europeans arrived, could "absolutely" be widely used in earthquake-prone buildings.
"This research will increase seismic resilience through post-tensioning of structures both before and after an event. To do this, designers must seek to increasingly deploy post-tensioning as a means of resilience to mass timber-engineered (and architecturally designed) structures."
---
Strengthening structures
Strengthening weak spots in concrete structures with carbon-fibre strips can strengthen earthquake-prone high-rise buildings, engineering researchers from the University of Auckland have found.
"Hundreds or even thousands" of buildings are at risk during an earthquake in New Zealand, says senior lecturer Dr Enrique del Rey Castillo CMEngNZ IntPE(NZ). Many of these are concrete, with a prevalence in Wellington.
"Using carbon fibre reinforcement polymers (CFRP) is a very attractive solution for owners and tenants as it's often more cost-effective and less disruptive."
Unfortunately, he says, the guidance for engineers to design these seismic strengthening techniques is limited. Despite this, CFRP is widely used, sometimes in a substandard manner.
The research, led by Enrique and with a large team of PhD candidates and academics from Aotearoa and the United States, involves funding from MBIE and Toka Tū Ake EQC, and collaboration with industry to complete experimental work using state-of-the-art methodology.
"Comprehensive experimental testing, complemented by computer modelling will give insight into the effect of these strengthening interventions in the global behaviour of the building, allowing the team to produce design guidance for engineers to use CFRP confidently and reliably."
This article was first published in the September 2023 issue of EG magazine.