By Matt Philp 10 Oct 2019
WSP Opus shares lessons learned after a scaffold collapse injured six workers. How do we prevent similar events from happening again?
On the morning of 21 February 2017, a group of seven workers were completing a maintenance project underneath Auckland's Panmure Bridge when their scaffolding collapsed. Six fell into the Tamaki River. As a WorkSafe New Zealand spokesperson says, it was a lucky escape for the men, who suffered only minor injuries. "Had the scaffolding collapsed over concrete, instead of water, the resulting harm might have been very different."
The scaffolding company, Affordable Scaffolding, was eventually fined $150,000 and ordered to pay reparations of $12,000. This was after a WorkSafe investigation found the collapse had been caused by overloading; that Affordable Scaffolding had failed to ensure the scaffolding was designed safely, and that its load calculations and design drawings had not been reviewed by an engineer before it was built.
I wouldn't want people in the industry out there thinking, 'I don't do much with scaffolding, so this doesn't apply to me'.
The fallout didn't end there. WorkSafe alleged the contractor on the project, Topcoat Specialist Coatings, and WSP Opus, who was engaged by Auckland Transport (AT) as the Engineer to the Contract, were also in breach of the Health and Safety at Work Act 2015 (HSWA). Rather than taking court action, last year WorkSafe accepted Enforceable Undertakings (EUs) from both organisations. Essentially, these are voluntary agreements to carry out a series of actions. In WSP Opus's case, that includes sharing what it has learned to help prevent similar incidents.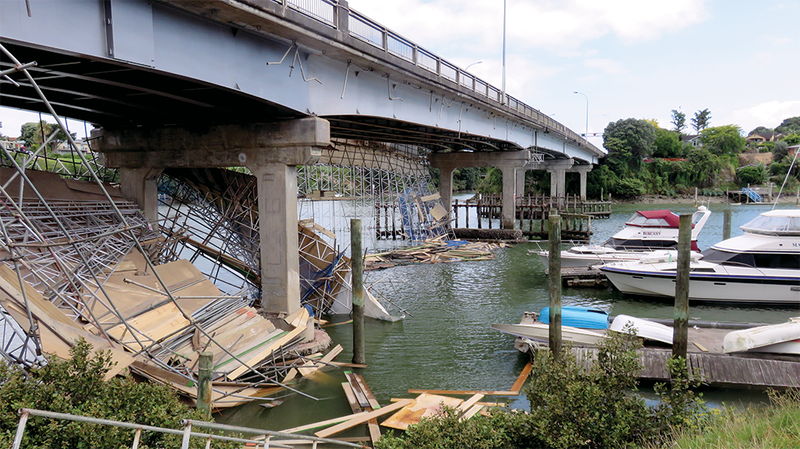 Hazards with temporary works
Panmure was an example of the potential hazards involved with "temporary works", a term that encompasses all those parts of a construction project needed to enable the permanent works to be built – or, in this instance, maintained. Scaffolding is an example. So, too, are formwork and falsework, props, excavation support, and so on. According to WorkSafe New Zealand's Engagement Lead for Construction, Melanie Dale, "temporary works feature highly in notification of incident and injury in workplaces across New Zealand". 
Some of what WSP Opus has learned from the 2017 incident should give engineers food for thought about the risk factors of temporary works – and this article will get to that. But the company has gone broader in its analysis of what went wrong and what can be learned. 
The key lessons
Muir Coup FEngNZ CPEng, Principal Engineer Procurement and Governance at WSP Opus, was among those who handled the company's response. 
"I wouldn't want people in the industry out there thinking, 'I don't do much with scaffolding, so this doesn't apply to me'," he says.
"This started with a straightforward temporary works situation of some staging collapsing but when you dig into it, it goes much wider than that."
As WSP Opus sees it, the biggest lesson was the need for clarity about everyone's responsibilities on a project. The second biggest? That there is collective onus on all parties to ensure health and safety on a site. 
Some context. At Panmure, WSP Opus was engaged by Auckland Transport to provide the Engineer to the Contract to manage the NZS 3910 contract between AT and Topcoat, which handled the repair work under the bridge. Affordable was the subcontractor providing access. WorkSafe considered that when it came to responsibility for the scaffolding design, there appears to have been a lack of coordination and communication between the parties, and a failure to grasp the Act's notion of overlapping duties. 
"I don't think that concept is well understood," says Muir, explaining what WSP Opus has learned from the incident. 
"Traditionally, we've thought the contractor has control of a site and that you operate under their health and safety plan. But it's become clear you can't just delegate it to one person and forget about it. 
"The expectation of the Act is that we coordinate, cooperate and communicate, agree who is doing what to eliminate or mitigate risks to health and safety, and document it."
That coordination, and the subsequent ambiguity around responsibilities, became a factor in the incident. As part of its EU with WorkSafe, WSP Opus has developed a guide to the obligations of the Engineer to the Contract under an NZS 3910 contract that it will disseminate to the industry, with the idea of helping smaller contractors and subcontractors understand everyone's roles.
The guide recommends that all parties assess and agree a risk profile, then develop a site-specific safety plan. 
"That's a requirement under 3910 but I just don't know how well it is applied," says Muir.
It also stresses the need for everyone to monitor compliance. 
"You can't just go on a site and say, ' I don't have to worry because the contractor is meant to be managing that'. If the contractor is not complying, we can't turn a blind eye."
Clients, too, need to be involved. Under the Act, by undertaking some contract management roles or commissioning work with their own employees or even supplying plant and materials, clients may have greater responsibilities. 
"Some clients have the view that if they hire a contractor and a consultant to manage the contractor, they can step away. But the Act is clear: duties can't be transferred to another person."
The aim of the guide, he says, "is to give people much more clarity about expectations", and that should help mitigate all sorts of dangers on a site, not just those surrounding temporary works. It focuses on the HSWA's overlapping duties of multiple parties working on a construction site.
The Panmure incident showed that the risks of temporary works' failures are very real. Arguably, the industry doesn't give those risks as much attention as it should. 
"When working on temporary works, we would like to see PCBUs [Person Conducting a Business or Undertaking] … implementing the highest level of mitigating controls to keep people safe," says WorkSafe's Melanie Dale.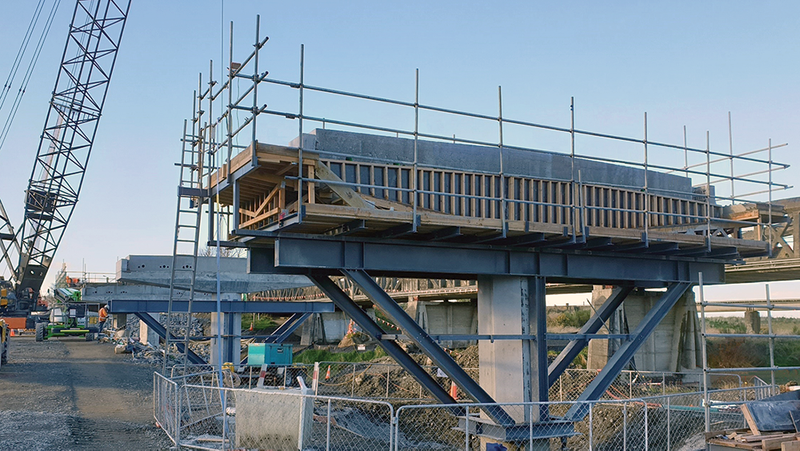 Raising awareness and standards
Mark Hedley FEngNZ CPEng IntPE(NZ) is a senior engineer who specialises in temporary works for Downer. He points out that temporary works aren't subject to the same legal requirements as permanent structures, which need building consent and approval from the territorial authority. And yet, he notes, "a permanent structure may never in its lifetime get its full loading, but a temporary works will, and it will probably be next week. It must be robust."
How well are temporary works done in New Zealand? Following the 1975 collapse of a ramp during the construction of Auckland's "Spaghetti Junction", the then Ministry of Works produced a document on how to design and check such works. 
"But that was 1980 and it is now well out of date", Mark says. 
"It has been left to people's initiative to develop systems they think will be suitable and safe." 
That has been fine for the big contractors, who generally employ in-house specialists, but smaller firms can struggle to afford the necessary engineering expertise. Meanwhile, the construction industry's growing complexity and high turnover tends to exacerbate risk. 
"I feel that we're behind the rest of the world, particularly the United Kingdom, in terms of good process."
For those reasons, Mark and others such as Brendan Attewell CMEngNZ CPEng from Fletcher Construction have launched the Temporary Works Forum to try to raise awareness and standards. Earlier this year, the Forum put out a good practice guide for temporary works. It is holding public meetings around the country and plans to develop guidance notes on aspects such as scaffolding. It's available at sesoc.org.nz under Special Chapters.
Mark argues that Chartered engineers need to be involved in the design, review and inspection of anything other than the simplest kind of temporary works. 
"It's about educating people on when you need to introduce these experienced people, and having good processes for design, review and inspection." 
In the case of smaller firms, he adds, "we're trying to provide as much help as we can. We've produced a process to help them identify those temporary works that do need an experienced and competent engineer. 
"We want anyone who carries out that sort of work to follow that process, even if it does cost more. It has to be in place to eliminate potential risks."
Muir Coup summarises: "No one wants an accident on their watch, and it's too late to do anything when it has happened".