By Kathy Catton 16 Mar 2023
New Vice Chancellor of Te Herenga Waka—Victoria University of Wellington wants to make the University sustainable well beyond his tenure.
With a 125-year history, Te Herenga Waka—Victoria University of Wellington welcomed its 10th vice-chancellor in January. For Professor Nic Smith FEngNZ, this is the fifth university he's worked at and he's delighted to be back on New Zealand shores after two and a half years at the Queensland University of Technology as Provost (Chief Academic Officer).
"I was particularly attracted to this role at Te Herenga Waka because of the University's ability and capacity to connect," says Nic.
This sense of connection centres not just on the University, its staff and students but also on Wellington, Aotearoa and the world.
"I can't think of a more important place to be working in right now."
Nic argues that central to this importance are the series of existential crises we face as a society – such as climate change, social cohesion, healthcare – all of which need vigorous and well-informed discussion.
"Universities are an absolute necessity for these discussions, so it's an exciting opportunity to lead an institution that can make a really significant contribution."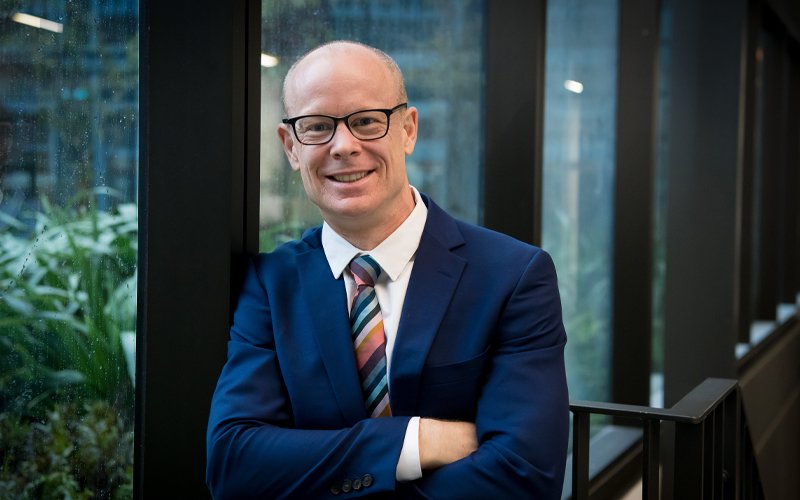 His career aspirations weren't always aimed at the tertiary education sector. Through his undergraduate days at the University of Auckland, he loved – and still loves – solving problems. He had a passion for maths and physics. Not just for the technicalities but also because they became a framework for him to understand the world.
After working as a professional engineer at Fisher & Paykel, Nic completed his PhD at the University of Auckland in 1999 doing exactly that: using mathematical models to understand blood flow in the heart. The project was followed by academic positions at the universities of Oxford, Auckland and King's College London. For more than 10 years he led work in the health space to bring new tools to existing contexts.
I was particularly attracted to this role at Te Herenga Waka because of the University's ability and capacity to connect.
"I was always looking for ways to make a difference," he says. For example, in London, in his work with multi-scale and multi-physics models, he says: "We were asking how we can give the right patient the right treatment at the right time to get better outcomes."
Returning to New Zealand in 2013 as Dean of Engineering at the University of Auckland was pivotal for Nic, who is a Fellow of the Royal Society of New Zealand Te Apārangi.
"I've always been this interdisciplinary person. In Oxford, I worked with computer scientists, physiologists, politicians. And so walking into the faculties at Auckland was a great opportunity to create a platform for people to take on the big, high-risk ideas.
Topics on the agenda for Nic's tenure at Te Herenga Waka include working towards gender equity, equity of access, biculturalism and sustainability.
"The higher education sector in New Zealand is under huge pressure right now. The question of how we sustain our key institutions is front of mind. People need to be able to see and plan on a longer timescale than just six months or one year. So many of the key challenges we face require bringing diverse views and talents together for a sustained period. Universities are uniquely able to fill this role if they themselves have a stable foundation."
Tikanga Māori and te reo Māori are also important.
"I really feel that starting to learn te reo Māori and tikanga Māori has given me a whole new lens and a whole new way of thinking about how we do the things that are important for moving institutions forwards. It's been a gift and I don't mean that with any exaggeration. To be able to understand our society and community through a thoughtful and empathetic partnership is really crucial."
Nic has begun his tenure listening to and working to understand staff, students and other stakeholders.
"One of the recruiting Council members said to me that when she looks at the strategic plan, she knows it's in some of the heads of the University, but it's not using all of our hearts. It's a common theme I've heard, so I'd like to embed a vision and strategy that's in all of our hearts."
To achieve this goal, Nic says people must be prepared to ask the hard questions and to connect the vast capabilities of the University in a way that is excellent and relevant.
"And it is also my role to do everything we can to create a revitalised environment which allows staff to pursue excellence in teaching and research."
While Nic is clear he doesn't have all the answers to either the current challenges for the university sector or society more generally, he does have ideas about the state of play of engineering education in Aotearoa.
"Engineering is about technical 'nuts and bolts', but it's also about using those tools to do the things that are significant in creating impact, rationalising uncertainty, navigating complexity and communicating to diverse stakeholders."­
---
This article was first published in the March 2023 issue of EG magazine.