For years, solar energy in New Zealand was the black sheep of the renewables family – exciting in the abstract, but a bit flaky to bet the house on. Suddenly, however, the game has changed – so much so, that people are talking about a solar "gold rush". So, what's behind the increased push, and what opportunities are there for engineers?
There are roughly a dozen businesses in Aotearoa currently planning solar projects that cumulatively will be capable of producing four terrawatt hours (TWh) of renewable energy a year. Companies to have recently revealed their solar ambitions include Helios Energy, which plans to invest $1.3 billion on solar farms with a combined maximium capacity of one gigawatt (GW); Lodestone Energy, which in June secured $300 million to build five solar farms in the North Island; and Nova Energy, which is seeking consents for a massive 400 megawatt (MW) solar farm near Taupō and has bought land in the South Island with an eye to establishing another 300MW farm.
The rising of the sun
Why the sudden flurry of interest? For one, the cost of building solar has steadily declined thanks to economies of scale and the learning curve effect, while wholesale electricity prices continue to climb. Bigger picture, the push to decarbonise will produce significant growth in electricity demand, and that's going to have to be met by renewables. Predictions vary widely, but a rough consensus is that supply in 2050 will need to be 70 percent more than today, due to electrification of transport, plus decarbonising industrial process heat and population growth. Meanwhile, the Government has set a target of 100 percent renewable energy by 2030. Some will come from wind, some from geothermal and small hydro, but there's an obvious opportunity for residential and commercial rooftop solar, and utility-scale solar farms.
Engineering will play a big role in this sun-sized future, says Dr Allan Miller, an electrical and electronic engineer and co-founder of ANSA, a new Christchurch-based tech company that provides services to integrate low carbon technologies such as solar into the national grid.
"If you're building a solar farm there are civil earthworks, land suitability and access issues involved. If you're putting a solar array on a building there are clearly also structural issues to consider," Allan says.
Obviously, there will also be growing demand for electric power engineering.
"In that area, there's a real shortage of skills – and that's not even considering solar. The whole decarbonisation challenge requires electric power engineers who can build the systems and manage the infrastructure. There's a real need to train more of those in New Zealand."
Making energy while the sun shines
Where are the opportunities for solar? And what are the challenges? Allan reckons commercial rooftop solar has great potential, with a nice match between daytime generation and load. Irrigation is another area to exploit.
"As you'd expect, solar resources are best where irrigation demand is highest, and irrigators tend to work through the day not just at night," he says.
Residential, however, is more problematic because solar does its thing when most of us are at work, and household demand peaks around dinner time.
It's part of a larger conundrum.
"Our solar generation doesn't match the overall electricity demand – demand peaks in winter when generation is lowest. However, it is becoming more economic to oversize solar arrays, and the concept of spilling energy in summer is becoming more palatable. Also, solar farm owners will find uses for that excess energy in summertime, such as for irrigation or even producing hydrogen in the future."
I think solar has huge potential in New Zealand. Absolutely massive.
– Allan Miller
Catching some rays
Storage comes in here.
"We already have it in the form of hydro – our existing hydro could work well with solar for most of the year. But as we increase our use of electricity there'll probably be a need for other forms of storage that can supply energy over the winter period when hydro inflows are low.
"I don't think lithium ion batteries are the answer; instead, it may involve 'notional' storage in the sense of oversizing renewables."
We also need to get a better understanding of the capacity of the network to accept solar exports – say from a household wanting to sell excess generation during summer months.
"We're used to electricity flowing one way," Allan says, adding that reversing flow carries a risk of congestion issues.
None of which should detract from the upside of exploiting the resource in sunny regions such as Nelson, Northland and Hawke's Bay.
"I think solar has huge potential in New Zealand. Absolutely massive."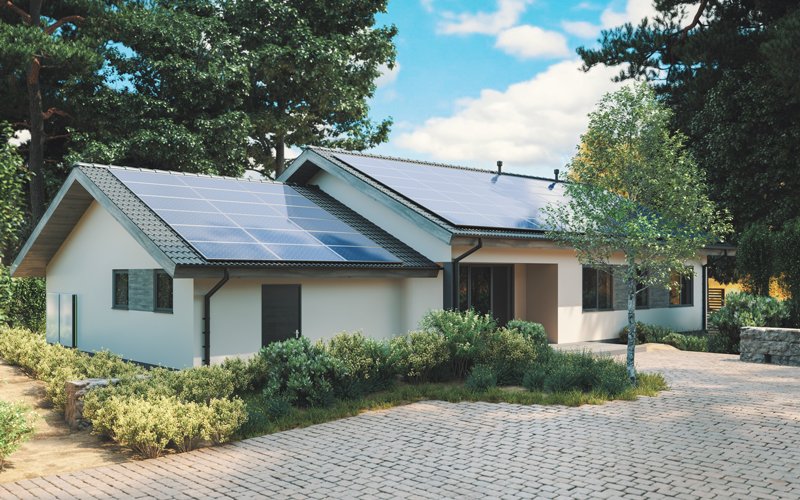 Turning up the (sun)dial
You'll get no argument from Jason McDonald, who also trained as an electrical and electronic engineer, and is a Director of Helios Energy. The United States/New Zealand venture is currently working on project design for 10 large grid-connected solar farms in the North and South Islands. The first is expected to begin generating power in 2024 and others to follow at a rate of perhaps one a year.
"Everyone in solar is rushing to the start line a bit like the Le Mans car race, but this is going to be a 25-year journey," he remarks.
Eventually, Helios will be generating a GW, with the scale of each of the 10 farms dictated by constraints around grid connections, terrain and parcel sizes. The farmland involved can continue to be used for grazing stock, he notes.
"Solar is a bit like wind in that it can co-exist with agricultural activities – farming the sun and farming the land."
In terms of technical challenges, solar is pretty straightforward, reckons Jason, pointing out that the panels and inverters are now relatively standardised.
"Really, solar is more of a supply and logistics challenge: how do you bring all the pieces together and do something at scale? The engineering involved is a lot to do with supply logistics and the construction and deliverability of a project."
Following the sun
Meanwhile, Lodestone Energy is close to breaking ground on the first of a suite of solar farms that will produce an annual output of 400 gigawatt hours (GWh) – enough to power 50,000 homes. Headed by retailer Pulse Energy's former CEO Gary Holden, who is trained in mechanical engineering, Lodestone has sites earmarked in Northland, Bay of Plenty and the Coromandel. Collectively, the project will deploy half a million bi-facial solar panels, equipped with single axis tracking technology so they can follow the path of the sun and set high to allow for cropping and grazing underneath and between rows.
Building solar farms in New Zealand has some different challenges to a place such as Australia, says Lodestone's General Manager of Engineering Peter Apperley, who cites higher wind speeds, potential for flooding and complex geotechnical conditions as complications requiring specialist engineering input. Lodestone's five farms will range from 20MW to 45MW in size, and most will be embedded in distribution networks rather than the national grid.
"We reckon that's the sweet spot, rather than build 200MW of solar from a single site. It gives us some diversity to deal with the various engineering and commercial challenges that can crop up, while still getting economies of scale from delivering the portfolio as a single project."
Everyone in solar is rushing to the start line a bit like the Le Mans car race, but this is going to be a 25-year journey.
– Jason McDonald
Brighter future for marae
In Tauranga, iwi-owned sustainable energy company Tū Mai Rā Energy (TMRE) has a range of solar projects on the go, including rolling out a marae-based network. Launched in 2020, the Rangitāne venture has already completed solar installations at six North Island marae and intends to do as many as it can.
General Manager Matiu Taurau says going solar will help marae save money – power tends to one of their costliest overheads – and it also chimes with the desire to be more self-sufficient. He notes, too, that marae tend to be used in civil defence emergencies.
"They really need reliable power."
How is tikanga Māori incorporated in TMRE's work? Matiu cites several values.
"The first is pūkengatanga, or knowledge and expertise: there's a lot of education about what solar is, and how to live efficiently with solar. There's also kaitiakitanga – in this case, making sure to respect and enhance marae assets. And there's whanaungatanga. Our iwi has been around 1,000 years and will be around another 1,000, so building long-term relationships is important."
Sky-high plans
Christchurch Airport also brings long-term thinking to its ambitious solar plans. In December, the company announced a 30-year plan for a massive renewable energy development known as Kōwhai Park, with phase one involving a 150MW solar farm on 220 hectares at its Christchurch campus. Likely to come on stream in 2024, this first array will be 50 times larger than anything currently in operation in New Zealand.
"This isn't a response to the solar environment," explains Nick Flack, General Manager of Planning and Sustainability and project lead for Kōwhai Park.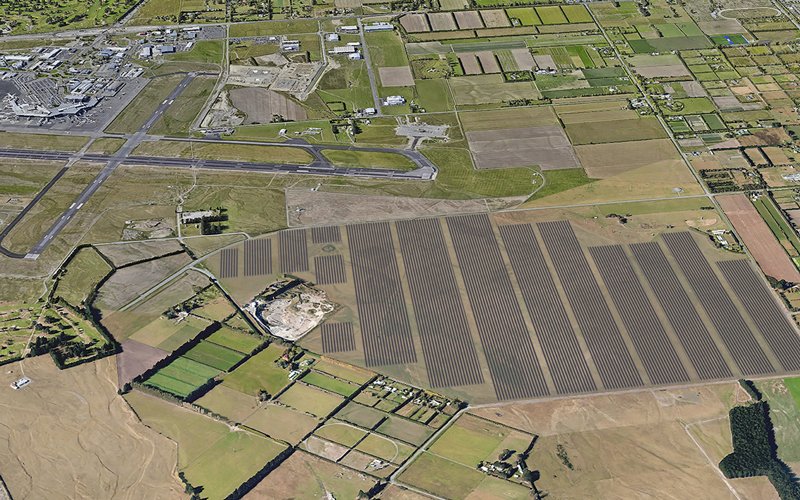 "Rather, it's a response to future requirements of aviation as it decarbonises and there are hydrogen and electric aircraft using our site," he says, noting Sounds Air has already ordered its first electric aircraft, a 19-seater slated to arrive in 2026.
"Going solar will also allow us to carry out onsite hydrogen production and potentially sustainable aviation fuel production, as well as enable green data centres and vertical farming right next to the airport."
It's a bold plan, but Nick points out that Christchurch Airport became the world's first climate positive airport and isn't daunted.
"If we can do this and it comes off successfully, we will be ahead of most airports in the world."